January 16, 2019
CSU Recreation Services is excited to showcase our upgraded access control optical barrier turnstiles as the first upgrade that will ultimately see a complete renovation to our front desk and entry. The previous turnstiles were original to the building opening (2006) and were in operation for more than 12 years.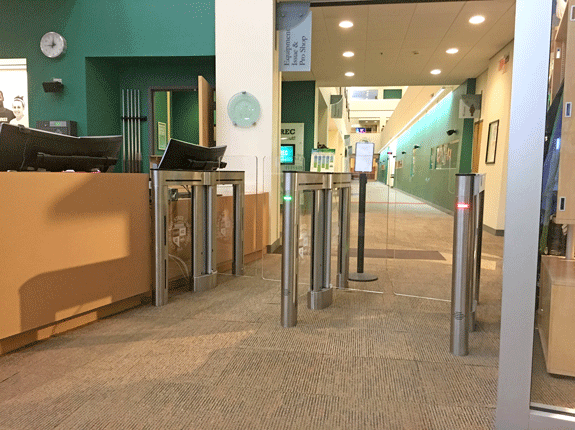 Given our immense growth over this time period, our original turnstiles were not designed, nor intended, to accommodate the amount of traffic we experience on a day-to-day basis [104,389 visits in 2007 vs. 267,976 visits in 2018]. Since the turnstiles are fully integrated with our member management software, the new turnstiles enhance the safety and security of all our visitors.
Currently, we are working with the university's IS&T Department to change our member's mag stripe cards to proximity cards. This conversion will eventually allow our members to enter the facility simply by tapping the top of the turnstiles. Our goal is to have this technology enabled by May 2019. 
Stay tuned for more details about the front desk renovation project, including timelines, changes to entry/exit traffic flow, and project updates.