---

Laundry Service at the CSU Rec!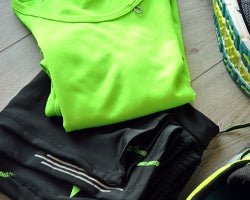 Are you tired of carrying sweaty clothes? Do you despise washing your workout apparel? Let us do the dirty work for you! We offer an easy and simply laundry service for your workout apparel - simply leave your workout clothes with us after you finish you workout and they'll washed, dried and ready for pick-up the next day! Never carry sweaty workout clothes again or worry about forgetting your shirt or shorts!
How It Works
You'll receive a laundry strap matching your locker # when you join our laundry service.
Simply attach your workout apparel to the laundry strap and clip it together.
Deposit your laundry in the bin(s) at the Customer Service desk.
Our staff will wash and dry your laundry bundle and return it to your locker within 24 hours.
 
Pricing
$8/month and includes 1 laundry strap to be used for workout apparel only.
Locker rental is required for laundry service (additional $10/month and includes towel service)
EFT option available