Club Sports  ||  Intramural Sports
---
​​​​​​​​​​​​​​
Fair and Fun Play for Everyone!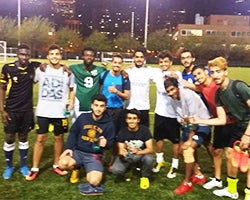 The Intramural Sports Program provides a variety of leagues and tournaments throughout the year to all students, faculty, staff and Recreation Center members. These contests emphasize mental, social, and physical well-being. Intramural Sports build a community atmosphere for the university through friendly competition. Good sportsmanship is valued above all else.
We have lots to play and get involved in! Scroll through the listings below and check out all of our current and upcoming leagues and tournaments!
 
Spring 2021
To register, please go through IMLeagues.com
Spring Esports Showcase
Super Smash Brothers; Friday, February 5, 2021
Join us on the CSU Rec Discord
Rocket League; Friday, February 12, 2021
Join us on the CSU Rec Discord
League of Legends; Friday, February 19, 2021
Join us on the CSU Rec Discord
TBD; Friday, February 26, 2021
Join us on the CSU Rec Discord
​​​​​​​Register now on IMLeagues.com
Gift cards available for raffle!
Fortnite Tournament​​​​​​​
Join us for two nights of Fortnite on the Rec Center's very own discord! These events will strictly be social events and allow students to connect over a popular video game!
Night 1: Thursday, March 11, 2021
Night 2: Thursday, March 18, 2021
Register now through IMLeagues.com and join us on the CSU Rec discord!
Among Us Tournament
​​​​​​​Join us for a night of playing the newest, popular video game – Among Us!
Date: Friday, January 29, 2021
Register now through IMLeagues.com and join us on the CSU Rec discord!
Intramural Bowling
February 1st, 2021 - February 19th, 2021
Location: All Intramural Bowling games can be played at your alley of choice. Some suggestions include Mahall's and The Corner Alley.
Must complete two games between 2/1 - 2/19 and the best game will be counted for a chance to win! Snap a picture of your score and submit through our Google Form.
More information and rules are located on IMLeagues.com - visit now to register!
​​​​​​​
But wait, THERE'S MORE!
We are offering you more ways to get involved and connect with your peers over some friendly competition!
Monday Night Trivia
Join us on Zoom for themed trivia nights where you can compete as a team or on your own! Themes range from sports, music, slogans and brands, and more!
Dates: February 22, March 15, March 29, April 12 and April 26, 2021
Location: Zoom - Link TBD
Register yourself or your team on IMLeagues.com NOW for a chance to win prizes weekly!
Game Nights
​​​​​​​We will be hosting two nights of game nights that will allow you to play some of your favorite board and card games, or favorite game show, through Zoom with your fellow students. Games could include Uno, Mario Kart, Dungeons and Dragons, Minecraft, Scrabble, 8 Ball Pool and more!
Dates: Monday, February 8, 2021 & Monday, March 8, 2021
Register on IMLeagues.com NOW to join in on the fun and WIN!
Live Action CLUE
​​​​​​​Welcome to your very own CLUE Game in a virtual environment! This game will be set-up very similar to the popular board game, CLUE, where your objective is to solve the mystery and determine who is to blame, where the crime took place and what weapon was used. Join us on Zoom to hop from room-to-room and ask your favorite CLUE characters questions that will help you solve the mystery!
Date: Thursday, March 25, 2021
Register on IMLeagues.com NOW to help solve the mystery and WIN!
All programs, offerings, dates and prizes are subject to change at any time.
Cleveland State University on IM Leagues.