Club Sports  ||  Intramural Sports
---

Fair and Fun Play for Everyone!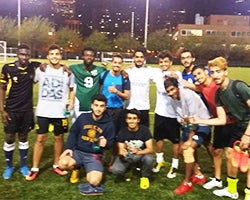 The Intramural Sports Program provides a variety of leagues and tournaments throughout the year to all students, faculty, staff and Recreation Center members. These contests emphasize mental, social, and physical well-being. Intramural Sports build a community atmosphere for the university through friendly competition. Good sportsmanship is valued above all else.
We have lots to play and get involved in! Scroll through the listings below and check out all of our current and upcoming leagues and tournaments!
 
Spring 2022
To register, please go through IMLeagues.com
Questions? Contact Andrew Zoeckler at a.p.zoeckler@cmlaw.csuohio.edu 
Session 1
6v6 Volleyball; Tuesday Night League
Regular Season start: February 1st
Playsoffs start: March 1st
Cost: $85/team
Create your team, register and make payment online from January 3 – January 26. Information on league play will go out January 28 after all teams and scheduled games have been finalized. Games played at the Recreation Center.
Session 2
Flag Football; Monday Night League
Regular Season start: March 28th 
Playoffs start: April 25th 
Cost: $85/team
Pop-Up Tournaments
Billiards
Date: Friday, February 18th, 4PM
Cost: $10/team
Mario Kart Tournament
Date: Friday, April 22nd, 4PM
Cost: $5/player

More information and rules are located on IMLeagues.com - visit now to register!
Refund Policy:
Refunds will not be given after the league closes and teams are locked for the season.
All programs, offerings, dates and prizes are subject to change at any time.
Cleveland State University on IM Leagues.
Please review the
Intramural Participant Handbook for all program rules and policies.