Club Sports  ||  Community Leagues  ||  Intramural Sports
---

Fair and Fun Play for Everyone!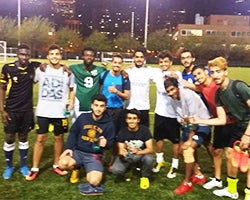 The Intramural Sports Program provides a variety of leagues and tournaments throughout the year to all students, faculty, staff and Recreation Center members. These contests emphasize mental, social, and physical well-being. Intramural Sports build a community atmosphere for the university through friendly competition. Good sportsmanship is valued above all else.
We have lots to play and get involved in! Scroll through the listings below and check out all of our current and upcoming leagues and tournaments!
 
Fall 2018
To register a team or to sign up for a pop-up tournament please register at www.imleagues.com
Fall Leagues
Flag Football (Tuesday Evenings) October 1 - November 9
Outdoor Soccer (Thursday Evenings) September 10 - October 19
Indoor Volleyball (Monday Evenings) September 10 - October 19
Indoor Volleyball (Tuesday Evenings) September 10 - October 19
Pop-Up Tournaments
Table Tennis (Friday September 14 @ 12pm)
4v4 Volleyball Tournament (Thursday September 27th @ 6pm)
Billiards Tournament (Friday October 12th @12pm)
5v5 Basketball Tournament (Thursday October 25th @ 6pm)
Super Smash Brothers Tournament (Friday November 16th @ 12pm)
Canoe Battleship Tournament (Thursday November 29th at 6pm)
Cleveland State University on IM Leagues.