Adventure Trips  ||  Gear Rental  ||  Instructional Clinics
---


Because Sometimes You Want to Learn New Ways to Be Adventurous!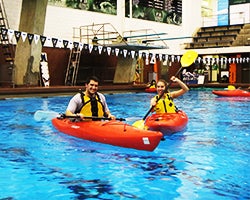 Our instructional clinics are the perfect way to learn a new skill or perfect the ones you already have - either way, they're a blast! And in the comfort of our very own CSU Rec Center.  Instructional clinics are open to anyone and everyone and all equipment is provided. 

For more information on any of these Instructional Clinics, please email advr@csuohio.edu.
Before making your purchase, click here to review our refund policy.
Kayak and Stand Up Paddleboard Open Paddle 
Date: 8/31, 09/14, 09/28, 10/26, 11/09,11/23, 12/07.
Time:  5:30pm-7:30pm
Location:  Busbey Natatorium (CSU Rec Pool)
Fees:  CSU Students: FREE  Members: $5  Nonmembers: $7
Come join the Adventure Rec team and test out your skill on the water! We offer clinics to try out kayaking or stand up paddle boarding under the supervision of an experienced paddler. All equipment is included! Participants must be registered by Mondays at 5:00pm to participate in the following Tuesday clinic. Email Brooke at b.m.hokes@vikes.csuohio.edu to register or for any questions. 
Backpacking Clinics
Dates: Fridays: September 3rd, October 15th and November 12th
Time:  3pm-3:330pm 
Cost: FREE for all
Location:  Adventure Rec Office
Join us for a 3 part backpacking series where we will be discussing different backpacking topics!
Clinic 1 (09/03): backpack discussion: choosing the right backpack, best way to pack your bag, best gear for your trip. 
Clinic 2 (10/15): trip planning, choosing your destination, how to best prepare
Clinic 3 (11/12): cooking on the trail, disposing of waste and water filtration systems. 
Register in our Pro Shop or in the CSU Recreation Center App today!