Adventure Trips  ||  Gear Rental  ||  Instructional Clinics
---


Because Sometimes You Want to Learn New Ways to Be Adventurous!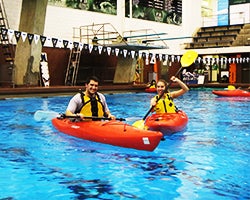 Our instructional clinics are the perfect way to learn a new skill or perfect the ones you already have - either way, they're a blast! And in the comfort of our very own CSU Rec Center.  Instructional clinics are open to anyone and everyone with an interest in the outdoors and all equipment is provided. All you have to do is show up and have fun!

For more information on any of these Instructional Clinics, please email advr@csuohio.edu.
Before making your purchase, click here to review our refund policy.
Kayaking Open Paddle
When:
| | |
| --- | --- |
| January 21st | 4:00-6:00pm |
| February 22nd | 9:00-11:00am |
| March 4th | 11:00am-1:00pm |
| March 25th | 8:00-10:00am |
| April 10th | 1:00-3:00pm |
| April 26th | 12:00-2:00pm |
Various kayaks and equipment will be available for use for anyone who needs it. Participants under 18 years old are welcome, however they MUST be accompanied by a parent or legal guardian.
Where: CSU Natatorium (Pool)
Price: $5 Students | $5 Members | $5 Non-Members
All participants must register in advance online or in the Pro Shop.
Payment can be made in advance or on the evening of the session in the Pro Shop.
All participants must wear an appropriate Type III or V PFD (life vest supplied).
Personal boats are welcome but should be clean and free of dirt and debris. Please email advr@csuohio.edu with any questions regarding personal boats.
Participants who use a spray skirt will need to demonstrate the ability to effectively wet exit while using skirt.
Private Kayak Clinics
Want to have some one-on-one time with an instructor to work on your technique? Have a group that wants to schedule some private instruction? If so, send an email to advr@csuohio.edu for pricing and scheduling!
Bike Repair Clinic
When:
| | |
| --- | --- |
| January 24th | 4:00-6:00pm |
| February 12th | 2:00-4:00pm |
| February 28th | 3:30-5:30pm |
| March 7th | 4:00-6:00pm |
| March 26th | 3:00-5:00pm |
| April 18th | 3:30-5:30pm |

Where: CSU Rec Center
Price: $5 Students | $5 Members | $5 Non-Members
Learn to do general repairs on your own Bike

Tire Repair, Brake Tuning, D

erailleur adjustments and other repairs will be able to be covered.
Please bring in your own materials if you are replacing something - Tubes, tires or brake pads