Inclusive Rec  ||  Pro Shop  ||  Rentals  ||  Request a Repair
---
​​​​​​​
Access and Programming for Anyone and Everyone.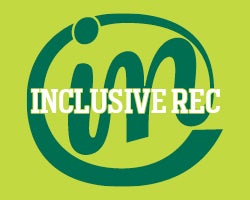 Campus recreation is much more than just workouts and fitness classes. Cleveland State Campus Recreation Services is dedicated to promoting and offering an inclusive and comprehensive collection of programs and services that promote health, wellness and activity, and encourage anyone AND everyone to participate, regardless of skill, ability, age or any other factor. We also have an extensive collection of modifiable equipment for anyone with physical impairments or limitations. Rounded out by a fun and respectful staff who are eager to lend support and a helping hand, there's no reason for anyone to not get involved.
Additionally, we are proud to provide opportunities for students and members who face barriers when it comes to exercise and fitness. We are committed to fostering an open and supportive environment for all individuals with physical limitations to work out at their own pace and intensity level. Through fitness programming and services, as well as modified workout equipment – plus a staff committed to helping you succeed – the Inclusive Rec program provides an ideal and respectful atmosphere for ALL individuals interested in reaching their fitness goals.
There is always something new to try and we are proud of the supportive atmosphere we foster. Join the fun - fit for all!
Look for the logo to find Inclusive Rec equipment and programs.
 
Inclusive Rec Equipment & Facilities
1ST FLOOR

Cornhole
Elevator access to all floors
Game Room:
 • Air Hockey
 • Fooseball
 • Pool Tables
 • Wii & XBox Systems
Inclusive Changing Room
MAC Gym

BUSBEY NATATORIUM

Zero-Depth Entry Ramp
Mechanical Lift
 

2ND FLOOR

Cardio Row:
 • Cybex Chest Press
 • Cybex Lat Pulldown
 • Cybex Overhead Press
 • Marpo Rope Trainer
Functional Fitness Space:
 • Concept E Rower
 • Matrix Krankcycle
 • LifeFitness Synrgy 360
 • Lifting Platforms to        
     Squat Racks
Total Body Room:
 • Concept E Rowers
 • Dumbbells
 • Smith Machine

3RD FLOOR

Weight Room:
 • Cable Crossover
 • Dumbbells
 • Lifting Platforms to
    Squat Racks
 • Smith Machine