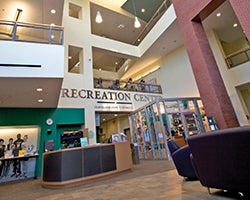 The Cleveland State University Recreation Center is a premier fitness facility in Cleveland, Ohio, situated in the exciting and bustling heart of downtown. Our fantastic, 110,000 sq. ft. facility features a newly renovated functional fitness space with 30-yard turf, a wide variety of routinely updated, state-of-the-art fitness equipment, five fitness studios, a multi-purpose gymnasium, main gymnasium with two full-length basketball courts and access to the Busbey Natatorium Olympic and instructional pools. Additionally, we offer numerous health and wellness programs and events - all to meet the needs of CSU students, faculty, staff, alumni and our Cleveland community members.
 
Mission Statement
To build and enrich communities by providing exceptional and innovative activities that foster growth in all dimensions of wellness, recreation and inclusivity.
We achieve our mission by:
Prioritizing people and populations to foster a welcoming atmosphere centered around equality, diversity, mutual respect and exemplary customer service. 
Promoting university recruitment and retention by fostering and emphasizing beneficial student outcomes and experiences. 
Striving to always be an integral contributor to the university and example of excellence through interdepartmental partnerships and campus involvement. 
Continually reviewing our collection of equipment and facilities to make regular improvements and upgrades that best serve our clientele. 
Providing exceptional and innovative programs, services, equipment and facilities that keep us on the leading edge of industry trends. 
Operating a fiscally responsible business that balances high-quality offerings with ethical and financially sound business practices.
 
Core Values
Build Trust and Foster Relationships
Building genuine relationships is how our department, our brand, and our reputation thrives. This assists in fostering a positive work environment.
Continuous Learning and Development
In order to be a leader in the industry, we must continue to see growth in skills, capacity, knowledge, and confidence.
Trail Blazing
Recreation Services strives to lead trends through innovation and collaboration rather than follow. A great idea that doesn't get tested is useless to our department. Take the risk and challenge convention. Staff should have the tools and autonomy to add to the innovation.
Shared Responsibility
Regardless of job description or title, we strive to function as a true team. While individuals must fulfill their own responsibilities, we must continuously support and depend on one another.
Uncompromised Quality
The primary goal is for everything we do to be top notch. If growth in an area means reduced quality, we shouldn't be doing it. Fiscal responsibility is an important component of quality.
Promote Diversity
Recreation Services is determined to create an environment that values, embraces, and encourages individual differences in employees and patrons alike.
Provide Outstanding Customer Service
Recreation Services strives to provide efficient, effective, and friendly service to all patrons. Seeing a situation from the eyes of the patron as well as the staff is key.
Remain Student Focused
While Recreation Services does serve the CSU and Cleveland communities, the facilities, programs, and services remain student-focused. The staff passionately promotes personal growth and academic achievement.