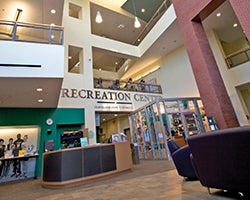 The Cleveland State University Recreation Center is a premier fitness facility in Cleveland, Ohio, situated in the exciting and bustling heart of downtown. Our fantastic, 110,000 sq. ft. facility features a newly renovated functional fitness space with 30-yard turf, a wide variety of routinely updated, state-of-the-art fitness equipment, five fitness studios, a multi-purpose gymnasium, main gymnasium with two full-length basketball courts and access to the Busbey Natatorium Olympic and instructional pools. Additionally, we offer numerous health and wellness programs and events - all to meet the needs of CSU students, faculty, staff, alumni and our Cleveland community members.
 
Mission Statement
Campus Recreation Services will be recognized as the premier campus recreation center in the country by utilizing it as a significant university-wide recruitment and retention entity. Campus Recreation Services will operate a financially viable recreation center while continuing to expand and provide award winning facilities, extraordinary programs and services, and exemplary customer service all while promoting a healthy lifestyle.
 
Vision Statement
Campus Recreation Services will provide outstanding recreational, leisure, wellness, and educational opportunities encouraging positive habits of health and wellness that meet the needs of diverse Cleveland State University students, faculty, staff, alumni and surrounding community.
 
Core Values
To assist Campus Recreation Services with regards to our mission and vision statements, we have established these seven Guiding Principles:
Foster A Positive Work Environment. Staff will strive to communicate 

openly and positively, encourage a team atmosphere, build trust and 

create a joyful place to work and play.

Promote Diversity. Staff will create an environment that values, 

embraces and encourages individual differences between employees 

and patrons.

Demand Excellence. Staff will strive to conduct our professional duties 

with the highest standards of honesty, ethics and professionalism "as if 

the world were watching."

Provide Outstanding Customer Service. Staff will provide efficient, 

effective and friendly service toward each and every patron.

Engage Community Outreach. Staff will embrace and promote 

our interdepartmental teams, university departmental partnerships, 

government entities, local businesses and community partners to the 

benefit of our patrons.

Be Fiscally Responsible. Staff will inspire ownership in the department 

by responsibly operating in a fiscally, ethically and safe manner.

Remain Student Focused. Staff will passionately promote personal 

growth and academic achievement.