Certifications  ||  Fit Together  ||  Group Fitness  ||  Premium Fitness Programs || Personal Training
---

Fitness Classes & Programs Promote Fun and Comradery!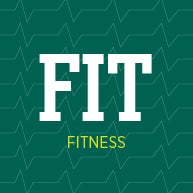 In addition to a facility full of state-of-the-art exercise equipment, we also offer tons of exciting group fitness classes, fitness programs, healthy lifestyle programs and fitness services - everything you need to be your best! We promise a great workout and the opportunity to mingle with people who share your same goals while breaking a sweat. And best of all, group fitness classes are FREE! Check out what's on the schedule and find the right one (or two or three) for you!
 
About Fitness @ the Rec Center
Fitness Certifications: Turn your passion for group fitness and personal training into a career! The Rec Center hosts instructor certification workshops taught by national fitness organizations (AFAA, AEA, Yoga fit, etc.).
Fit Together puts all of our fitness and wellness services and expertise in YOUR hands so you can create the perfect wellness plan for your needs. You have our full suite of services, certified instructors and educational offerings at your fingertips, you can customize and build a comprehensive annual wellness program or schedule just a few outreach events.
FREE Group Fitness Classes: Ditch the treadmill and try out one of our exciting group fitness classes! Each class offers a great workout and the opportunity to mingle with people who share your same fitness goals. Plus, they're all FREE!
Premium Fitness Programs: These classes are the perfect way to learn a new skill or technique from a qualified instructor. Get personal attention in these progressive classes and learn new ways to stay fit.
Personal Training: Work one-on-one with a certified personal trainer to help hold you accountable and achieve the results you want so badly! Have a friend or four? Consider small group training where you and your group will meet for private sessions with a personal trainer.