Our Facility Features are a great way to learn more about all the different equipment, facilities and accommodations we have to offer our members and guests. Check out all of our facility features from 2018 below!
 
July 2018  ||  Matrix C7XE Climbmill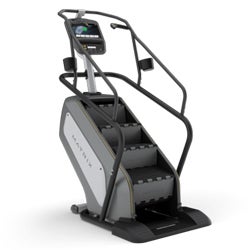 Located in the center of Cardio Row, we have 2 Matrix C7XE Climbmills. Climbmills/Stepmills are one of the most popular pieces of cardio equipment in today's fitness industry.  This piece of equipment has multiple features to keep the user both safe and engaged while working out.  The Climbmill has extra-deep steps to accommodate a wider range of users, the steps lock at the lowest possible point for safer entry and exit, and the stairs will come to a stop if an object pushes against the direction of rotation or if someone/something enters the control zone at the rear of the unit.  There is a 16" touchscreen display to allow for easy operation.  Next time you use the Matrix Climbmill, be sure to use the Landmarks program.  This program will allow you to scale 11 of the most famous buildings and monuments around the world, such as the Eiffel Tower! 
 
---
June 2018  ||  Intenza 550UBe Upright Bike
Have you ever thought about where that piece of exercise equipment you are using was made?  Or, how it was made? The Intenza factory in Tainan, Taiwan, is the only 100% energy efficient factory in the industry. They have the lowest carbon footprint in the industry, nearly 2,000 solar panels that also generate enough power for neighboring businesses, a water collection system, and many other eco-friendly innovations. They have even been sharing their facility design with their competitors so that they can help sustain the Earth for future generations.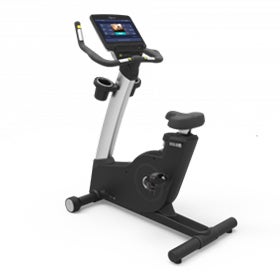 Currently, there are 2 Intenza 550UBe upright bikes located on Cardio Row. These bikes are designed for users to be seated, standing or in a racing position, to work multiple muscle groups. The upright height and saddle were intended to mimic a road bike for a true riding experience.  There are also 40 levels of resistance to really amp up your ride – the most in the industry. These bikes also have the latest features in technology to allow you to browse the internet, listen to your own music, or even watch your favorite show on Netflix. 
---


May 2018  ||  Annual Maintenance Shutdown
Our annual Maintenance Shutdown typically occurs each year during the week following Spring semester finals at the university (mid-May). During this time, we perform large-scale maintenance and cleaning, installations projects, and improvements to the whole of the facility. Projects and activities each year have included re-sealing the main courts, painting, cleaning/replacing carpeting, technology upgrades, deep cleaning and more. Many of these projects require drying/curing time that require areas and surfaces to be closed off for extended periods of time. 
This year we completed a huge list of projects during Shutdown, including:
Resealing Main Gym floors

Installation of 5 new digial signage screens (replacing bulletin boards)

New, painted wall graphics in Studios 227 and 229

Painting of green wall along main hallway

Recovering pool tables

Washing of all weight plates, dumbbells and equipment

Cleaning, buffing and touch-up painting of Locker Room lockers

Cleaning and buffing 3rd floor weight room floor

Machine cleaning of Indoor Track

Machine cleaning of Total Body Room rubberized flooring

Replacing damaged carpet tiles

Cleaning carpeting throughout facility

Washing of all mirrors and internal and external windows

Cleaning and touch-up painting of MAC Gym

De-scuffing and cleaning of Racqetball and Squash Courts

Deep cleaning and touch-up painting through facility

Deep cleaning of Locker Rooms

Cleaning of all equipment mats and platforms

Installation of Dyson® Airblade™ hand dryers

Installation of upgrades to iPad displays

Cleaning and re-organization of Pro Shop

Professional re-calibrations to exercise machines and equipment
As our annual Maintenance Shutdown for 2018 comes to a close, we'd like to thank our members for their patience during this down time to our facility. We appreciate your understanding while we work to keep our facility the best it can be! To see more photos from Shutdown, check out our Facebok page.
---


April 2018  ||  Woodway Curve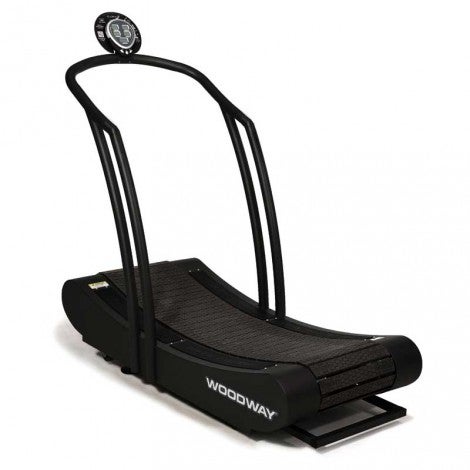 Continuing on from the Woodway 4Front/Desmo from last month, April's Facility Feature is the Woodway Curve.  This is one of the most unique treadmills that we have in our facility. Currently, 
the Curve is located on Cardio Row right beside the other Woodway treadmills.
What makes this treadmill so unique is the fact that it uses no electricity at all. The innovative running belt design glides across 112 ball bearings. The curved surface allows the running belt to freely travel over the bearings without the use of a motor to power it. The design of this machine makes it excellent for speed work or high intensity interval training. 
To start the Curve, all you have to do is get on and start walking. To speed up simply start moving faster, as you would running outside. This machine is all about body position and gravity - the further your feet go up the incline, the faster the belt will travel; to slow the belt down just allow yourself to drift back down the curve and come to a walk. You are completely free to run whatever pace you want on the Curve without hitting any buttons and waiting for the belt to slow down.
Consider giving the Curve a try next time you want to take your run to the next level!
 
---

March 2018  ||  Woodway Desmo & 4Front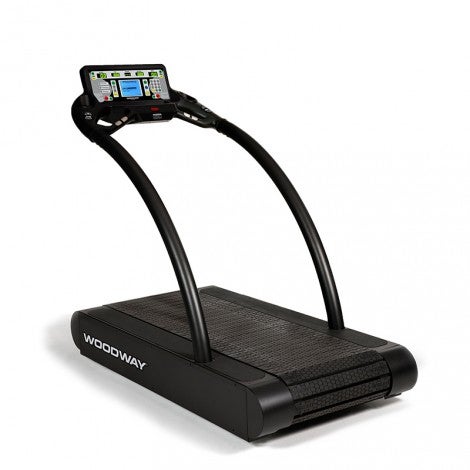 Located along Cardio Row on the 2nd floor, we have four Woodway Desmo (bottom) treadmills and one 4Front (top). The 4Front replaced the Desmo a few years ago and has a slightly different console and appearance, but all the same internal components as the Desmo.  Woodway treadmills are very unique pieces of cardio equipment. They may be a little intimidating to look at - often said to resemble a tank - but the differences compared to a conventional treadmill are very apparent once you get on the machine. The biggest difference is the running surface. A conventional treadmill has a wooden deck with a belt-driven walking belt. The Woodway running surface is made of 60 individual rubber slats that are transported on a ball-bearing system. This translates to a quieter, softer machine that requires less maintenance less frequently.
FEATURES & BENEFITS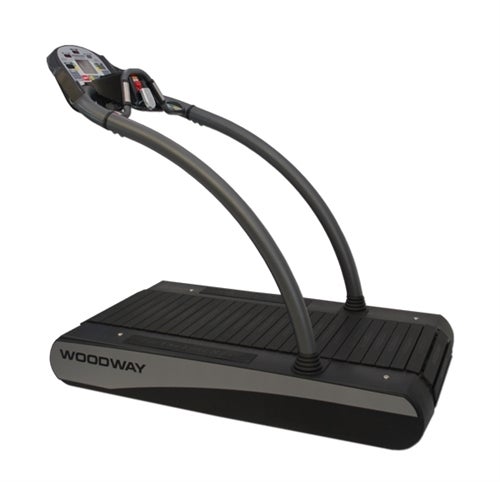 The shock-absorbing slats are also ideal for eliminating harmful shock to joints, muscles and connective tissue while not changing proper running biomechanics. Woodway is the go-to choice for many professional sports teams, as well. In fact, there is even a Woodway designed for hockey players to skate on!
These treadmills have 10 pre-programmed workouts and a variety of fitness tests to to workout with or regularly assess personal benchmarks. The incline reaches up to a grade of 15%, and the speed maxes out at 12.5 mph. They are also Bluetooth capable and have USB ports for connecting a variety of devices. Consider giving one of the Woodway Desmo or 4Front a try on your next run here at the Rec!