<< Premium Fitness Programs  |  F45 Challenge
---

Welcome to F45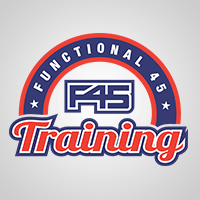 The F stands for functional training, a mix of circuit and HIIT style workouts geared towards everyday movement.  45 is the total amount of time for sweat-dripping, heart-pumping fun. 

F45 Training is a global fitness training community specializing in innovative, high intensity group workouts which are fast, fun and proven to get rapid results. This fitness phenomenon combines elements of HIIT, circuit training and functional training and has exploded across the globe with over 800 franchises across 27 countries in just 3 years.
Classes burn 500-800 calories and with a library of more than 3,000 different exercises you'll never repeat a workout - which is why F45 Training has become the fastest growing fitness brand in the world! The workouts are powered by technology while trainers create the experience, proving that innovation plus motivation truly equals results.
Summer F45 2022 Schedule
*Pre-registration required. Classes with 0 people enrolled 1 hour prior to the scheduled start will be canceled. 
**For the most up-to-date schedule check the CSU Rec Member Connect app.
Mondays:  6:15a.m., 12p.m., and 6p.m.
Tuesdays:  6:15a.m., 12p.m. and 6p.m.
Wednesdays: 6:15a.m., 12p.m. and 6p.m.
Thursdays:  6:15a.m., 12p.m. and 6p.m.
Fridays:  6:15a.m. and 12p.m.
Saturdays:  9:45a.m.
Sundays:  9:45a.m.
Note: the 2nd floor turf space will be closed to general recreation use during class times and 30 minutes prior to the scheduled class start time for class setup.
CARDIO: Mondays/Wednesdays>> Push your cardiovascular skills to the limit in a session that will flash before your eyes. Even afterwards, your metabolism will still be in overdrive.
RESISTANCE:   Tuesdays/Thursdays/Sundays>> Resistance meets functional movement patterns in a full body burn, and we mean burn. You'll walk out, or possibly crawl, with your body cut like a diamond.
HYBRID:  Fridays/Saturdays>> A mix of cardio and resistance training that will put your strength and endurance through the ultimate challenge. Are you ready to earn your weekend?
F45 Class Pass Options

Single Class: Students: $10  ||  Members: $15  ||  Non-Members: $20
5 Class Pass: Students: $45  ||  Members: $65 || Non-Members:  $90
10 Class Pass: Students: $80  ||  Members: $110 || Non-Members:   $160
1 Month Pass:  Students:  $25 || Members:  $35 || Non-Members: $55
Semester Pass: Students: $85  ||  Members: $125 || Non-Members:  $205
F45 LionHeart Bundle
Introducing LionHeart, F45 Training's latest technological innovation, the LionHeart Heart Rate Monitor.  LionHeart is integrated with F45TV and has been designed to help you reach your fitness goals faster by providing the information you need for a better workout. 

Bundle package includes:  LionHeart Heart Rate Monitor, an F45 sweat towel, and the F45 Semester Unlimited Class Pass.  (A $170 value!)  Members, it's yours for $140.*  CSU students, it's yours for $100!*
*Price does not reflect sales/service tax.
Purchase your F45 class pass online or via the CSU Rec Member Connect app!