Registration  ||  Pricing  ||  Day Camps  ||  Summer Camp  ||  Additional Services
---

Kid Off School for the Day? No Problem!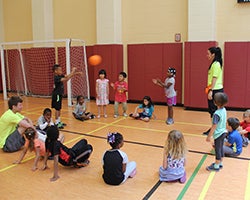 The kids are out of school for the day but you still have to go to work, so let them spend the day with us! Our day camps allow kids to have a jam-packed day of arts and crafts, sports, games, and swimming. Each session is facilitated by highly motivated and energetic students and professionals, all of which are required to be CPR, AED, and First Aid certified. In addition, all staff are trained on current child-related topics and concerns. The safety of your child is our top priority. Your kids will have a blast with us at the Rec! Check out our next day camps below.
NEW! Date Night Camps
February 22, 2019; 630pm-1030pm
March 29, 2019; 630pm-1030pm
April 26, 2019 630pm-1030pm

This brand new addition to our Day Camps program is a perfect option to treat yourself and your significant other to a night out - we know you deserve it every once in a while! We'll watch over and entertain your child for the evening so you can focus on having a great date night!
Fee: CSU Affiliate: $30/child   |  Community: $35/child 
Please note: we are not part of the state or public assistance voucher program.
Columbus Day
Monday, October 8, 2018; 9am-4pm
Election Day
Tuesday November 6, 2018; 9am-4pm
Veteran's Day
Monday, November 12, 2018; 9am-4pm
Martin Luther King Jr. Day
Monday, January 21, 2019; 9am-4pm

President's Day
Monday, February 18, 2019; 9am-4pm
Spring Break Camp
Monday March 25, 2019 - Friday March 29, 2019; 9am-4pm 
To see pricing for our day camps and Spring Break Camp, click here.
We also offer convenient before and after care programs if your work schedule requires you to work early or later. Click here to learn more about these great programs!