Certs  ||  Master's ||  Private Swim  ||  Swim School  ||  Swim Team  ||  V2R
---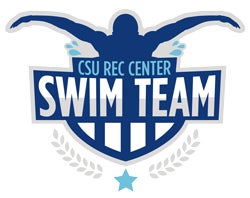 Our new Swim Team is perfect for the up-and-coming young athlete interested in competitive swimming. Geared towards proficient young swimmers, the CSU Rec Swim Team works to enhance technique, develop speed and endurance, and build confidence in a fun, competitive atmosphere. Progressive and structured practices will introduce and teach the basics of competitive swimming and prepare team members to swim in local meets and leagues, while creating a foundation for competitive swimming at the collegiate level. Dive in and join the team today!
 
General Info
STARTING AUGUST 21ST!
The CSU Rec Swim team is geared towards young swimmers between the ages of 7-12 who already have a proficiency for swimming. Swim Team practices take place on Mondays, Wednesdays, Fridays from 4:30-5:45pm.
 
Pricing
Member: $10/week  |  $35/month
Non-Member: $25/week  |  $90/month
Single Drop-In: $10 (limited to 1/week)
 
Questions??
For questions or more information, contact aquatics@csuohio.edu.