Membership Types  ||  Member Services  ||  Passes  ||  CSU Rec Rewards  ||  FAQ 
---

Then Redeem them for Awesome Gifts and Prizes!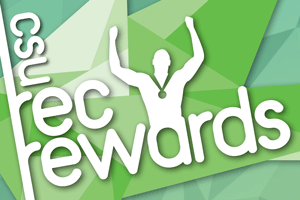 CSU Rec Rewards is our loyalty program that rewards your participation at the #CSURec! There are lots of ways to earn points, then redeem them for awesome club and name brand prizes - it's really that easy! Our members mean a lot to us and this awesome program is just one way we can recognize you for your loyalty and participation in our programs and facility. Plus, it's totally FREE - so activate today and start earning your CSU Rec Rewards!
How Do I Join CSU Rec Rewards?
You will need to activate your account through the email you receive once you check in to the facility - plus, you will receive 50 points just for activating your account!  All rewards accounts are linked to the email address we have on file.  You will need to provide your first and last name as well as your phone number upon activation.
How Do I Log In?
After activating your account, you can access our rewards site via Perkville by clicking here.  
How Do I Earn Points?
You are able to earn points the following ways:
5 points for daily check-in (max of 5 points per day)
5 points for attending group fitness classes
10 points for attending F45 classes
25 points for attending programs (Learn to Swim, Pink Gloves Boxing, etc.)
50 points for activating your rewards account
50 points for services (massage, private swim, personal training)
125 points on your birthday
1250 points for referring a friend who then joins as an active member
How Do I Redeem Points?
There are lots of fantastic prizes you can earn by redeeming your CSU Rec Rewards points - all you have to do is find the prize you want to earn, reach the point threshold, and redeem for your prize!  In addition to redeeming for some of our own CSU Rec products, you also have the ability to redeem for merchandise and apparel, as well as discounts on travel and entertainment!  Check out the possibilities by selecting the "Perks" page on the rewards website!