Membership Types  ||  Member Services  ||  Passes  ||  CSU Rec Rewards  ||  FAQ 
---

Then Redeem them for Awesome Gifts and Prizes!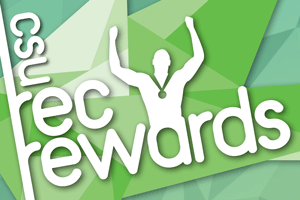 CSU Rec Rewards is our loyalty program that rewards your participation at the #CSURec! There's lots of ways to earn points, then redeem them for awesome club and name brand prizes - it's really that easy! Our members mean a lot to us and this awesome program is just one way we can recognize you for your loyalty and participation in our programs and facility. Plus, it's totally FREE - so activate today and start earning your CSU Rec Rewards!
 
How Do I Join CSU Rec Rewards?
It's quick and easy to activate your CSU Rec Rewards account! As a CSU Rec member, you are already pre-enrolled in the CSU Rec Rewards - all you have to do is visit CSURecRewards.com, and activate your account. Once you're done (and it will only take a mintue or 2) you'll receive 250 points just for activating! What a great way to start, right!? Below you can find detailed instructions to activate your free CSU Rec Rewards account, but if you have any questions or need help, contact Jason Mandula, Assistant Director of Member & Guest Services.
To activate your account, follow the steps below:
Go to www.csurecrewards.com.
On the lefthand side, click on the 'New to FitRewards? Activate your Account.' link.
Complete the sections underneath 'Account Activation'.

Please note: the information you enter (first name, phone number, email address) needs to match what is in the Rec Center database. If you receive an error message regarding your phone number, try entering '999-999-9999'; if you don't know what email address you have listed, please contact us. Lastly, don't forget to create your password!

Once you click 'Submit' you will have access to our RecRewards portal!
If you should have any problems, you can click here to submit a request for assistance.

How Do I Log In?
When you joined the CSU Rec Center, you were automatically enrolled in CSU Rec Rewards (CSU students: you're automatically a CSU Rec member if you're enrolled in at least 1 credit hour). Now, all you have to do is activate your account. Follow the steps above to activate your account.
 
How Do I Earn Points and What Can I Earn?
We've made it so easy to earn points in RecRewards it almost seems to good to be true...almost! And with so many easy ways to earn points, you'll reach reward thresholds in no time! Check out the variety of ways you can earn points by clicking here.
There are lots of fantastic prizes you can earn by redeeming your CSU Rec Rewards points - all you have to do is find the prize you want to earn, reach the point threshold (outlined below) and redeem for your prize! In addition to earning some valuable CSU Rec prizes, you can also redeem points for items like iPods, iPads, jewelry, bikes, watches, cameras, apparel, and much, much more! To search through the hundreds of prizes available, log in to your CSU Rec Rewards account.
| | | | |
| --- | --- | --- | --- |
| Threshold 1 | 1,250 pts. | Threshold 4 | 10,000 pts. |
| Threshold 2 | 2,500 pts. | Threshold 5 | 17,500 pts. |
| Threshold 3 | 5,000 pts. | Threshold 6 | 25,000 pts. |