Fall 2019 Session Application Now Open Thru August 28th!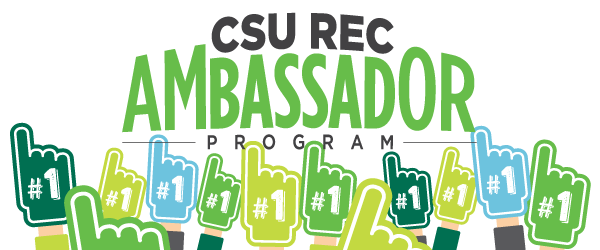 Our best and most impactful marketing is very often the valuable recommendations and powerful feedback our members provide. And engaging with you, our dedicated members, is something we'd like do more! 
The CSU Rec Ambassador Program is an opportunity for a small group of dedicated CSU Rec Center members to help raise awareness for our facility and offerings, and in return receive free or deeply discounted access to programs, services and events.
Want to join this exciting new group? The application to join the Fall 2019 session will be available from August 19 - 28. Complete the online application below to be considered!
---

Fall 2019 Session Dates
Application Submissions: August 19 - 28
Application Review and Selection: August 29 - 30
Session Run: September 3 - November 30
 
Ambassador Incentives and Rewards Include...
FREE or deeply discounted access and registrations to specified Rec Center classes, programs and services!
FREE CSU Rec workout shirt and swag!
An exclusive ambassadors-only extra 5% discount on the purchase of programs, services, and Pro Shop items! (excludes memberships)
Earn extra rewards and gifts for successfully reaching optional Ambassador Achievements!
A thank you gift upon completion of the program!
 
An Ideal CSU Rec Ambassador...
is willing to try new programs and services
is a current Rec Center member of at least 3 months
is active at the Rec Center, averaging at least 3 visits/week
is active on at least 1 of these social media platform: Facebook, Twitter, and/or Instagram
is willing to participate in 3-5 specified classes, programs, services and activities per month
is friendly, outgoing, and dedicated
 
Ambassador Responsbilities:
Follow the CSU Rec Center on the following social media platforms you have: Facebook, Twitter and Instagram (@CLEStateRec)
Participate in the specified classes, programs, services, and initiatives.
Wear CSU Rec Center apparel and swag during classes! (when possible)
Post honest and positive updates about your experiences and tag the CSU Rec Center.
Post at least 5 posts/month* using #csurecambassador. More details and info will be provided to Ambassadors.**
Like, share, comment, etc. on posts from the CSU Rec Center to help spread the word.
Be willing to speak with other members and participants if they should ask you questions or your opinion.
Share provided hot cards or flyers with friends, family, co-workers or local establishments.
Optional: Be a "Featured Member" of the CSU Rec Center (to appear in our monthly e-newsletter and/or on csurec.com.)
*Note: if an ambassador is not fulfilling his/her responsibilities, he/she will be removed from the program. 
**Use of the hashtag is necessary for tracking progress and posts for the Ambassador program.