There Are Lots of Ways to Connect with #CLEstateRec!
The Campus Rec Check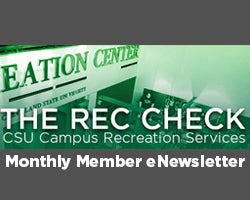 The Rec Check is a fast and convenient way to stay on top of all that's happening at the CSU Rec Center! Distributed monthly, our eNewsletter is flled with the latest updates, event and program info, news, special offers, promotions, and more! Click here to subscribe...


 
Join Us on Social Media!
The Rec Center and CSU Campus Recreation Services is proud of the relationships we build with our members, and we love to hear about your involvement at the Rec, your success stories and items we can help you with. We enjoy interacting with you regularly to hear your comments, suggestions and ideas for improvements, as well. We invite you to join us on one or all of our social media pages and keep in touch with us! Just click the icons towards the top-right of the page to redirect to our social media pages. We look forward to hearing from you!
Facebook  ||  Twitter  ||  Instagram  ||  YouTube
 
Mobile Apps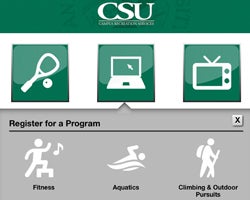 With the CSU Rec's mobile apps, you can view our program schedules, reserve court, register for classes, manage your member account, and even watch our videos from our Move of the Month series and how to use the equipment, all from your phone.