Club Sports  ||  Intramural Sports
---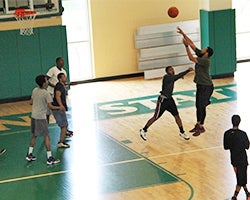 Community leagues provide an opportunity to compete in adult sports with other teams. Leagues are offered throughout the year and vary by season. Examples of leagues offered in the past include flag football, basketball and volleyball. All community leagues are open to adults 18 years of age or older. You do not have to be a CSU student or Rec Center member to compete.
 
Customized Leagues
In addition to our preset community leagues, we also offere customized sport leagues! Perfect for hosting your Amatuer Athletic Union Team or hosting an office sport league. With our trained officials and outstanding facilities, we can put together a sports program that's perfect for your group. Contact Rachael Stephan at 216.523.7369 for more information.
 
Upcoming Community Leagues
Basketball
Registration Deadline: May 25, 2017
Play Runs: June 12th - July 29th, 2017
Cost: $85/team
Volleyball
Registration Deadline: May 25, 2017
Play Begins: June 5th, 2017
Cost: $48/team
Registration opens soon! Check back for more details in the next week.
Questions about any of our community leagues? Contact Rachael Stephan, Competitive Sports & Recreational Programs Coordinator, at r.m.stephan@csuohio.edu.