With Cleveland Burger Week, there are a number of unique and fun flavor combinations at over 25 restaurants in the area. We understand that trying new things can be a little daunting, which is why we decided to try a new one for you!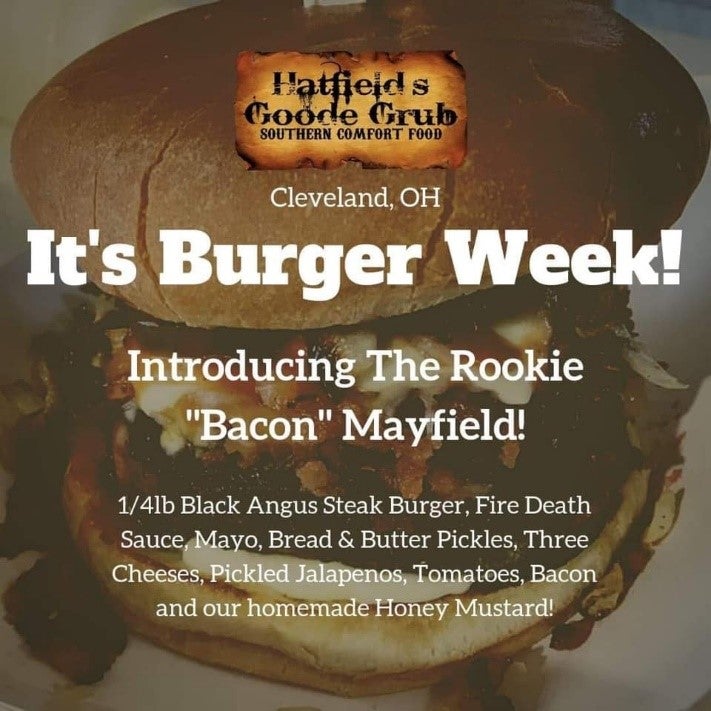 Welcome back to another Where to be Wednesday, where we actually want to focus on a whole week of where to be. This week (July 15-July 21), Cleveland is hosting its own "burger week," in which 25+ restaurants will serve their own take on their best burger. If you visit at least 5 locations with a passport, you can be entered to win the grand prize of an "Ultimate Cookout" and a grill. Each burger is only $5 and the proceeds from Burger Week help benefit Childhood Food Solutions, a nonprofit organization that works to help kids get guaranteed access to food during school breaks. With a cause like that, what's not to love about Cleveland Burger Week?
With over 25 burgers all over Cleveland to choose from, we weren't sure where to start on our passport. The goal is to try as many as possible without burning ourselves out. For a good burn, we tried the "Rookie 'Bacon' Mayfield" from Hatfield's Goode Grub. Though a little (a lot!) spicy, we handled it quite well, enjoying the combination of Fire Death Sauce, Homemade Honey Mustard, and even the pickled jalapenos. It all made for a unique flavor combination that tickled our taste buds and allowed us to kick off Cleveland Burger Week in a spicy way!
Keep your eye out for more hot deals and CLE Burgers on our social media @CLEStateRec and let us know where YOU enjoy your burger week