---

Become an Aquatics Expert at CSU|REC!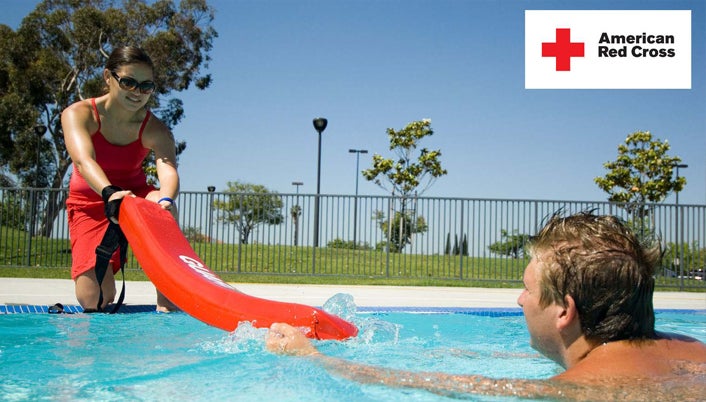 No matter the reason, we can get you certified and ready for Lifeguarding, Swim Instruction, or even Operating a Pool! For questions or more information, please contact Griffin Manning - Graduate Supervisor, Aquatics & Safety g.l.manning22@vikes.csuohio.edu
PLEASE NOTE: Program registration ends one (1) week prior to the start date of each session. 
 
Before making your purchase, click here to review our refund policy.
Lifeguard Training 

Become a lifeguard, recertify, or step up your aquatics game by becoming a Lifeguard Instructor!
Pre-Requisites for Lifeguard Training
Swim 300 yards continuously, using front crawl and breaststroke.

Tread water for 2 minutes without hands.

Swim 20 yards, submerge to 6-10 feet, retrieve a 10-pound brick, return to starting point, and exit pool in less that 1 minute 4 seconds.
Lifeguard, Lifeguard Review, and Lifeguard Instructor courses are also offered as private classes for groups. Contact us today to find out more about these options!
 
Lifeguard Course Schedule
Course
Days/Times
Lifeguard Review/Recertification
Sunday, February 20; 10a-4p
Lifeguard Review/Recertification
Saturday, March 12;10a-4p
Lifeguard Instructor Trainer Academy 
March 22-25
Lifeguard Training
Friday, March 25; 5p-9p
Saturday, March 26; 9:30a-5p
Sunday, March 27; 9:30a-5p
Lifeguard Review/Recertification
Sunday, April 3; 10a-4p
Lifeguard Training
Mondays & Wednesdays
April 11 – April 27
5p-8:30p
Lifeguard Training
Tuesdays & Thursdays
May 17 – June 2
5p-8:30p
Lifeguard Review/Recertification
Saturday, May 28; 10a-4p
Course Fees*
 
 
 
Course
Students
Members
Non-Members
Lifeguard Training
$100
$150
$175
Lifeguard Review/Recertification
$60
$75
$100
Lifeguard Instructor
$215
$225
$245
Lifeguard Instructor/Instructor Trainer Review
$20
$30
$40
Lifeguard Instructor Trainer Academy
Please visit your ARC Learning Center for details & registration

---
Due to University and Recreation Center COVID-19 operating guidelines, only select programs are being offered at this time.