Certs  ||  Master's ||  Private Swim  ||  Swim School  ||  Swim Team  ||  V2R
---

Knowledgeable Instructors and Trainers.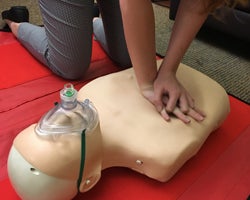 We offer a wide selection of classes in CPR/AED, First Aid, and Lifeguarding. Classes are taught by experienced American Red Cross Instructors. These classes are great for teachers, coaches, health care providers, day care providers, social workers, security personnel and anyone who would like to be able to offer knowledgeable care in the case of an emergency. If these classes do not fit into your schedule we can arrange private group certification trainings for most of our classes. For questions or more information, please contact aquatics@csuohio.edu.

PLEASE NOTE: Program registration ends one (1) week prior to the start date of each session.
Before making your purchase, click here to review our refund policy.
Click here to view descriptions of our courses! >>
Course
Date(S)
Times
Price
Lifeguarding*

5/23 - 5/25

10am-3pm
CSU Student: $215
Member: $225
Non-Member: $245
6/1 - 6/2
9am-4pm
Lifeguard Review
5/26
9am-4pm
CSU Student: $75
Member: $85
Non-Member: $95
Shallow Water Lifeguard
6/6 - 6/7
9am - 4pm
CSU Student: $150
Member: $160
Non-Member: $170
Lifeguard Instructor
TBD
TBD
TBD
CPR/AED for the Professional Rescurer 
+ First Aid
5/20
9am-4pm
CSU Student: $70
Member: $80
Non-Member: $90
5/25
6/21
7/13
8/2
8/23
8/24
CPR/AED/First Aid Instructor
TBD
TBD
TBD
Certified Pool Operator
TBD
TBD
TBD
Water Safety Instructor
TBD
TBD
TBD
---
*This course is also offered to private groups with 3 or more people. Contact Cole at c.r.osborn@csuohio.edu for more information.
Emergency Response Training
An exciting new program that gives you key and vital information on how to responding in emergency.  In partnership with University Hospital and Vike Health we will be offering a Stop the Bleed and Hands Only CPR series that is provided free of charge.  Register online or in the pro shop.
Stop the Bleed Dates
Monday, June 3, 12-1:30
Tuesday, Sept 24, 12-1:30
Wednesday, Oct 23,  3:30-5:00
Hands Only
Monday, June 24, 12-1
Tuesday, September, 17, 11:30-12:30
Wednesday, October 9, 3:30-4:30