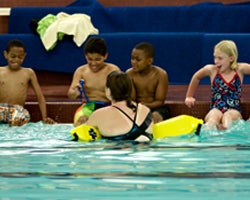 CSU Rec is proud to be affiliated with the American Red Cross for our swim lessons program and safety certifications!
The Red Cross Swimming and Water Safety program teaches people of all ages and varying abilities to swim and be safe in and around water. Swimming readiness and swim instruction courses within the Red Cross Swimming and Water Safety program include Parent and Child Aquatics, Preschool Aquatics, Learn-to-Swim and Adult Swim courses. These courses take an inclusive approach that emphasizes skill development in conjunction with water safety and drowning prevention education. The program also includes a variety of water safety courses and presentations to help teach all age groups how to enjoy the water safely and how to stay safe in the event of an emergency.
Fall Swim Lessons
Details will be posted by July 29, 2021 for the Fall Swim Lesson Schedule
Registration for Fall Sessions will begin Monday, August 2, online and in person at the Pro Shop.
 
Registration Information
Registration can occur in person at the Pro Shop or online.
No refunds for cancellation by participants.
Transfers available up until close of registration for current program.
Full refunds for any programs cancelled by Campus Recreation Services.
Swim Lesson registration ends one (1) week prior to the start date of each session
Contact Melissa Evers m.evers66@csuohio.edu or any additional questions or assistance
Private lessons also available, information can be found HERE!

Registration for all classes ends 1 week prior to the start date of each class.