Adventure Trips  ||  Gear Rental  ||  Workshops
---


Because Sometimes You Want to Learn New Ways to Be Adventurous!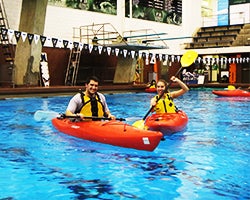 Our Adventure workshops are the perfect way to learn a new skill or perfect the ones you already have - either way, they're a blast! And in the comfort of our very own CSU Rec Center.  Adventure Workshops are open to anyone and everyone and all equipment is provided. 

For more information on any of these Adventure Workshops, please email advr@csuohio.edu.
Before making your purchase, click here to review our refund policy.
Summer Paddle Sessions
Dates and Times: Join us for one or more of our Summer paddling events! 
Saturday, June 4th: 10am-12pm
Friday, June 24th: 6:30pm-8:30pm
Friday, July 22nd: 6:30pm-8:30pm
Saturday, August 6th: 10am-12pm
Saturday, September 10th: 10am-12pm
Cost:  CSU Students: $15  Members: $30  Non-members: $45
Location:  Wallace Lake in Berea, OH 
Transportation Provided: No
Join us this summer for an excellent time stand-up paddleboarding! Life jackets, paddles and SUP boards are all included. If you are brand new to paddling this a great way to get started and try it out! Our instructors are seasoned professionals and will teach you everything you need to know. It is also a great way to excersie and get outside at the same time. Meet us at Wallace Lake for Summer Fun!