Adventure Trips  ||  Gear Rental  ||  Instructional Clinics
---


Jump Into Excitement!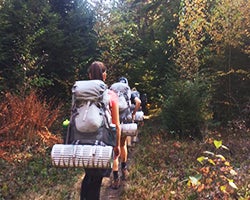 Our Adventure Rec trips are an awesome way to get out of the gym, be active with other adventurous people and have a blast! And you don't have to have any prior experience to join any of our trips – EVERYONE from beginners to experts are welcome and encouraged to participate. Most, if not all, equipment is provided so all you have to do is sign up and show up! Check out our upcoming trips below but don't wait too long - trips can fill up fast!


Interested parties can register online or in our ProShop. For more information on any of these trips, please email advr@csuohio.edu.
Before making your purchase, click here to review our refund policy.
Fall 2018 Adventure Trips 
Intro to Backpacking Trip
When: October 14th, 2018
Where: Buckeye Trail in Bedford, Ohio
Time: TBD
Cost: Students $20  |  Members $25  |  Non-Members $30
Join us on a one-day backing trip through the Bedford, Ohio portion of the Buckeye Trail. Hike the morning out until the mid-afternoon, have a good meal and then hike back. A nice way to get accustomed to a backpacking!
Transportation from CSU Rec Center to the trailhead is included in the price.  You will be expected to bring a lunch with you but all other gear will be provided.  Further details will be provided at the Pre-Trip meeting on October 12th at 5pm.
October 27th: Outdoor Rock Climbing Trip
When: October 27th, 2018
Where: Cleveland Metroparks
Time: 1:00pm - 4:00pm
Cost: TBD
Join Cleveland Metroparks and the CSU Rec Center on an outdoor rock climbing trip!
Indoor Climbing Trip
When: November 9th, 2018
Where: Kendall Cliffs Rock Gym
Time: 4-8pm
Cost: Students $30*  |  Members $35*  |  Non-Members $40*
Climb your way through an afternoon at the Kendall Cliffs Rock Gym for a fun evening of going up and down some epic rock walls. Shoes and harness included in the price, as well as transportation. So, all you have to do is sign up and have a good time!
*Transportation included.
 
Winter Snowshoeing Hike
When: December 8th, 2018
Where: Cuyahoga Valley National Park
Time: 10am to 4pm
Cost: Students $10  |  Members $15  |  Non-Member: $20
We're not letting the snow get in our way! Our adventurous team will lead you on this snowshoeing excusion through the Cuyahoga Valley Nation Park to see just how beautiful winter can be! Snowshoes included in the price, but don't wait to sign up as spaced are limited! Pre-trip meeting will take place on Monday, 12/3 at 5pm in Room 177. However, if you can't make this meeting, please email Keanu Hallowell at k.hallowell@vikes.csuohio.edu to schedule a time to discuss the trip details.