Adventure Trips  ||  Gear Rental  ||  Instructional Clinics
---


Jump Into Excitement!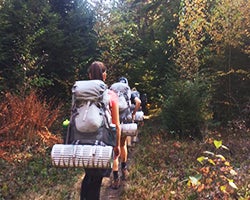 Our Adventure Rec trips are an awesome way to get out of the gym, be active with other adventurous people and have a blast! And you don't have to have any prior experience to join any of our trips – EVERYONE from beginners to experts are welcome and encouraged to participate. Most, if not all, equipment is provided so all you have to do is sign up and show up! Check out our upcoming trips below but don't wait too long - trips can fill up fast!


Interested parties can register online or in our ProShop. For more information on any of these trips, please email advr@csuohio.edu.
Before making your purchase, click here to review our refund policy.
Fall 2019 Trips

Date of Trip

Time of Trip (Start time for overnights)

Location

Price

Camping & Hiking Weekend
October 18-20th
6pm - 10/18
Mohican State Park

Member - $50

Non Member - $60

Rock Climbing
October 26th
3-5pm
Cleveland Rock Gym

Member - $35

Non Member - $45

Axe Throwing
November 2nd
6-8pm
Class Axe Throwing

Member - $35

Non Member - $45

Day Hike
November 16th
11am - 1pm
Cuyahoga Valley National Park

Member - $15

Non Member - $25

Indoor Moutain Biking
November 20th
6-8pm
Ray's Indoor Mtn. Biking

Member - $35

Non Member - $45
Bold - Transportation INcluded