Adventure Trips  ||  Gear Rental || Workshops 
---


Jump Into Excitement!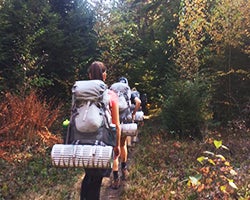 Our Adventure Rec trips are an awesome way to get out of the gym, be active with other adventurous people and have a blast! And you don't have to have any prior experience to join any of our trips – EVERYONE from beginners to experts are welcome and encouraged to participate. Most, if not all, equipment is provided so all you have to do is sign up and show up! Check out our upcoming trips below but don't wait too long - trips can fill up fast!


Interested parties can register online or in our ProShop. For more information on any of these trips, please email advr@csuohio.edu.
Before making your purchase, click here to review our refund policy.
Bike to the Rock Hall
Date: Saturday, June 11th
Time: Departure: 2pm. Return: 5pm
Cost:  Free if you bring your own bike and are a Cleveland Resident! 
Location: Meet at the Rec Center
Transporation Provided: no
Meet us at the Rec Center for a 3 mile bike ride to and from the Rock & Roll Hall of Fame!
Bring your own bike or rent a lime bike. Estimated Cost for a  Lime bike is $6.
Cleveland Residents get into the Rock Hall Free! (CSU dorm residence included.)
Admission price for non-Cleveland residence is $30 (not included.) 
 
Edgewater Beach Clean Up
Date: Sunday, July 10th
Time: 10am-12pm
Transportation provided: No
Cost: Free for all to join! 
Location: Meet at Edgewater Beach house 
Help us pick up litter with the Adopt-a-Beach Program! Participating at your local stretch of the Great Lakes shoreline is a great way to get ourdoors and give back to Lake Erie wthat gives us so much. Make a postivite impact on the environment this summer as we record how much litter we collect! All equipment included.
Camping Trip
Date: Saturday July 16th - Sunday July 17th 
Time: Departure: Saturday at 2pm. Return: Sunday at 2:30pm
Cost: CSU Students:$50 Members:$60 Non members: $70
Location: Mill Creek Campground
Transportation Provided: Yes
Find a stronger connection by camping with us! Dont have camping gear? We have you covered! We off tents, hammocks, sleeping bags and everything else you need for no extra charge. We will be going to Mill Creek Campground on Berlin Lake, a large reservoir with bays and inlets, perfect for paddling and fishing. We will be brining our own kayaks to explore the lake.
Feel free to bring you fishing gear! (Fishing license required.)
Food and transportation included.

Birding Hike
Date: Saturday, July 30th
Time: 10am-11am
Cost: Free for all to join! 
Location: Ohio Erie tow path 
Transportation provided: No
Join us for a relaxing stroll along the Cuyahoga River while we look for birds to identify using sight, sound and habitat. Binoculars provided.
Perfect for beginner birders, if you are experienced this is a great way to share knowledge!
 Meet near Hoopples: 1930 Columbus Rd, Cleveland Ohio. 

Edgewater Hangout
Date: Saturday, August 13th
Time: 1pm-3pm
Cost: FREE for all
Location: Edgewater Park 
Transportation provided: No
Join us for a hangout at Edgewater park! A great place to meet up with friends and make new ones. We will have slack lining, cornhole and hammocks. Meet at Edgewater Beach house.