Adventure Trips  ||  Gear Rental  ||  Instructional Clinics
---


Jump Into Excitement!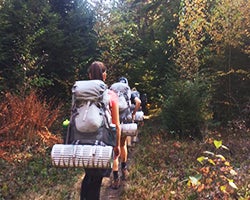 Our Adventure Rec trips are an awesome way to get out of the gym, be active with other adventurous people and have a blast! And you don't have to have any prior experience to join any of our trips – EVERYONE from beginners to experts are welcome and encouraged to participate. Most, if not all, equipment is provided so all you have to do is sign up and show up! Check out our upcoming trips below but don't wait too long - trips can fill up fast!


Interested parties can register online or in our ProShop. For more information on any of these trips, please email Keanu Hallowell, Graduate Supervisor of Adventure Recreation at K.Hallowell@vikes.csuohio.edu
Before making your purchase, click here to review our refund policy.
Spring 2018 Adventure Trips
Kayaking Open Paddle
When: Saturday, January 13th  |  Sunday, February 25th  |  Saturday, March 10th  |  Saturday, April 14th  |  Saturday, May 19th
Where: CSU Natatorium (Pool)
Time: 10am-12pm
Price: $5 Students/Members | $10 Non-Members

Various kayaks and equipment will be available for use for anyone who needs it. Participants under 18 years old are welcome, however they MUST be accompanied by a parent or legal guardian.
All participants must register in advance online or in the Pro Shop.
Payment can be made in advance or on the evening of the session in the Pro Shop.
All participants must wear an appropriate Type III or V PFD (life vest supplied).
Personal boats are welcome, but should be clean and free of dirt and debris. Please email Chris Davey (C.J.Davey@csuohio.edu) with any questions regarding personal boats.
Participants who use a spray skirt will need to demonstrate the ability to effectively wet exit while using skirt.
 
Indoor Rock Climbing
When: Friday, January 26th @ 5-10pm
Where: Climb Cleveland
Price: $15 Students/Members  |  $20 Non Members

Experience rock climbing without leaving the indoors! Climb Cleveland is for non-climbers to try something new, for very experienced climbers to build their bodies and skills, and climbers of all levels in-between. 
Your entrance fee and gear rental are covered, and experienced climbers will also be on hand to provide assistance and climbing help. Transportation will be provided to and from the Recreation Center. Register today - spots are limited!
Waterfall Hike
When: Sunday, February 4th @ 9am-3pm
Where: Off Trail, Cuyahoga Valley National Park
Price: $10 Students/Members  |  $10 Non Members
Ice Climbing w/ Metro Parks
When: Saturday, February 17th @ 6am-8pm
Pre-trip meeting: February 12th @ 5:15-745pm OR 7:30-9:45pm
Where: Fenton, MI (Pre-trip at Kendall Cliffs)
Price: $130 Students/Members  |  $130 Non Members
 
Indoor Mountain Biking
When:
 Sunday, April 22nd @ 5-10pm
Where: Ray's Indoor Mountain Biking
Price: 
$25 Students/Members  |  
$30 Non Members
Don 't let the winter chill keep you off the trails. Join us at Ray's MTB Indoor Park for a mountain biking clinic and guided ride. The park offers a large variety of terrain for every level of rider, from the beginner to the advance expert. All areas are clearly marked, so it's easy to find your way around without getting accidentally in over your head. We will start in the beginner skill room and move through the building to grow your new skills or test your shocks. Other areas include the Cross-Country Loop which most closely duplicates the experience of riding a single-track trail in the woods, the jump room and the Pump Track where you will learn to use gravity to your advantage and forsake pedaling. 
 
Cuyahoga Valley Off-Trail Hike
When:
 Sunday, April 29th @ 9am-12pm
Where: Cuyahoga Valley National Park, Blue Hen Falls Trail Head
Price: 
$5 w/o transportation  |  
$10 w/transportation
We will be seeing one of CVNP's iconic photo spots - Blue Hen Falls - makes for a short and easy hiking destination, but it's just the entry point for a longer, more exciting trek to a larger waterfall. We will follow the uneven sandstone path further down and find - after quite a few twists and turns, and very possibly a few slips along the way (bring your best balance and wear seriously sturdy footgear) - the bigger, badder Buttermilk Falls below. This will be a challenging hike, even though it will only be about 3 miles.