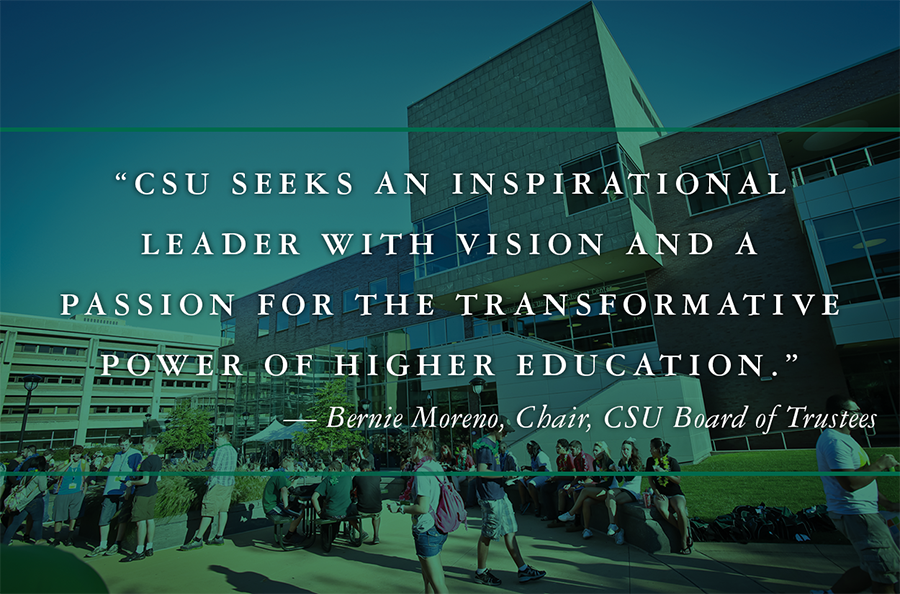 Letter from the Chair, CSU Board of Trustees
Dear Friends:
Cleveland State University has never occupied a better position than it does today, thanks to the outstanding leadership of President Ronald M. Berkman. His dedication to student success, his pursuit of a reimagined campus and his cultivation of strategic community partnerships have elevated CSU to a best-in-class urban university. As Dr. Berkman prepares to retire in June 2018, CSU is poised to reach even greater heights.
Finding the leader best qualified to build upon this success is crucial. CSU has hired Wheless Partners to assist in a national search to find that leader. Because of the University's transformation, we anticipate a pool of excellent candidates.
For more than half a century, CSU has been an anchor institution in our region, serving it with distinction. Our next president will build upon this legacy and elevate the University's national stature by embracing the unique approach to higher education that we call Engaged Learning.
The future will bring challenges. More than ever, our students will demand academic excellence, affordability and a demonstrable return on their investment. CSU must deliver them all and with greater efficiency amid a likely environment of diminishing state support.
We seek an inspirational leader who is prepared to meet these challenges with vision, creativity and a passion for the transformative power of higher education. Those accustomed to business as usual need not apply.
Throughout the process, our goal is to keep you informed and to listen to your input. On this website you'll find details on the presidential transition team and search committee, as well as updates on the transition. You may also submit your thoughts on the qualities and skills you want in our next president and what his or her top priorities should be.
As we prepare to close one of the most exciting chapters in University history, we can take pride in recent achievements — and we can look forward to an even greater chapter to come at Cleveland State University. 
Sincerely,
Bernie Moreno
Chair
Presidential Search Committee
CSU Board of Trustees 
---
Presidential Transition Team
Cleveland State University has created a transition team composed of key University leaders who will facilitate the presidential search process and report to the Board of Trustees on progress. The team will be responsible for overseeing the work of the search committee, coordinating communications with the campus community and the public and managing all additional aspects of the transition. The members of the team are:
Bernie Moreno
Chair, CSU Board of Trustees
Thomas Adler
Member, CSU Board of Trustees
Timothy Cosgrove
Chair, CSU Foundation Executive Committee
William Napier
Secretary, CSU Board of Trustees
Rob Spademan
Associate Vice President, Marketing and Communications, CSU
Maurice Stinnett
Vice President of Engagement and Chief Diversity Officer, CSU 
Deborah Vesy
Member, CSU Board of Trustees 
---
Get Involved
We want to hear from you.
What are the top priorities for the next president of CSU? What important qualities and skills should CSU be looking for in our next president? Click the button below to submit your feedback via our online form.


Stay informed.
Follow Cleveland State University on social media:
Twitter: @CLE_State
Facebook: @clevelandstateuniversity
Snapchat: @CLE_State