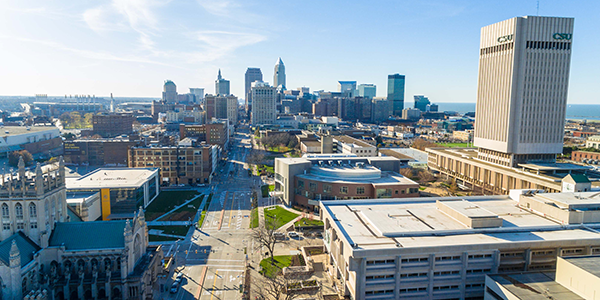 ONE THING RESULTS 
Replace the missing Rhodes West sign. People are always stopping in the Michael Schwartz Library, asking how to get to Rhodes West. A new sign would really help. 
Nedra Haymon
The new sign has been installed outside Rhodes West, Nedra! Thanks for your idea, which got the whole One Thing Campaign rolling!
---
Continue $6 Fridays during the summer at Viking Marketplace through the academic year for faculty/staff.
Erica Thomas
We appreciate the suggestion, Erica. As a result of the success from the summer Friday lunch promotion, CSU Dining plans to launch a pilot program where Friday lunches in the Viking Marketplace will be offered to faculty and staff at an incentivized rate. Details to come soon!
---
I suggest making continuing education/professional development across the University more predominate on the CSU website.
Brandie Blanksenship
Thanks, Brandie! A link to the CSU Professional Development Center website has been added to the footer of the CSU homepage, under "Academic Resources."
---
Clean or replace the window in RT807.
Vern Morrison
Your office window has been replaced, Vern. Enjoy the view! 
---
The Rec Center should offer summer discounts for returning students.
Anonymous
Good news! Campus Recreation Services offers a discounted off-semester student membership option for students not currently enrolled in classes. An off-semester student is one who was enrolled during the previous semester or will be enrolling in the upcoming semester at CSU. The off-semester student membership is $30 per month or $90 for the semester. This represents a savings of $16 per month/$48 per semester over the community membership rate, or $10.25 per month/$30.75 per semester over the alumni/sponsored membership rate. Please visit the Rec Center website for more information. 
---
My "One Thing" would be fixing the stall for people with disabilities in the men's restroom directly across from MC103. The door is unable to close/lock, rendering the stall useless for those who need it.
John DeMarco
A new latch has been installed. The door now closes and locks.
---
Pull the thistle outside Main Classroom and Julka Hall.
Angela Lauffenburger
The thistle outside Julka Hall has been removed. Thistle removal elsewhere on campus will continue in the coming days.
---
Payroll currently posts pay dates, but only for semi-monthly faculty/staff, hourly biweekly staff and part-time single contracts. It would be helpful if they also posted the first pay date for full-time faculty summer teaching contracts, and part-time single-term contract pay dates for each of the summer sessions.
Sara Finlay
Thanks, Sara. Based on your suggestion, we've posted a summer pay calendar for full-time faculty as well as a pay calendar for part-time, single-term instructors. You'll find these calendars on the Human Resources Information Systems (HRIS) website. Thanks to Interim Payroll Director Kadiesha Jarrell-Hill and HRIS Manager Patty Baszuk for making this happen.
---
At Cleveland State University, our leadership team is working tirelessly on behalf of students, faculty and staff to set a course forward with common goals and execute a plan to achieve them. As we begin to forge a collective vision, I want to learn more about your priorities for our University. So I ask you: 
What one thing can we do to make CSU better?
I would love to hear your suggestion. Please email it to me at President.Sands@csuohio.edu. 
Thanks in advance for your feedback. Together, we can make this great institution even greater. 
Sincerely,



Harlan M. Sands 
President 
Cleveland State University
#1thingCSU