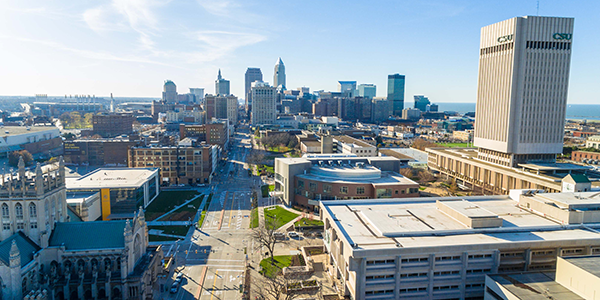 ONE THING RESULTS 
Install flashing crosswalk signals on East 18th Street, between the Cleveland-Marshall College of Law and the Ahuja College of Business. 
Suggested by Several Students and Faculty
Done! Solar-powered flashing crosswalk signals are in place, making it safer to cross East 18th Street between Wolstein Hall and Ahuja Hall. Thanks for this excellent suggestion – and kudos to Facilities Management and Campus Safety for making it happen in collaboration with City of Cleveland officials Tom Nagel, Rob Mavec and Dominic Martino.
---
CSU faculty, staff, alumni and community members participate in classes in the Busbey Natatorium's 50-meter Competition Pool. The only way to enter and leave the pool is via ladders that have steps built into the side of the pool, including one lengthy step at the top. This requires the arm strength to pull oneself up the ladder, as well as the foot, knee and leg strength to climb in and out of the water. Several class members have slipped getting out of the pool – thankfully, there have been no serious injuries. We are respectfully asking for a review of alternative means to get into and out of the pool.
Anonymous
We heard you! The newly installed Aquatrek2 ADA Pool Steps and Titan 600 ADA Pool Lift allow Rec Center members and patrons with physical limitations or disabilities to easily access the 50-meter Competition Pool for open recreation lap swim, lessons and fitness programming. 
---
Create a large green space between East 18th Street and East 21st Street – a "lawn."
Brian Breittholz
Good suggestion, Brian! New grass has been planted where the so-called "crop circle" used to be outside the Music & Communication Building.
---
Please wash windows! A colleague calls CSU "Dirty Windows University."
Deborah Dey
We hope you and your colleague enjoy the views from the recently cleaned windows in the Science & Research Center, Deborah!
---
As a student here at Cleveland State University, one of my main concerns would be the hours of the library. The library closes at 9 p.m., which is not late enough for students to complete all of their academic needs. CSU students need a place to go when they must be up all night cramming for a test or reviewing notes after a night class.
Sammy Paoli
Keep hitting those books, Sammy! Library hours have been extended to 11 p.m. Sunday through Thursday. Look for even longer hours in December, before final exams.
---
I have noticed mold on the spouts of the water fountains in the Health Sciences Building. Could you please address this to ensure our health and safety?
Kelsy Kline
Thanks for pointing this out, Kelsey! The water fountains have been cleaned.
---
Since East 22nd Street goes through the heart of campus and is often congested with traffic, can anything be done to create a spot where students can be dropped off and picked up near Berkman Hall (formerly the Main Classroom Building)?
Kristy Tokarczyk
FAST and Parking Services worked together to create a drive lane for drop-offs and pick-ups, just north of the entrance to the Main Classroom Garage on the east side of East 22nd Street. We appreciate your suggestion, Kristy!
---
Replace the missing Rhodes West sign. People are always stopping in the Michael Schwartz Library, asking how to get to Rhodes West. A new sign would really help. 
Nedra Haymon
The new sign has been installed outside Rhodes West, Nedra! Thanks for your idea, which got the whole One Thing Campaign rolling!
---
Continue $6 Fridays during the summer at Viking Marketplace through the academic year for faculty/staff.
Erica Thomas
We appreciate the suggestion, Erica. As a result of the success from the summer Friday lunch promotion, CSU Dining plans to launch a pilot program where Friday lunches in the Viking Marketplace will be offered to faculty and staff at an incentivized rate. Details to come soon!
---
I suggest making continuing education/professional development across the University more predominate on the CSU website.
Brandie Blanksenship
Thanks, Brandie! A link to the CSU Professional Development Center website has been added to the footer of the CSU homepage, under "Academic Resources."
---
Clean or replace the window in RT807.
Vern Morrison
Your office window has been replaced, Vern. Enjoy the view! 
---
The Rec Center should offer summer discounts for returning students.
Anonymous
Good news! Campus Recreation Services offers a discounted off-semester student membership option for students not currently enrolled in classes. An off-semester student is one who was enrolled during the previous semester or will be enrolling in the upcoming semester at CSU. The off-semester student membership is $30 per month or $90 for the semester. This represents a savings of $16 per month/$48 per semester over the community membership rate, or $10.25 per month/$30.75 per semester over the alumni/sponsored membership rate. Please visit the Rec Center website for more information. 
---
My "One Thing" would be fixing the stall for people with disabilities in the men's restroom directly across from MC103. The door is unable to close/lock, rendering the stall useless for those who need it.
John DeMarco
A new latch has been installed. The door now closes and locks.
---
Pull the thistle outside Main Classroom and Julka Hall.
Angela Lauffenburger
The thistle outside Julka Hall has been removed. Thistle removal elsewhere on campus will continue in the coming days.
---
Payroll currently posts pay dates, but only for semi-monthly faculty/staff, hourly biweekly staff and part-time single contracts. It would be helpful if they also posted the first pay date for full-time faculty summer teaching contracts, and part-time single-term contract pay dates for each of the summer sessions.
Sara Finlay
Thanks, Sara. Based on your suggestion, we've posted a summer pay calendar for full-time faculty as well as a pay calendar for part-time, single-term instructors. You'll find these calendars on the Human Resources Information Systems (HRIS) website. Thanks to Interim Payroll Director Kadiesha Jarrell-Hill and HRIS Manager Patty Baszuk for making this happen.
---
At Cleveland State University, our leadership team is working tirelessly on behalf of students, faculty and staff to set a course forward with common goals and execute a plan to achieve them. As we begin to forge a collective vision, I want to learn more about your priorities for our University. So I ask you: 
What one thing can we do to make CSU better?
I would love to hear your suggestion. Please email it to me at President.Sands@csuohio.edu. 
Thanks in advance for your feedback. Together, we can make this great institution even greater. 
Sincerely,



Harlan M. Sands, J.D., M.B.A. 
President 
Cleveland State University
#1thingCSU