On December 18, 2022, President Bloomberg addressed the graduating fall Class of 2022 in the Wolstein Center.
She also had the honor of introducing Cleveland radio icon Lawrence James Travagliante, honorary degree recipient, and former Ohio State Representative and Senator Sandra Williams, the University's commencement speaker. Her remarks appear below as prepared.
Greetings to the Fall Class of 2022

Graduates, congratulations! With the years you spent creating your own path, overcoming new challenges, and achieving your goals, you have earned your seat here today.
To parents, spouses, children, family members, and friends joining us today — in person or watching online — we are so glad you are here to celebrate this special day.
Commencement Day, in some ways, can be bittersweet. Your professors, staff members, and all the people here to support our students have gotten to know so many of you over the years. We have seen you flourish, and we have seen you stumble. We have seen you on good days and bad. In many cases, we have even gotten to know your family members and learn about your life outside of the classroom.  When I learn about your stories — of success and perseverance and dedication — I am inspired. I am proud of you and what you have accomplished….
DiGi Mason, who is graduating today with her bachelor's degree. DiGi began at CSU in 2008 but had to pause her studies to care for an ailing family member and support her two daughters, who were also in college. Her daughters say that they owe everything to their mother, including their own college degrees — which means that, to her family, DiGi is earning a bachelor's today to add to her two other bachelor's degrees, one master's degree, and a law degree. Congratulations, DiGi!
I also want to congratulate Jiana Koussa-Peppo. In addition to graduating today, she is celebrating her one-year wedding anniversary with her husband Austen. In honor of the occasion, Jiana is wearing the same pair of shoes she wore at her wedding. To Jiana and Austen, congratulations to you both!
One of our graduates, Ryan Farrell, couldn't be here today. In the world of heavy metal music, Ryan is better known as Dr. F, the bassist for the Cleveland band Mushroomhead. He and the band have a world premiere this weekend. We are sorry you couldn't join us, Ryan, but congratulations!
These are but a few examples of our CSU students (soon to be our CSU alums!) who make this campus come alive every day.
No one gets to this point alone, and so I also want to acknowledge the teachers and mentors at our University who helped guide our students to this day. 
Will my fellow faculty members please rise? Now, if you are a staff member of any kind at CSU whose work supports our students (and that is all of you!), would you join the faculty in rising to be recognized?
Graduates, please join me in thanking these professionals who had such an impact on your education and your success.
[President Bloomberg leads graduates in applause]
Graduates, there are also people here with us today who gave you the strength and encouragement you needed to persevere. Please take a moment to recognize the family members and friends to whom you owe a debt of gratitude.
[President Bloomberg leads graduates in applause]

Introduction of Honorary Degree Recipient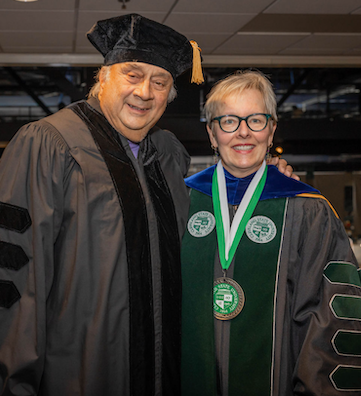 One of the great traditions in higher education is the conferral of an honorary degree to an individual whose life's work and exemplary professional, intellectual, or artistic achievement is worthy of such an honor.
Today, we are joined by a Cleveland broadcasting legend. He is largely responsible for cementing Cleveland's legacy as "The Rock and Roll Capital of the World." And for 16 years, he was part of a radio revolution at the WMMS 100.7 FM.
Today's honorary degree recipient is Lawrence James Travagliante (TRAH-VAHL-YON-TAY) — but you likely know him better as Kid Leo.
Kid Leo is a Cleveland native. After graduating from Our Lady of Lourdes Central High School in the Slavic Village area, he enrolled at CSU in 1968 and started his radio career with our on-campus radio station, WCSU. 
He left Cleveland State to join the station WMMS, where he spent the next 16 years defining the rock music scene in Cleveland and providing a platform for new artists. While I personally wasn't in Cleveland during that era, I have heard from many at CSU who were. I wanted to share a message I received from one of our faculty members, Professor Nick Zingale:
"I grew up idolizing Kid Leo and WMMS. Kid Leo and the Buzzard represented what it meant to be cool and rock in Cleveland… I remember rocking in the passenger seat of a pickup truck with my dad and brother after a long day of landscaping.  We were blue collar kids and products of the city and suburbs. Kid Leo got us — his voice and words connected to something deep in our souls to make us feel alive, present, and necessary. I still get chills!"
Kid Leo also campaigned to bring the Rock and Roll Hall of Fame to Cleveland and earned a Key to the City for his efforts.
After WMMS, he went to Columbia Records and then Sirius XM. CNN named him one of the "Top 10 DJs of All Time," and Rolling Stone Magazine included him in "The Heavy Hundred of the Music Business."
As the citation for his honorary degree reads:
"Your passion for rock and roll never ebbed. With Columbia Records, you elevated Alice in Chains, Shawn Colvin, Train and others to prominence. And thanks to your creative immersion with Springsteen sideman "Little Steven" Van Zandt on Sirius XM Satellite Radio's "Underground Garage" and your own consulting work, the words "Long Live Rock!" will echo on for generations to come. 
In recognition of your acumen, service and commitment from Cleveland to the world and back, Cleveland State University hereby confers upon you the degree of Doctor of Humane Letters, honoris causa."

Joining us in presenting this honorary degree is Larry Bolgar, a 1973 graduate, friend, classmate, and fellow WCSU DJ. Thank you for joining us, Larry.

Ladies and gentlemen, I give you Dr. Kid Leo!

Introduction of Commencement Speaker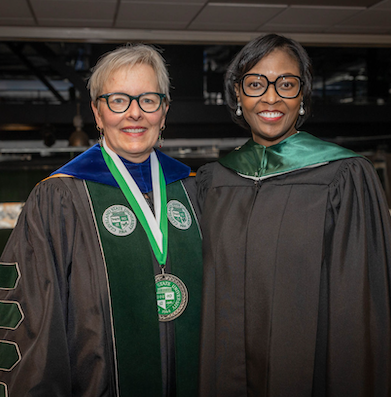 It is my pleasure to introduce today's commencement speaker, Ms. Sandra Williams.
Ms. Williams is a double CSU alumna, having earned both her bachelor's in Political Science and an Executive MBA from Cleveland State. She also holds a master's degree in Criminal Justice and an Honorary Doctorate from Tiffin University. 
Ms. Williams spent more than a decade in the field of criminal justice, holding positions in probation, corrections, parole and mediation. She also spent eight years in the Army Reserve before beginning her political career. 
Ms. Williams initially worked for five years as a legislative aid for Representative Annie Key before running for office herself. She spent the next seven years in the Ohio House of Representatives and another six years representing the 21st District in the Ohio Senate.
Ms. Williams was the President of the Ohio Legislative Black Caucus, the Ranking Member on the Senate Energy and Public Utilities Committee, Senate Workforce and Higher Education Committee, Education Committee, and the Senate Ways and Means Committee. (In other words, the work Senator Williams did in so many areas touched the lives of all of us.)
On a personal note, in getting to know Sandra Williams this past year, I came to deeply appreciate the ways she has worked with her colleagues across all political affiliations to best serve her constituents, who made up the eastern two-thirds of Cleveland. She is wise and dedicated and a terrific example of what someone can do with a degree (or two!) from Cleveland State University.
Please join me in welcoming Ms. Sandra Williams.