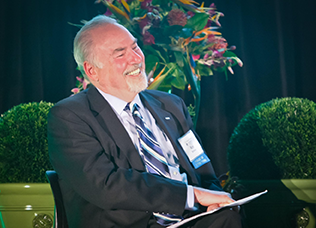 Ronald M. Berkman was unanimously selected by the Board of Trustees as President of Cleveland State University on April 26, 2009. Dr. Berkman came to CSU from Florida International University (FIU) in Miami where he served as Provost, Executive Vice President and Chief Operating Officer.
Dr. Berkman received his Ph.D. from Princeton University in 1976. Prior to serving at FIU, he taught at The Woodrow Wilson School at Princeton University, The University of California at Berkeley, Brooklyn College, the City University of New York (CUNY) Graduate Center, New York University and the University of Puerto Rico.
In 1997, Dr. Berkman was named Dean of the College of Urban and Public Affairs at Florida International University. In 1999, he created and led a large, interdisciplinary College with accredited Schools of Nursing, Health Sciences, Public Health, Social Work and Policy and Management. In 2005, he became Provost, Executive Vice President, Chief Operating Officer and directed the University's successful efforts to receive authority to open a College of Law, a College of Medicine and a School of Public Health.
Prior to his tenure at FIU, he held a number of leadership positions at the City University of New York. As the University Dean of Urban Affairs at CUNY, he was responsible for developing research, educational and technical assistance partnerships with all facets of New York City, New York State and federal government agencies and non-governmental organizations. He served as University Dean of Academic Affairs at CUNY, from 1992 to 1994. In 1994, he was named Founding Dean of CUNY's first School of Public Affairs, located at Baruch College.
Dr. Berkman has extensive experience in the public policy arena, including his leadership of the Empowerment Zone projects in New York City and Miami, directing the Public-Private Partnership Initiative for the US Conference of Mayors, directing the National Urban Summit and Governor Bush's Health Care Summit. He has an extensive history of scholarship in urban affairs. His work has been supported by national foundations and national, state and local government.
In his seventh year at CSU, he has established the University as a prominent and innovative force in urban higher education. He is active in Northeast Ohio's civic community, serving on many nonprofit boards including United Way, Greater Cleveland Partnership, Coalition of Urban Serving Universities and Destination Cleveland.