Escalation Fees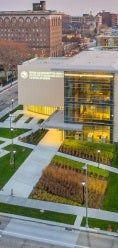 ---
Effective Jan. 20, 2015 - New Discount Citation Fee Policy
Beginning Jan. 20, 2015, all citations will be printed with a discounted rate of $15.00 off the base citation amount*. This discount is ONLY valid for 72 hours from the time and date the citation was issued. This discount is being offered to promote prompt payment via the CSU GO Online Parking System. This discount is not available for citations issued prior to Jan. 20. Citation payments sent via USPS must be post marked within the 72 hour period to receive the discounted rate. Any payments postmarked after 72 hours of the issue date and time will not receive the discount.
As citation appeals may take up to 15 days to be adjudicated, patrons that wish to submit appeals should pay the citation balance within the 72 hour period in order to receive the discount.
The $15 discount will be removed from citation base rate after 72 hours and the original fees will be reinstated. All other citation and appeal policies remain in effect.
*Please note that escalation fees still apply for patrons that have received multiple citations of the same type. A $15 discount will still apply on the base rate, but not the escalation fees.
Example: No Valid hangtag ($35 base rate), second offense: $35 - $15 (citation base discount) = $20 + $10 (escalation fee) = $30 discounted rate for 72 hours. After 72 hours, the original rates will be reinstated to $45.
Escalation Fees - Click here to learn more about the Escalation system and get tips for avoid citations.
Second Offense: +5.00
$35+$5 = $40.00
Third Offense: +15.00
$35+15 = $50.00
Fourth Offense: +30.00
$35+30 = $65.00
Fifth Offense: +55.00
$35+55 = $90.00
Citation Description
Fine
No Valid Hangtag Displayed
$35.00
 
 
Parking in Disabled Space
$250.00

Unauthorized Parking

Broken Meter
$25.00
Scratch off not scratched
$25.00
Expired hangtag/ticket
$25.00
Driving/Parking outside permitted area
$25.00
Tag/Ticket not Properly Displayed
$25.00
No Overnight decal displayed
$25.00
No Daily Ticket Displayed
$25.00

Expired Time

Expired Meter
$35.00
Expired Time at PayStation
$35.00

Illegal Permit

Possession of Lost/Stolen Hangtag (Not Appealable)
$325.00
Illegal use/Modification/Alteration/Reproduction of Hangtag (Not Appealable)
$325.00

Illegal Parking Space

Parked on Sidewalk
$25.00
Parked in Driveway
$25.00
Parked on/outside painted lines
$25.00
Blocking Door
$25.00
Signage Prohibits Parking
$25.00

General Infraction

Vehicle license plate not registered to permit
$25.00
Entering through Exit
$25.00
Parked in Reserved Space
$25.00
Parked in Visitor Space
$25.00
Failure to Pay
$25.00
Vehicle occupied two spaces
$25.00
Interfering with access control
$25.00

Blocking Right Of Way

Parked in a Fire lane
$50.00
Parked in Crosswalk
$50.00
 
 
License Plates Illegal, Obscured (Not Appealable)
$50.00
 
 
Misuse of Viking Card (Not Appealable)
$30.00

Boot Fee (vehicles with citations totally more than $99 are boot eligible) (Not Appealable)

$60.00
Late Fee (as of July 1, 2015)
$10.00
NOTE:
Rates are subject to change July 1 and/or Aug. 1. The web site may not reflect current fees due to technical issues. 
Citation Payment Methods
Online: Visa, MasterCard and Discovered accepted in the office, and online. Click here for the CSU Go Online Parking System for citation payment.

There is no fee to pay by credit card online or in the office.

Cash - Accepted in person at the Parking Office for citations. (Payments made with coin must be rolled in bank provided coin rolls. Name, ID number, and phone number must be printed on each roll of coin.) The Parking & Transportation Services Office is located at 2402 Euclid Avenue. 
Check & Money Order - Accepted in person and through the U.S. Mail for citations. Make payment out to Cleveland State University and mail payment to the address below. If applicable, include Student ID number on the front of the check. Return your copy of the citation with payment or appeal. Do not send cash. Mailed citations must be postmarked within 72 hours to receive the discounted rate.
Cleveland State University
Parking & Transportation Services
2121 Euclid Avenue - EC 160
Cleveland, Ohio 44115-2214
All fees must be paid within 21 days of issue date or a $10 late fee is assessed on the 21st day for each violation.
Appeals must be submitted within 21 days of the issue date. No appeals are accepted after 21 days.
Dishonored Payments: Returned checks or dishonored credit card payments will be assessed a fee of $30.00 plus late and escalated fees. A dishonored payment may impact the ability to use checks and credit cards on campus for one year.