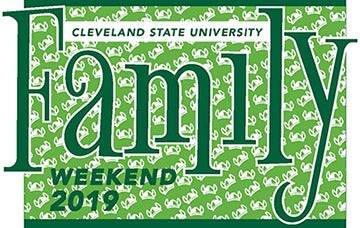 When is Family Weekend 2019?
Family Weekend is Friday February 8th – Sunday February 10th, 2019.
Family Weekend is an opportunity for CSU students to show off Cleveland State and Downtown Cleveland to their families. At CSU, Family Weekend encompasses parents visiting their children as well as students who are parents brining their kids to campus.  
Is it necessary to register for Family Weekend?
While some events you are welcome to just attend, any ticketed event requires pre-registration due to limited ticket quantities available.
Will I receive a confirmation email?
Yes you should receive a confirmation email after you register to attend Family Weekend. If you do not receive an email, please email parents@csuohio.edu or call the Department of Student Life 216-687-2048.
What does it cost to register for Family Weekend?
It does not cost anything to register. In fact, several events during Family Weekend are 100% free. Check out our Schedule of Activities link on the left for a full list of events.
How do I register for Family Weekend?
Registration for Family Weekend is available online and can be found by clicking here. Registration closes on Friday February 1st, 2019 at 5:00pm.
How do I get our tickets for Family Weekend?
Once you register you will get a confirmation email with details about ticket payment and pick-up. If you have a specific question please email parents@csuohio.edu
Should we bring our CSU student's younger siblings?
We say the more the merrier!
What is the guest policy for staying in CSU residences?
Guests must be 18 years of age, or special request form must be filled out 2 days prior to stay if under 18 years of age. Can only have 2 guests per night, with a max of 6 guests per day. You must check in all guests, cannot check them in between hours of 2am-6am. Guests must have valid form of identification which is only a CSU ID or State License. If you only have military or passport as form of identification, must get a separate form approved on Residence Life website. Guests are limited to 3 nights per 7 day week period and you must check them out upon departure.
When should I plan to arrive and depart?
Please refer to the Schedule of Activities page. We encourage you to check out as many activities as possible! You are welcome to arrive and depart based off the schedule that works best for you.
Where can I park during Family Weekend?
Please refer to our parking information page. You can also visit the Parking Services website for additional information which can be found here.
Do parents stay for the whole weekend?
Families are welcome to join us for the entire weekend or to just come for one event!  We are happy to have you join us for whatever works with your schedule!
How do I see a schedule for the weekend or find out what else is going on?
Check out our Family Weekend schedule! 
What can we do while in Cleveland?
Check out our suggested list of things to do in Cleveland!
Where do you recommend staying during Family Weekend?
Check our list of hotels with special pricing for CSU Families.
Can you help me navigate campus?
Certainly! Click here for a map of campus.
Can I participate in Family Weekend as a Faculty or Staff member?
Unfortunately at this time Family Weekend is a program reserved for CSU Students and their families. As part of the registration process you will have to enter a student ID number. We do however encourage you to attend the basketball game and reminder that faculty/staff do get discounted tickets!
Do I need to purchase tickets for Family Weekend activities?
You do not need to purchase tickets for Family Weekend, but there are ticketed events you can choose to register for as part of the registration process. You can register here.
What if I have other questions that you did not answer here?
You can contact the Department of Student Life at 216-687-2048 or email parents@csuohio.edu