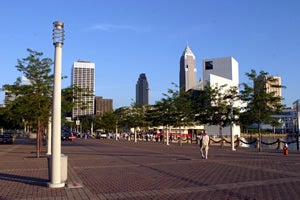 If you are coming from out of town for Orientation, there are a variety of options for you to choose. If you would like to stay on campus for the full Cleveland State experience, please contact the Department of Residence Life to stay overnight in our historic, state-of-the-art Fenn Tower. Reservations need to be made 7 days in advance by calling 216.687.5196. The charge per person will be $20 and the fees will be added to the student's CSU account.
If you would like to stay in Cleveland at one of the local hotels, please check out the list below as well as the websites listed for fun things to do in Cleveland during your stay.
Orientation Special:
When you call to make the reservation, inform the hotels above that you are coming to town for Cleveland State Orientation and you will be given the Cleveland State rate.
For things to do in Cleveland, please check out #ThisisCLE.