Posted on February 27, 2017 at 5:14 PM, updated February 28, 2017 at 9:18 AM Print
CSU's annual business plan "boot camp" creates numerous new businesses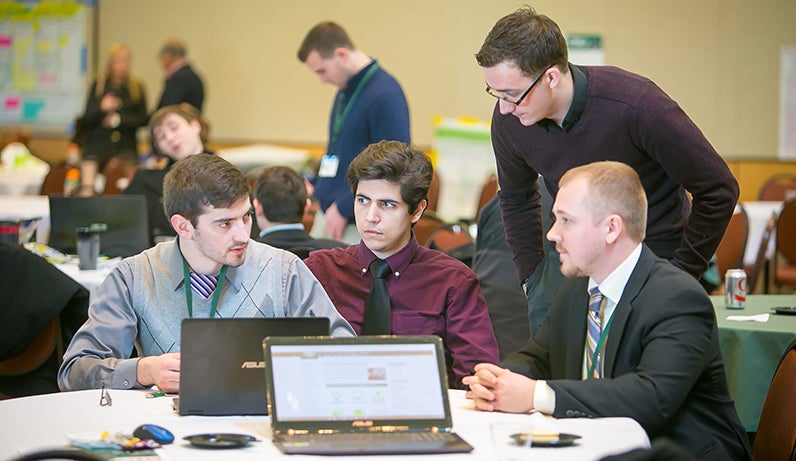 The fourth annual Startup Vikes business plan "boot camp," held Friday, February 24th through Sunday, February 26th on the Cleveland State University campus, provided participants with a crash course in how to develop a business and awarded top finishers with cash infusion and business training that will help them turn their plans into working companies.
The winning businesses were: Lex ($2,000), Rise ($1,000), and PneuKinetics ($500).
"We are very proud of all of the businesses developed during Startup Vikes," said Colette Hart, senior director for the Centers of Outreach and Engagement in CSU's Monte Ahuja College of Business. "The weekend provides a pathway for entrepreneurship, one that we hope that all of our teams will pursue after the event, and demonstrates Cleveland State University's commitment to providing engaged learning that impacts Northeast Ohio."
"Cleveland State University is playing a larger role in Cleveland's entrepreneurship ecosystem," said Katie Van Dyke, director of the Cleveland State University Small Business Development Center and facilitator of Startup Vikes. "The level of participation from Cleveland State students, faculty and staff was fantastic and helped make for a great weekend."
Lex uses real docket data to create an online resource for those seeking attorneys. The service provides consumers with attorneys that have the best docket record for their particular type of case. Using analytics, artificial intelligence and a proprietary algorithm, Rise seeks to predict the current ranking of a user's website, as well as analyze and provide recommendations on how to optimize website quality.
PneuKinetics is a lightweight, inexpensive exoskeleton which seeks to improve mobility for people with physical disabilities and neurological diseases. This product seeks to replace canes, walkers and crutches with an inexpensive and more user friendly option.
"For the winners and the teams formed, now the real work begins," added Van Dyke. "Most of the businesses and individuals who participated will now begin refining their business models, either at the SBDC or at other sponsor accelerators including Sail Loft, Start Mart, FlashStarts, JumpStart and LaunchHouse."
Among the 150+ participants were students from Cleveland State University, students from 4 other local universities and numerous business leaders and community members. 29 business ideas were pitched and 12 teams formed on Friday night. 40+ mentors and presenters provided help, guidance and resources throughout the weekend ranging from strategy, branding, marketing, sales, financial, legal, design services and manufacturing to name a few.
###