Posted on July 11, 2014 at 3:30 PM, updated July 29, 2014 at 9:36 AM Print
Confucius Institute at CSU participates in The Silk Road Exhibition 
at Cleveland Museum of Natural History
June 29, 2014 – The Confucius Institute at Cleveland State University participated in an exhibition at Cleveland Museum of Natural History titled "The Silk Road." The Silk Road is a four-month exhibition hosted by the CMNH, which included a one-night concert and cultural festival in coordination with organizations including the Confucius Institute, and this year's events were very popular with guests from around Cleveland. Activities for "The Silk Road" festival included a calligraphy exhibition, which not only demonstrated Chinese calligraphic art and processes to the people of Cleveland, but also gave audiences additional information regarding the Confucius Institute at CSU and those activities, events, and programs the CI has recently launched.
Around 2 pm, Professor Xuwei Li from the Confucius Institute at CSU arrived at the museum along with three student assistants and arranged the calligraphy exhibition. The inlaid red tablecloth included many Chinese characteristics, and the display of Chinese traditional decorative knots and the Four Treasures of the Study (Four Treasures of the Study is an expression used to denote the brush, ink, paper and ink stone used in Chinese calligraphic traditions) increased the artistic and cultural charm of the exhibition. After the calligraphic exhibition started, many people lined up for a close look at the Chinese calligraphic process and to receive a personalized calligraphy piece of their own name transliterated into Chinese. The Xuan paper used to write people's names included the Confucius Institute's logo and contact information. Guests who attended the calligraphy exhibition also communicated with CI staff members about Chinese culture and current events in China. Besides the calligraphic signature demonstration, the Confucius Institute also prepared a special kind of water writing paper for the public to learn calligraphy through practice, and many children were interested in following up with a Chinese teacher to learn how to write Chinese characters. Many guests showed great interest in CI programs after reading leaflets about China Day and CI's Continuing Education courses.
Through the efforts of the CI staff, the calligraphic exhibition was very successful. Ms. Laura Pinnick, the CMNH coordinator for The Silk Road Cultural Festival, expressed her appreciation for the hard work of Confucius Institute teachers and staff. The calligraphy activities were a wonderful addition to the Silk Road exhibition and also an excellent promotional opportunity for the Confucius Institute to display and demonstrate Chinese culture.
---
克利夫兰州立大学孔子学院参加克利夫兰自然历史博物馆丝绸之路展系列活动
美国克利夫兰州立大学孔子学院  李徐玮报道
2014年6月29号,克利夫兰州立大学孔子学院参加了克利夫兰自然历史博物馆丝绸之路展系列活动。丝绸之路展活动是孔院和克利夫兰自然历史博物馆的一个合办的一个为期四个月的文化交流项目,深受克利夫兰人民的喜爱。这次书法展示活动是丝绸之路展的多元文化交流系列活动之一,不仅向克利夫兰市民展示了中国书法艺术的魅力,也让更多的人们了解了克利夫兰州立大学孔子学院以及学院近期开展的各项活动。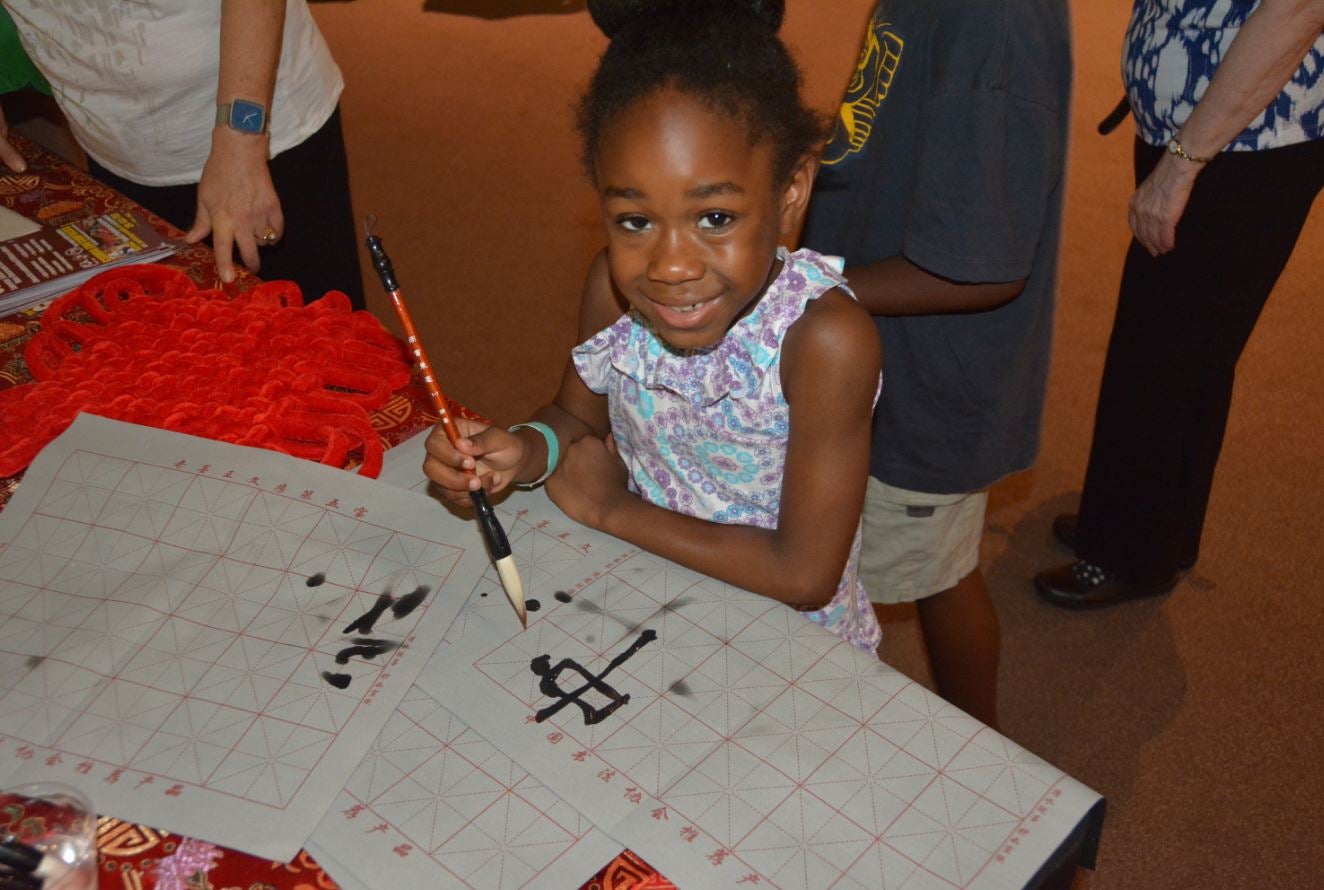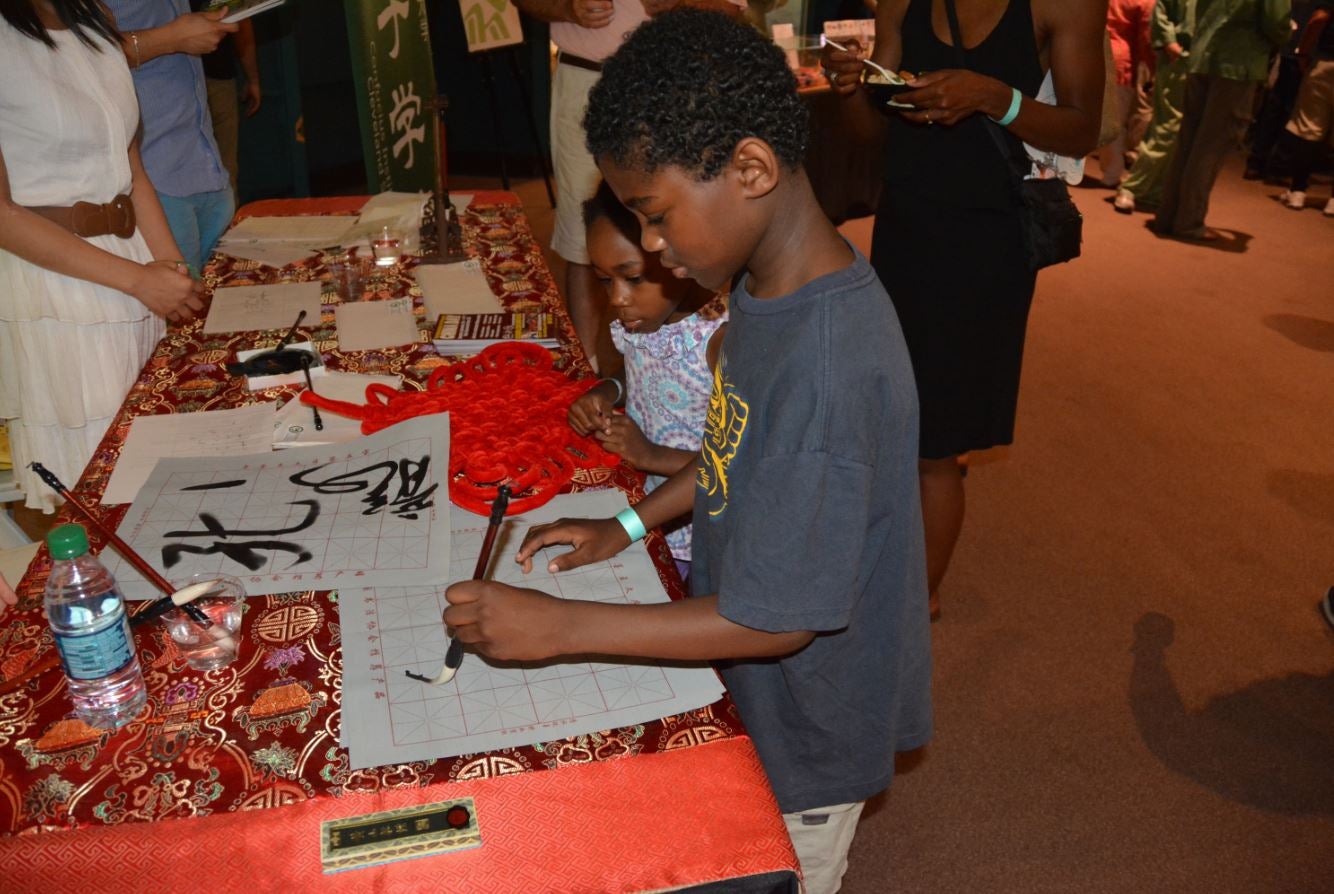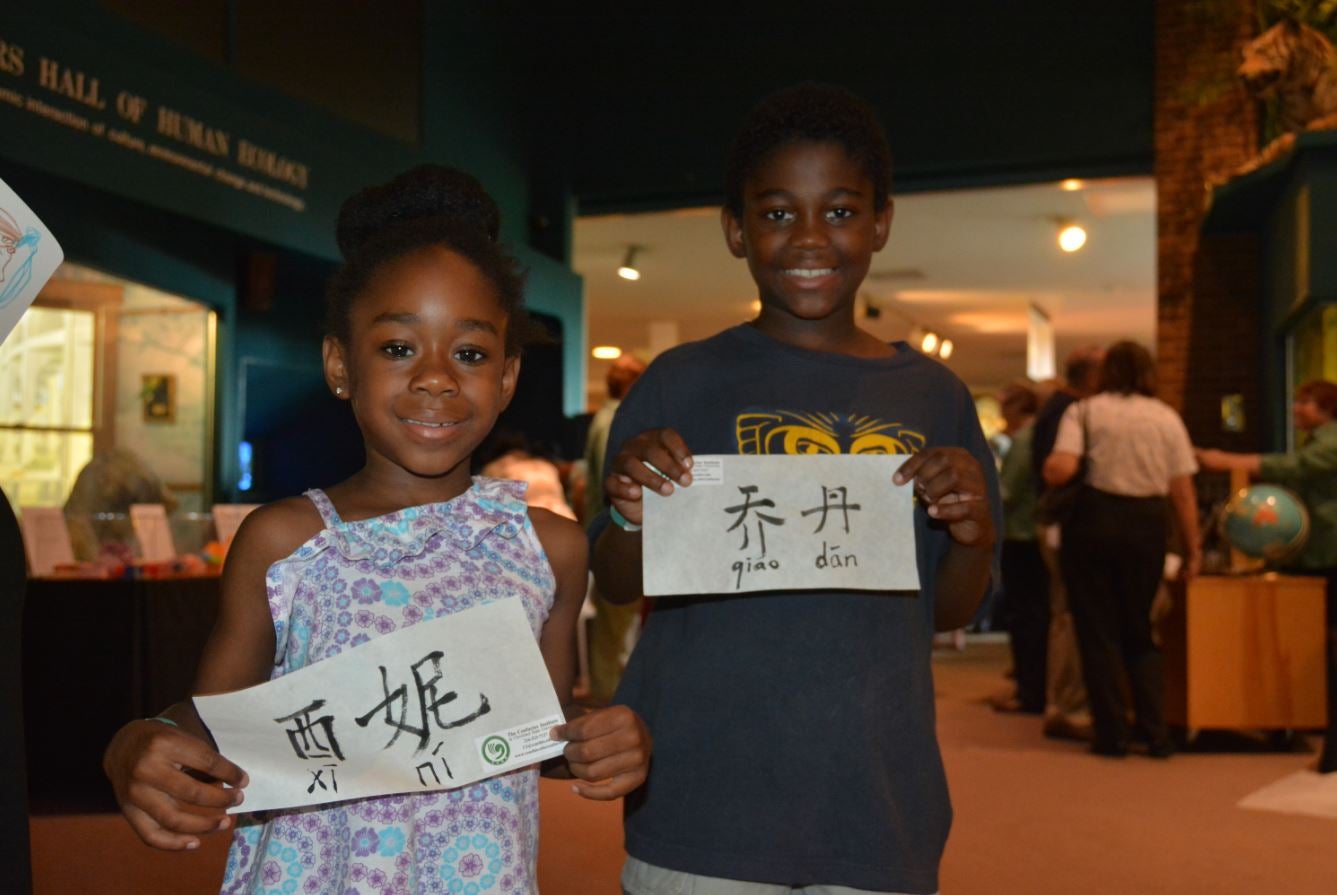 下午2点,克利夫兰州立大学孔院的李徐玮老师和张博等三位学生助理早早的来到克利夫兰自然历史博物馆布置展台。鲜艳的红色桌布彰显了中国特色,中国结和文房四宝的陈列也增加了展台的艺术魅力。活动一开始,孔院的展台面前一下子就变得人头攒动起来,一条十米长的队伍瞬间形成,人们都想一睹中国的书法艺术,也同时希望收获自己的中国名字。为市民书写中国名字的宣纸上还精心贴上了孔院的标签和联系方式。人们在欣赏书法的同时也与孔院的工作人员了解交流了中国文化与当代中国近况。孔院还准备了书法水写纸给市民体验,很多小朋友饶有兴趣的跟着书法老师学起了书写中国字。不少市民在阅读了孔院准备的关于中国日活动和继续教育课程的传单以后都表示了极大的参与兴趣。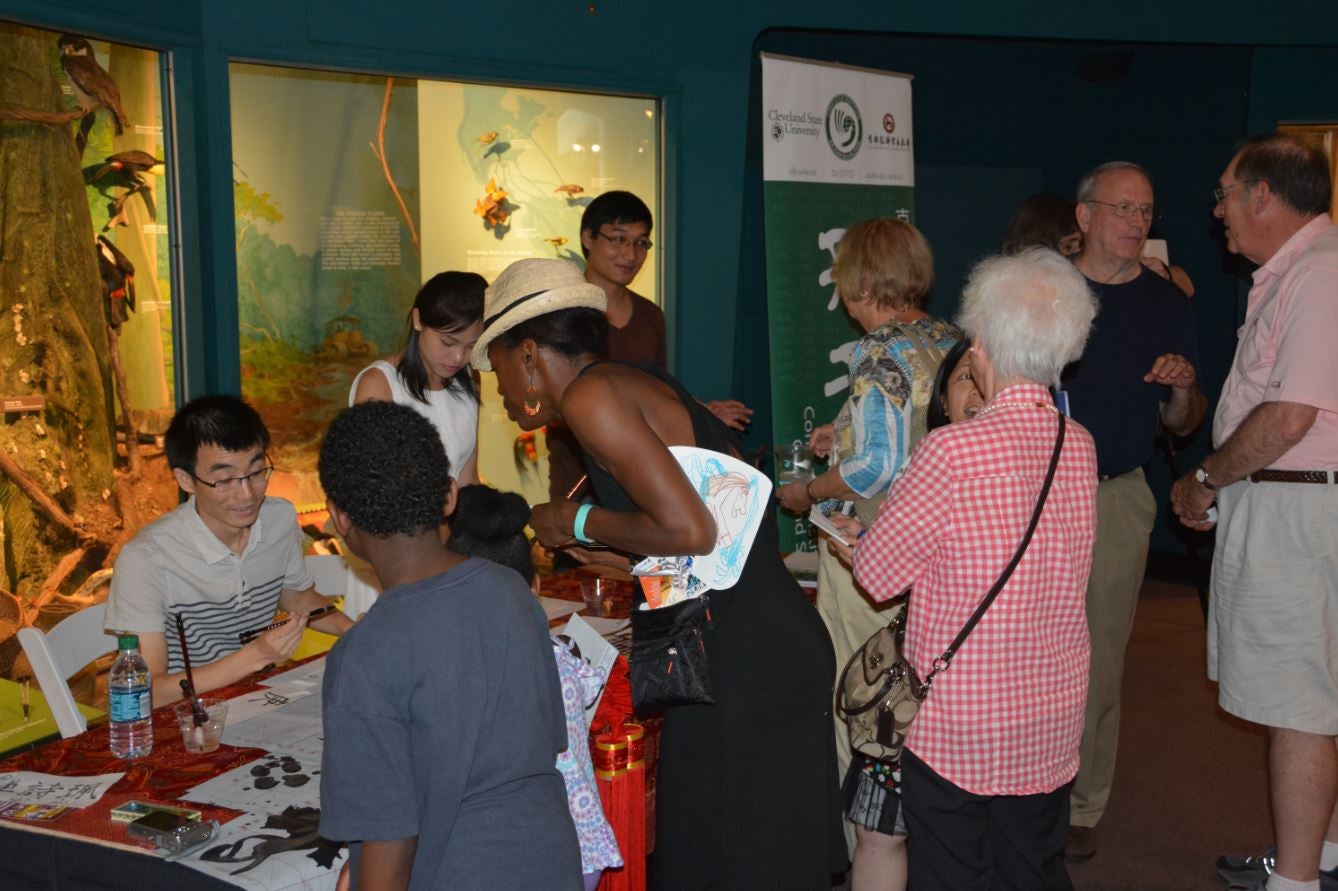 活动取得了很好的效果。克利夫兰自然历史博物馆活动负责人劳拉女士对于孔院老师的认真工作表示了高度赞赏和感谢。这次活动既是对孔子学院的合作伙伴克利夫兰自然历史博物馆举办的丝绸之路展的大力支持,也是一次极好的宣传自我和展示中国文化的机会。