Posted on November 22, 2021 at 4:28 PM, updated December 2, 2021 at 10:06 AM Print
Dr. Reyes-Rodriguez joins eight other CSU alum as honorees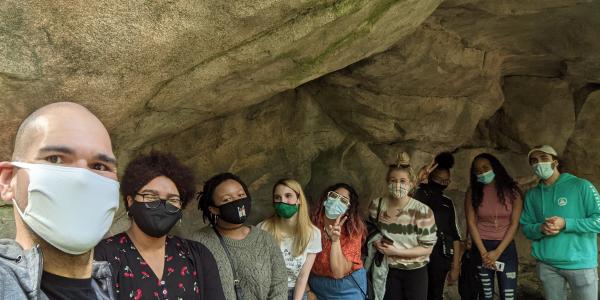 The Crain's Cleveland 2021 "40 Under 40 Class" features Ángel L. Reyes-Rodriguez, Ph.D. of Cleveland State University among its honorees. A research scientist by trade, he is director of the McNair Scholars program and has been dubbed "a cultural magician" by Meredith Bond, Ph.D. dean of Cleveland State University's Sciences and Health Professions.
Dr. Reyes-Rodríguez (left) celebrates the diverse cultural backgrounds of the underrepresented college students in the program, introducing them "often-foreign cultures of academia, graduate education, the middle class and the predominantly white spaces in which they will study, research and work."
The native of Puerto Rico "is actively changing the culture" at CSU according to Dr. Bond, inspiring greater diversity, equity and inclusivity.
Dr. Reyes-Rodríguez arrived in Cleveland in 2007 for post-graduate studies at Case Western Reserve University, where he served on the Minority Graduate Student Organization. He earned a Ph.D. in molecular virology in 2015 and spent about three years as a research fellow at the Cleveland Clinic before leaving benchwork altogether for the CSU post.
The federally funded McNair Scholarship works to increase diversity of doctoral candidates by engaging promising low-income and first-generation undergrads in research and other activities. As director, Dr. Reyes-Rodríguez has helped over 70% of McNair Scholars transition from "at-risk" college students to master's or doctoral students through a combination of networking, tutoring, mentoring and other career development activities.
"First-generation students, they lack the basic information about college from their social network, so we become that network for them," he said. "And underrepresented students, a lot of times they have challenges that other students don't, and the goal is to provide enough support to get them to the same level."
Dr. Reyes-Rodríguez is one nine honorees with deep CSU ties. The eight others are CSU alums, or soon-to-be: Delante Spencer Thomas, Eugene Malinskiy, Brian Lewis (undergrad), Cynthia Connolly, Allison Lukaczy-Love (current grad program), Bradford Davy, Thomas Haren, Omar Kurdi (undergrad), and Cathryn Greenwald.
Crain's Cleveland "40 Under 40" has been "spotlighting bright young leaders who will play a substantial role in our region" for the last 30 years. Recognizing "people of substance," Crain's looks to acknowledge those who have already achieved great things in their careers and in the community.