Posted on May 7, 2014 at 11:15 AM, updated May 9, 2014 at 2:27 PM Print
Confucius Classroom Signing Ceremony Held at CH-UH's Roxboro Middle School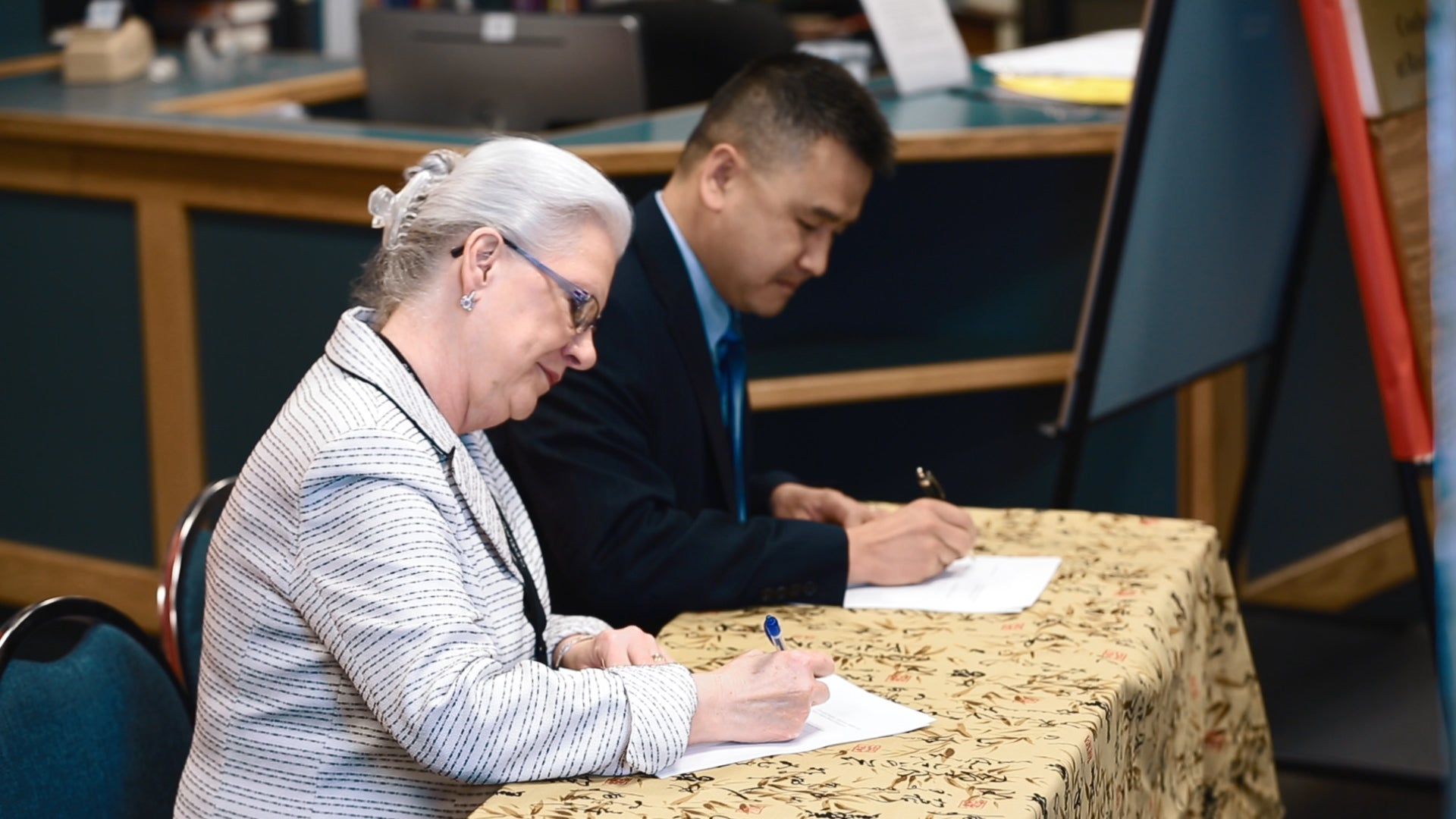 The Confucius Institute (CI) at Cleveland State University (CSU) is proud to announce the founding of its first Confucius Classroom at Roxboro Middle School in the Cleveland Heights-University Heights School District.  On Monday, May 5, 2014, the official Confucius Classroom agreement was signed by CHUH Superintendent Nylajean McDaniel and CI Director Haigang Zhou.  A Confucius Classroom plaque was also presented to Roxboro Middle School, the host of CH-UH's Confucius Classroom.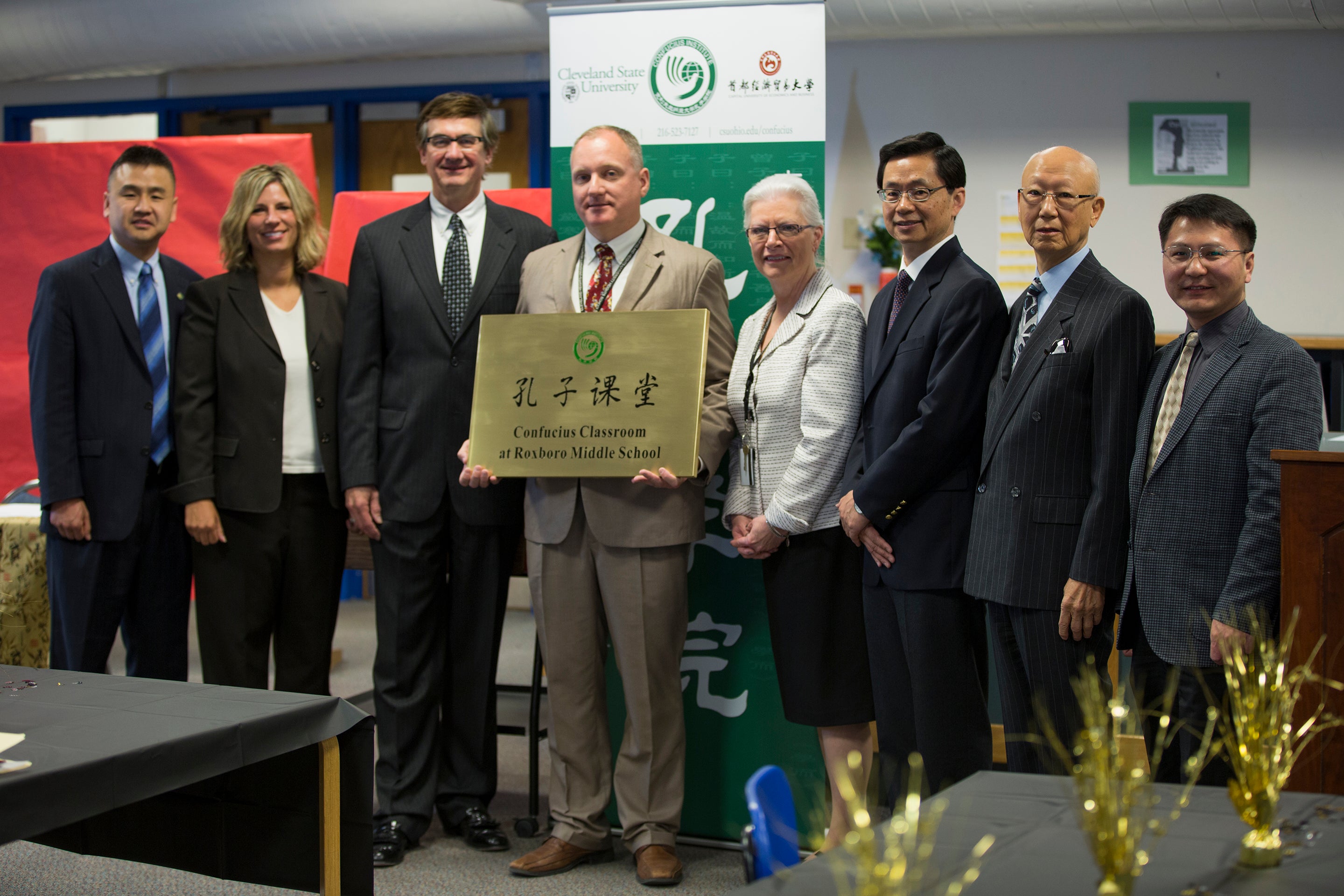 The CI at CSU and CHUH Schools have enjoyed a long partnership of over 4 years and have worked together to build and strengthen the Chinese language and culture education within the CHUH District.  In 2013, CHUH applied to become a Confucius Classroom under the Confucius Institute.
Becoming a Confucius Classroom allows a school district to apply for grants to fund their Chinese programs, buy textbooks, increase Chinese class offerings, and host Chinese cultural programming within their schools.  It also allows them to apply for teachers to teach Chinese classes on a short-term basis.
Confucius Classroom students also receive priority in applying for Confucius Institute programming, including study abroad, Chinese proficiency testing, scholarships, and more.  Confucius Classroom students benefit greatly from the well-supported Chinese programming in their districts.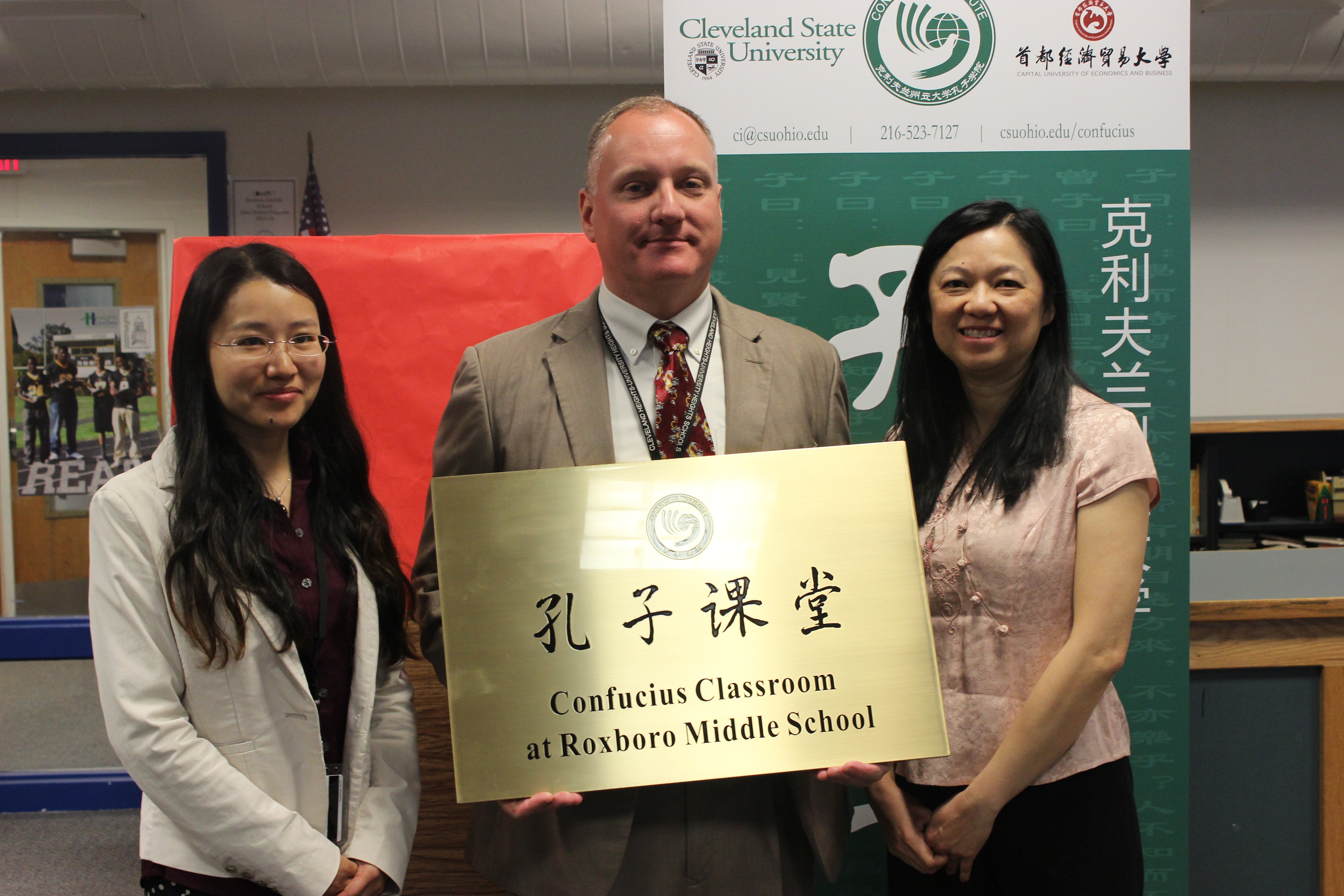 THE CONFUCIUS INSTITUTE AT CLEVELAND STATE UNIVERSITY & WESTLAKE SCHOOLS PRESENT Project Link Chinese Classes!

In Fall 2014, the Confucius Institute & Westlake Schools will offer after-school Chinese classes for K-8 students in
Westlake! These introductory classes will provide a fun environment for children to learn the basics of Chinese 
language & culture. Classes will meet once a week & will include Chinese language, music, games, & much more!
Elementary classes, 3:00-4:00:
Mondays at Bassett Elementary, 
September 22-December 1, 2014
Tuesdays at Dover Elementary, 
September 23-December 9, 2014
Wednesdays at Hilliard Elementary, 
September 24-December 3, 2014
Thursdays at Holly Lane Elementary, 
September 25-December 4, 2014

Middle and Intermediate classes
Middle and Intermediate classes will be offered Monday through Thursday from 4:30-5:30. Indicate which day(s) are best for your student when you register. Each student may take classes once a week.
Registration is only $100.00 for 10 weeks of Chinese classes! Registration closes August 1, 2014. 
Register by July 1, 2014 and receive a 
$20.00 discount per student 
on registration fees! Visit 
www.wlake.org/link
 for detailed registration information. Submit completed registration forms 
toprojectlink@wlake.org
.
Space is limited to 20 students per class. Registration opens June 1, 2014!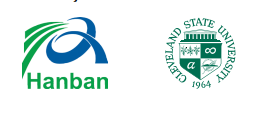 ---