Posted on April 27, 2023 at 3:27 PM, updated April 28, 2023 at 7:44 AM Print
Heidi Hylton Meier, Ph.D. and Anne Nelson recognized by Crain's 2023 Notables in Education Leadership 
Crain's Cleveland Business 30 Notables in Education Leadership honors educators and administrators dedicated to teaching, learning, researching and studying. There are no better examples than this year's two accomplished administrators from the Monte Ahuja College of Business. 
Named to this year's list are Dr. Heidi Hylton Meier, Interim Dean, and Anne Nelson, Senior Assistant Dean of Academic Programs and Student Affairs.
Both women have worked tirelessly together for more than 10 years in the college of business to help students succeed, champion new curriculum efforts, revise, update and create programs, foster engagement for students and more.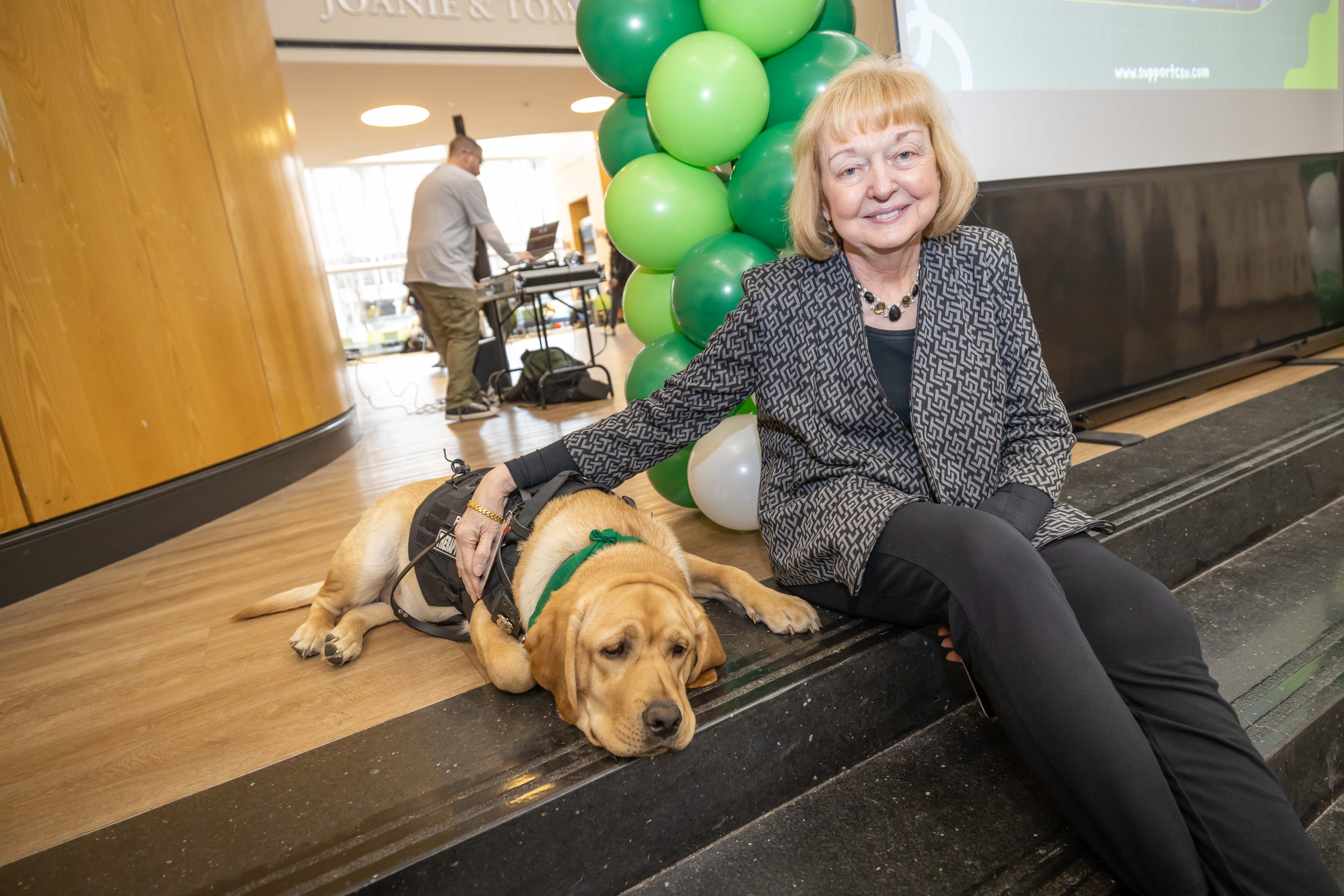 Dr. Meier (pictured here with CSUPD Therapy Dog Rune) is still a student favorite professor of Accounting. She was also Chair of the Accounting Department, Associate Dean for Academic Programs and Student Affairs for the college and now serves as Interim Dean.
She has served the university for over 30 years in a variety of other leadership positions throughout the college's history, including getting her start as a Graduate Assistant while earning her MBA (yes, she's an alumna too).
An accomplished researcher, she is always open to meeting with students and alumni to provide support, a recommendation or helpful feedback. For many, she has been their "career fairy godmother", helping them to get their start, progress when they felt stuck or to provide needed advise.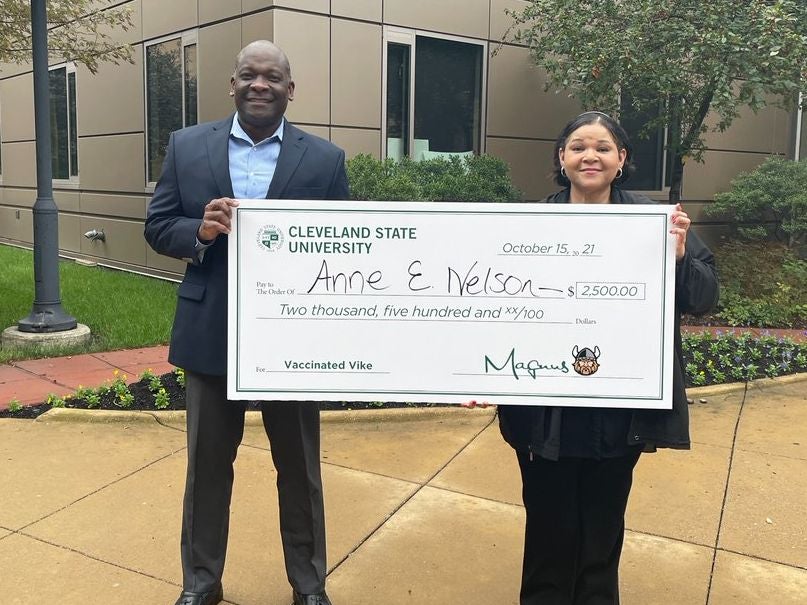 "There is nothing more rewarding then connecting students to resources and opportunities that they didn't even dream existed for them," said Dr. Meier.
Anne Nelson has worked for Cleveland State University since 2001 and with the College of Business since 2008. In her current role, she manages a team of academic business advisors as well as advising students herself. 
Nelson (pictured here with Douglas Dykes in 2021) manages nearly all of the college's many scholarship funds including the Glasscock Scholars program which includes extracurricular activities, created the very popular Business Career & Internship Expo, KeyBank Day event and other programs aimed at business career readiness, exposure to different business careers and industries and more.
In addition, she has presented best practices and lessons learned from her experiences at NACADA (the global community for academic advisors) conferences.
"There is something special about seeing our students come back, now successful professionals, and want to recruit CSU students like themselves at the organizations they now work," said Nelson.
"It happens every year at the Expo and is extremely rewarding to think about where they started and where they are now."
At the end of the day, both women care deeply about the students here at CSU and are driven not by honors or accolades, but by seeing students rise above the challenges they face and thrive, both professionally and personally. We offer warm congratulations to them both.