Posted on April 2, 2014 at 2:50 PM, updated August 21, 2014 at 12:53 PM Print
Former CSU Student Highlighted in Remarks 
by First Lady Michelle Obama During Her Visit to China
In the remarks by the first lady at the Stanford Center at Peking University on March 22, 2014, a former CSU student and Confucius Institute at Cleveland State University Chinese Bridge competition winner was highlighted:
"Take the example of Royale Nicholson, who's from Cleveland, Ohio.  She attends New York University's program in Shanghai.  Now, like me, Royale is a first-generation college student.  And her mother worked two full-time jobs while her father worked nights to support their family.  And of her experience in Shanghai, Royale said -- and this is her quote -- she said, 'This city oozes persistence and inspires me to accomplish all that I can.'  And happy birthday, Royale.  It was her birthday yesterday."
Background Information: While Royale Nicholson was a student at Cleveland Early College High School, she took several classes at CSU, including four semesters of Chinese language classes at CSU. During that period, she won a Chinese speech and talent competition organized by the Confucius Institute at CSU. She was personally coached by Prof. Wenzheng Liu and Prof. Qizhi Zhang during the spring break of 2013 and did several rehearsals before representing the Confucius Institute at CSU at the 4th "Chinese Bridge" East USA Chinese Proficiency Competition for College Students held in New York on March 17, 2013. She won the third place in the junior group.  Prof. Liu was able to accompany Royale and another CSU contestant to the competition. Following her success, Royale decided to apply to study at New York University's Shanghai campus and was awarded a full scholarship.
The complete transcript of the remarks by the First Lady can be found at:
http://www.whitehouse.gov/the-press-office/2014/03/22/remarks-first-lady-stanford-center-peking-university
Royale Nicholson was interviewed by a reporter from Sinovision.net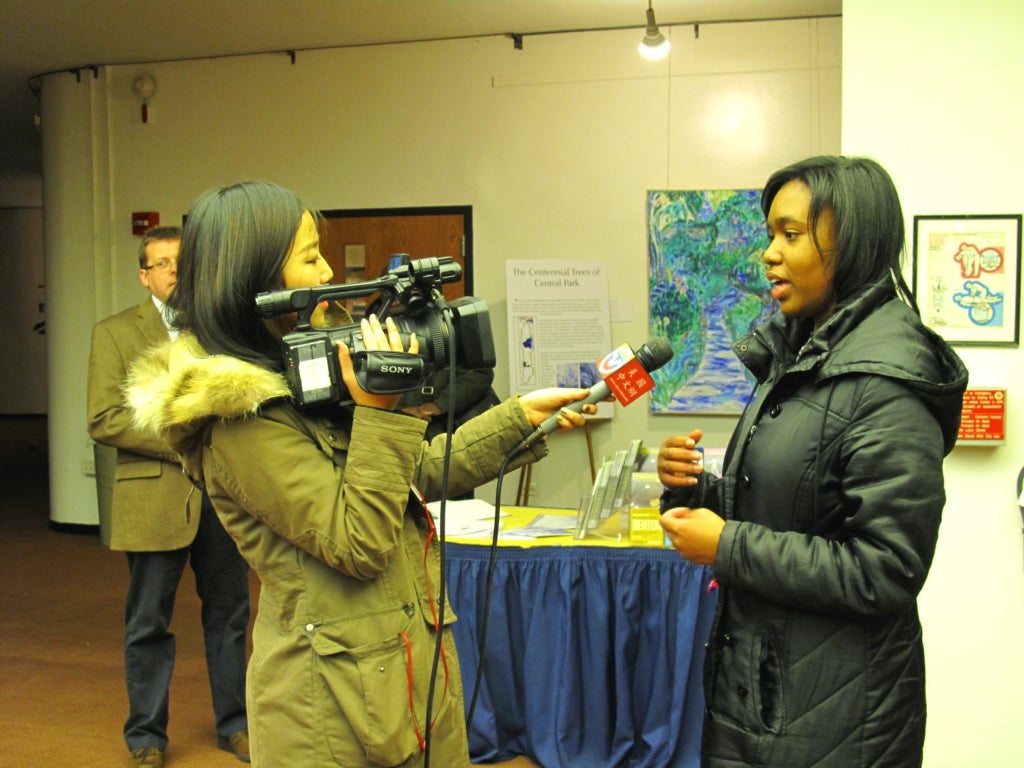 Royale Nicholson made a speech during the speech contest.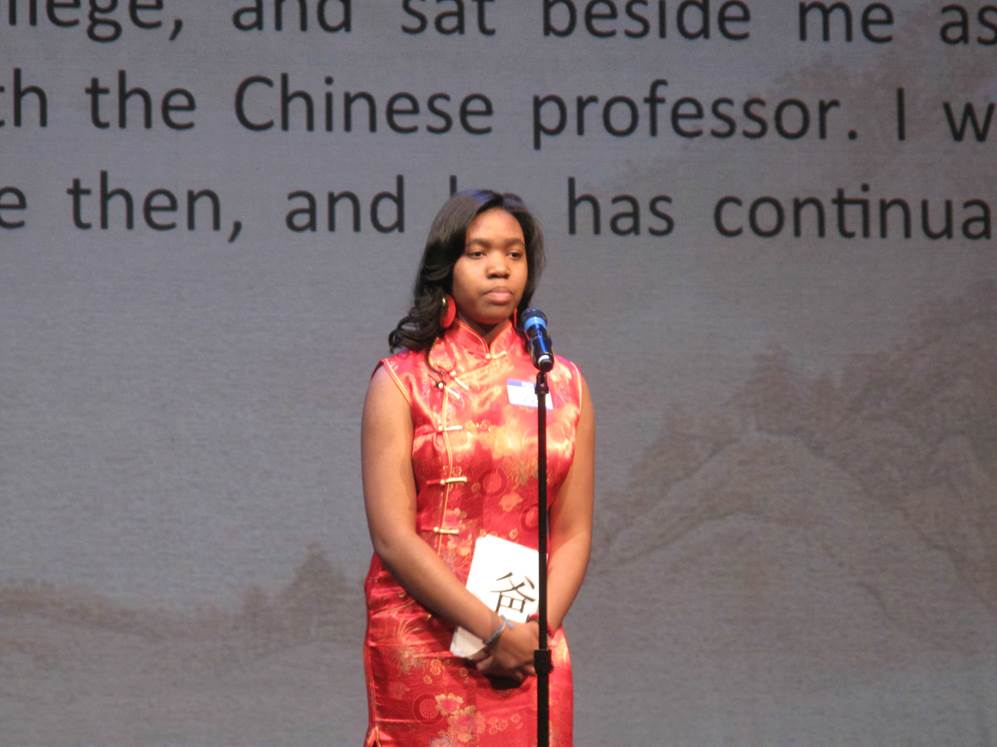 Royale Nicholson received her prize and certificate during the awarding ceremony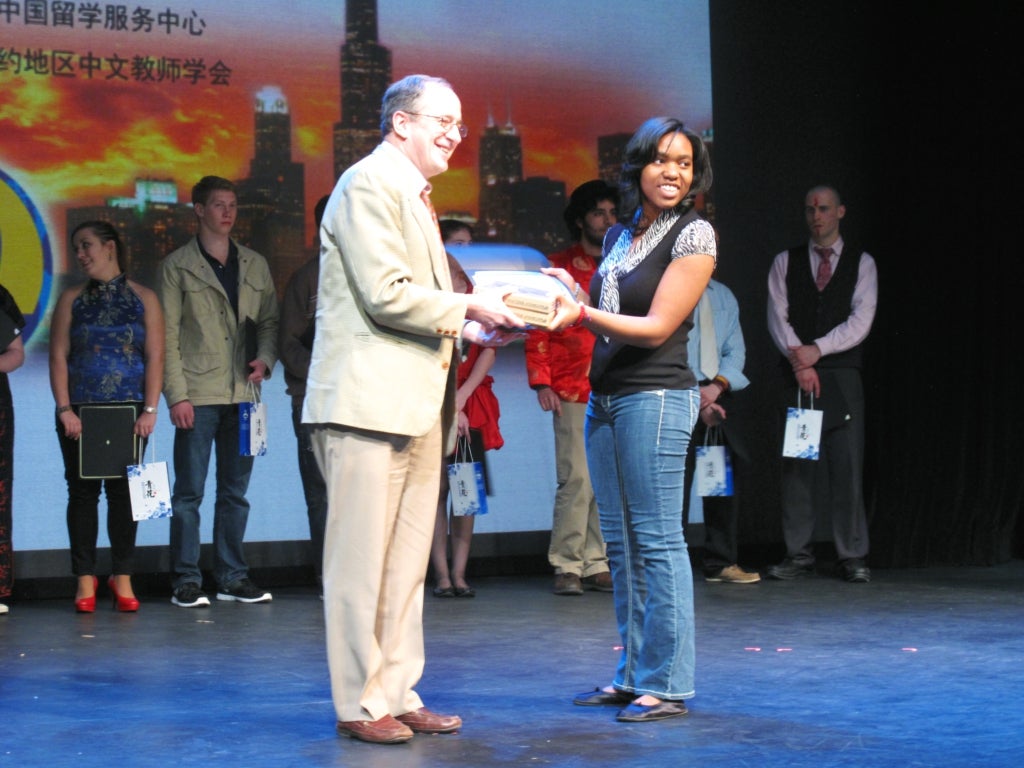 Royale Nicholson showed her certificate with Prof. Wenzheng Liu (Associate Director, Confucius Institute at CSU), her coach during the competition.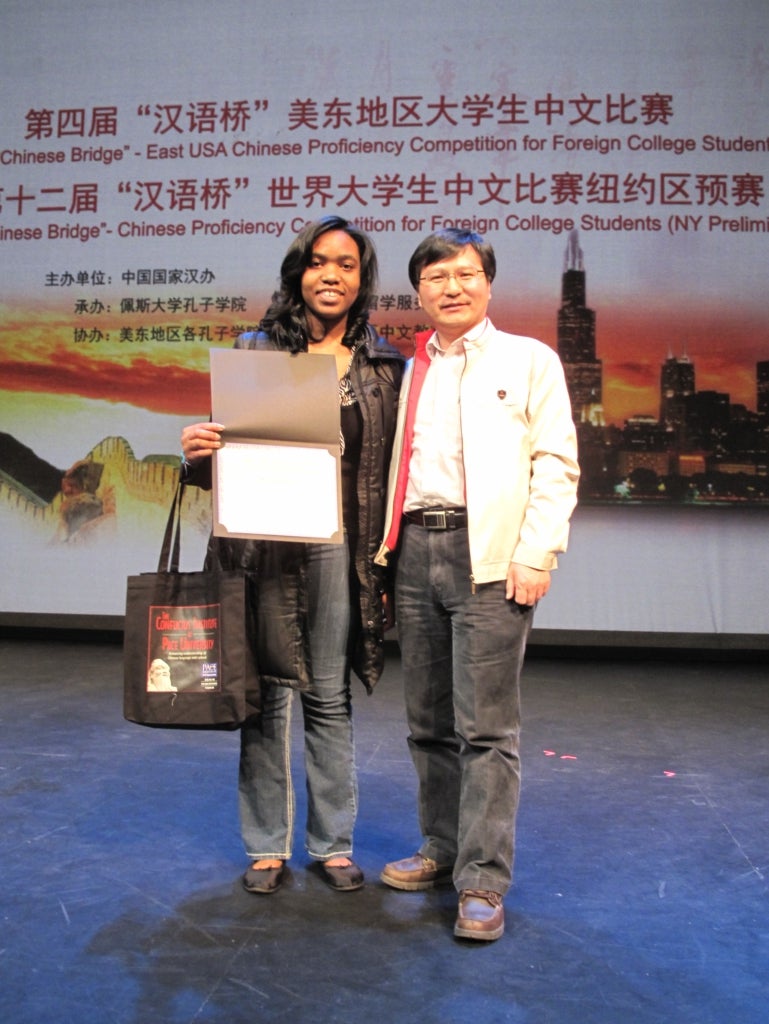 Confucius Institute and Cleveland Foundation Representatives Meet for CF 100th Anniversary
Royale Nicholson pictured with Cleveland Foundation CEO Ron Richard (left) and the Chairman of the Trustee Council for the Confucius Institute at Cleveland State, Dr. Anthony Yen (right.)  Royale attended the meeting to congratulate the Cleveland Foundation on its hundredth anniversary with a gift and card from the Confucius Institute.