Posted on December 12, 2016 at 10:48 AM, updated December 12, 2016 at 12:25 PM Print
University was recognized for efforts to better respond to and prevent sexual violence
Cleveland State University's efforts to prevent sexual violence have been honored by the State of Ohio. The University received a 100 percent score in a recent assessment of sexual violence prevention programs conducted by the Ohio Department of Higher Education.
"We are honored to receive this recognition for our efforts to address sexual violence on campus and create a climate in which all individuals are respected," notes Mariah Butler Vogelgesang, CSU's Title IX Coordinator. "CSU has made sexual violence prevention an institutional priority and has taken a host of innovative steps to improve our prevention, training and response to sexual assault."
In 2015, the State of Ohio unveiled the Changing Campus Culture Initiative which seeks to strengthen the ability of colleges and universities to better respond to, and ultimately prevent, sexual assault. As part of that effort, the Ohio Department of Higher Education (ODHE) assessed all colleges and universities in the state, rating institutions on five criteria: use of data analysis; empowerment of students, faculty and staff; effective communication techniques; response planning and survivor-centered resources. CSU was judged to have met all five criteria in the development and implementation of its sexual violence prevention efforts.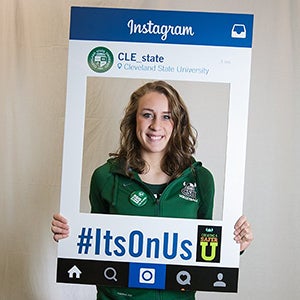 Among the programs considered by ODHE was the University's partnership with the Cleveland Rape Crisis Center, which has a satellite office on campus and works directly with the University administration to provide timely resources and assistance to victims. The University has taken a comprehensive approach to prevent gender based discrimination and sexual violence prevention, involving law enforcement, student groups, faculty and administrators. The University branded its efforts as, "Creating a Safer U," and used social media, theater presentations and orientations to raise awareness. It has also provided bystander training, peer education and victim assistance training to students, faculty and staff, through a grant from ODHE. In addition, CSU conducted a comprehensive campus climate survey in the spring of 2016 and worked with faculty members in the Department of Criminal Justice to analyze the data and refine service delivery based on the results.
"We recognize that a real shift in campus culture requires participation across campus. We have taken a comprehensive and collaborative approach to preventing gender based discrimination, improving response to sexual assault and working to reduce the incidence of violence on campus. Our goal is to become a model for other colleges and universities across the state and nation," adds Butler Vogelgesang.
###