Posted on November 4, 2014 at 4:36 PM, updated November 4, 2014 at 4:36 PM Print
Students Serve Community in Speech and Hearing Clinic on Campus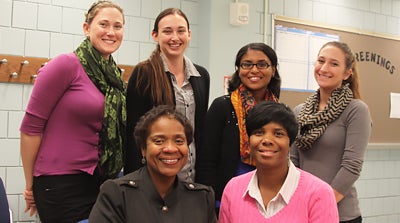 Cleveland State University is among the Top 10 schools in the nation for students pursuing a graduate degree in speech-language pathology, according to GraduatePrograms.com.
The master of arts program in Speech Pathology at CSU delivers a rigorous combination of academic preparation and clinical experience. Under the direction of Myrita Wilhite, Au.D., the program meets the requirements for certification as a speech-language pathologist by the American Speech-Language-Hearing Association as well as State of Ohio licensure as a speech-language pathologist.
Students in the program have an unparalleled opportunity to gain hands-on experience in the CSU Speech and Hearing Clinic. Located right on the University's campus and open to the entire Greater Cleveland community, the clinic offers consultations and comprehensive diagnostic and therapy services for children, teens and adults with speech, language and hearing challenges.
CSU's Speech Pathology graduate program also offers student-training opportunities at hospitals, clinics and schools throughout Northeast Ohio.
"We are very pleased to have our Speech Pathology program recognized as one of the finest in the country," said Dr. Meredith Bond, dean of the College of Sciences and Health Professions at CSU. "By connecting students with the community through our Speech and Hearing Clinic, this program is a shining example of CSU's dedication to Engaged Learning."
CSU is the only Ohio school on the Fall 2014 GraduatePrograms.com list of leading speech-language pathology graduate programs, ranked alongside the likes of Columbia University, Northeastern University and Purdue University. Programs were rated by more than 70,000 students in 1,600-plus graduate programs nationwide, whose evaluations considered factors such as academic competitiveness, career support and financial aid.
Currently located in CSU's Main Classroom Building, the Speech and Hearing Program as well as the Speech and Hearing Clinic will move into CSU's new Center for Innovation in Health Professions, opening in 2015. The center aims to foster a new model for interprofessional health-care education by combining CSU's health-care programs under one roof, including a partnership with Northeast Ohio Medical University to enhance training for an urban-focused health-care workforce.