Posted on June 11, 2014 at 4:12 PM, updated June 11, 2014 at 4:14 PM Print
"Follow the Smart Phone Trail," a unique study-abroad program created by Cleveland State University and the Asia Institute, has won the 2014 Innovative New Program – Study Abroad Award presented by GoAbroad.com, a premier online resource for meaningful international experiences and alternative travel opportunities.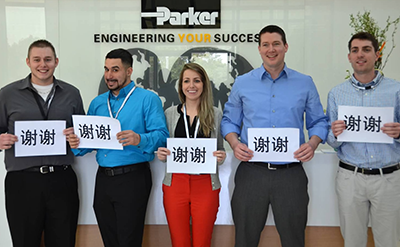 In March 2014, this first-of-its-kind program took 31 undergraduate and graduate students to China, where they tracked an end-to-end supply chain during a 10-day international study program.
With stops in Hong Kong as well as the cities of Shanghai, Suzhou and Shenzhen, the faculty-led tour featured visits to leading smart-phone companies, including Apple (for insights into consumer experience), ZTE and Huawei (original design manufacturing and original equipment manufacturing) and Knowles and TE Connectivity (component manufacturers). The tour also included the Yangshan Deep-Water Port (import/export).
"Follow the Smart Phone Trail" was a collaboration between the Operations and Supply Chain Management Department at CSU's Monte Ahuja College of Business and the Asia Institute, whose mission is to build an education platform connecting Asia with the rest of the world.
"Asia's sales volume of smart phones is higher than that of the U.S., so undergraduate and graduate students benefitted from learning about China's competitive work environment firsthand," said Dr. Oya Tukel, chair of the Operations and Supply Chain Management Department at CSU.
"The technology and manufacturing facilities we visited are state-of-the-art," said Dr. Tukel. "We wanted to focus on a better understanding of global competitiveness, but also gain an understanding of where our brands and our companies are, compared to all of these companies that are coming from emerging markets."
The program gave students an unmatched opportunity to combine course and in-class readings with on-the-ground experiential learning. They were joined by a global sourcing manager from Parker Hannifin to witness buying strategies, real decision-making and resolving problems with supplier issues. Students also expanded their professional networks through meetings with directors, general managers and vice presidents, as well as CSU alumni.
"This program offered a truly unique experience for students to connect classroom learning in an international setting with a product and industry that they interact with each day," said Bradley A. Feuling, chairman of the Asia Institute.
The GoAbroad Innovation Awards were presented in May in San Diego during the annual conference of NAFSA, the world's largest nonprofit association dedicated to international education.