Posted on January 19, 2017 at 3:31 PM, updated January 19, 2017 at 4:33 PM Print
Michael Warnick will perform with "The President's Own" United States Marine Band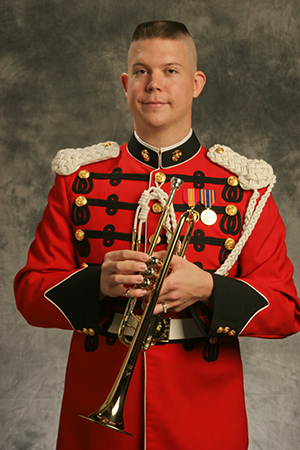 A graduate of Cleveland State University's music department will perform in the 58th Inauguration of the President of the United States on Jan. 20, 2017, as a member of "The President's Own" United States Marine Band. This marks the Marine Band's 55th inaugural appearance.
Trumpeter/cornetist Gunnery Sergeant Michael Warnick of North Olmsted, Ohio, joined "The President's Own" United States Marine Band in August 2005. Gunnery Sgt. Warnick began his musical instruction on the trumpet at age 10. Upon graduating in 1996 from North Olmsted High School, he earned bachelor's and master's degrees in music performance from CSU. While at Cleveland State, he studied with Geoffrey Hardcastle of the Center City Brass Quintet based in Cleveland and Charles Couch formerly of the Cleveland Orchestra.
Prior to joining "The President's Own," Gunnery Sgt. Warnick performed with the Northern Ohio Brass Quintet in Cleveland and the Blossom Festival Band in Cuyahoga Falls, Ohio. He also attended the Chautauqua Institution in New York and a music master course in Kazusa, Japan. Gunnery Sgt. Warnick performs with the Marine Band and Marine Chamber Orchestra at the White House, in the Washington, D.C., area, and across the country during the band's annual concert tour. Sgt. Warnick was named one of CSU's Most Fascinating Alumni as part of the university's 50th anniversary celebration in 2014.
The Marine Band will provide music for the Inauguration swearing-in ceremony at the U.S. Capitol, lead the second division of the parade down Pennsylvania Avenue, and perform at the Salute to the Armed Forces Inaugural ball. "The President's Own" is the only musical unit to participate in all three events.
Established by act of Congress on July 11, 1798, the Marine Band is the oldest U.S. military band and the oldest professional musical organization in the United States. Today, the Marine Band also includes the Marine Chamber Orchestra and Marine Chamber Ensembles.
###