Posted on March 7, 2017 at 4:24 PM, updated March 7, 2017 at 4:30 PM Print
He is the winningest men's basketball coach in school history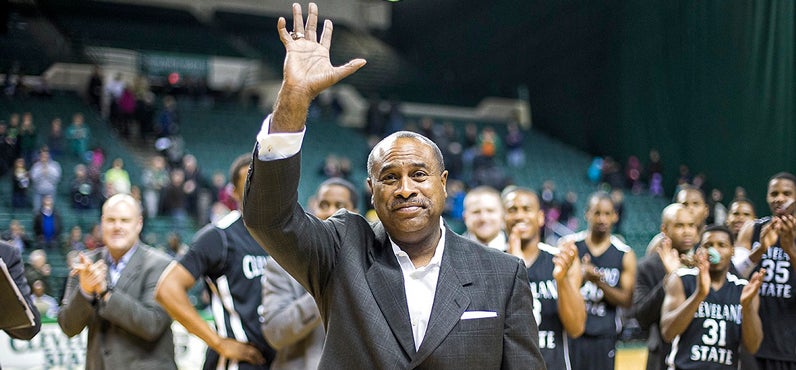 Gary Waters, the all-time leader in wins at Cleveland State University, announced his retirement as the head coach of the men's basketball program today.
Waters has spent the last 11 seasons as the Vikings' head coach, leading CSU to six postseason berths during his tenure, including reaching the second round of the 2009 NCAA tournament. He concludes his career on the CSU bench as the all-time leader in wins (194), Horizon League wins (99) and games coached (366), while also ranking second in winning percentage (.530). In addition, all seniors who have been in the program during Waters' tenure have graduated with their degree and the program has received four consecutive public recognition awards from the NCAA (2012-16) for having an academic performance rate that was in the top-10 percent nationally.
"Gary Waters has been a tremendous leader for our men's basketball program, both on the court and as a mentor and educator to countless young men," says CSU President Ronald Berkman. "I want to personally thank him for his tremendous service to the university and for creating an environment that dually promotes athletic and academic success."
"My time here at Cleveland State has been a tremendous capstone to my coaching career," Waters adds. "I have greatly enjoyed the opportunity to mentor an amazing group of student athletes and look forward to the opportunity to continue to support the program in the future."
Waters' contract was renegotiated in 2016, providing for an option of two additional seasons as coach, if certain performance measures were met. Following the 16-17 season, Waters decided to retire.
A national search will be undertaken to identify a new men's basketball coach with an emphasis on taking the Vikings to the top of the Horizon League standings and continuing to compete for postseason tournament invitations. An emphasis will also be placed on finding new leadership that can continue the academic success of the program and also assist in increasing fundraising support for men's basketball and the athletic program in general.
"CSU is in an excellent position to compete regularly for the Horizon League title and produce top level student athletes who can succeed in all aspects of campus life," notes Mike Thomas, CSU Athletic Director. "I am looking forward to working with the next men's coach to help our team meet these goals."
Prior to arriving at CSU, Waters spent five seasons (1996-01) as the head coach at Kent State University, leading the program to two NCAA berths and one NIT bid before leaving to serve as the head coach at Rutgers from 2001-06. He took the Scarlet Knights to the NIT three times, including a runner-up finish in 2004. He has an overall head coaching record of 365-307.