Posted on October 17, 2022 at 12:32 PM, updated October 17, 2022 at 12:59 PM Print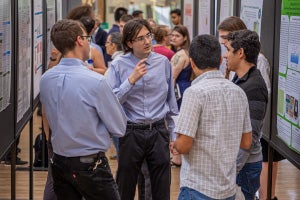 Undergraduate research students presented their work at the 2022 Undergraduate Research Poster Session on September 22. Students, faculty, and staff presented research that was funded by the Undergraduate Summer Research Award (USRA) Program and the McNair Scholars Program.
Based on faculty votes, the first place prize was awarded to James Iler for his poster titled "Protecting Information with Linearized Polynomials." With mentoring from Department of Mathematics and Statistics faculty members Dr. Hiram López and Dr. Ivan Soprunov and graduate student Kyle Traum, James developed an error-correcting code to protect messages from eavesdropping when transmitted over insecure channels.
Additional posters receiving awards were:
The Office of Research congratulates all of the students and their mentors, and encourages undergraduate and graduate students to continue to actively engage in research.