Posted on May 15, 2014 at 11:43 AM, updated May 15, 2014 at 12:37 PM Print
Student Center Ballroom Renamed in Honor of Generous Alumni
Cleveland State University alumni Lee and Larry Glasscock and The Glasscock Family Foundation have pledged $1 million to fund full-tuition scholarships, including room and board, for first-generation college students at CSU's Monte Ahuja College of Business.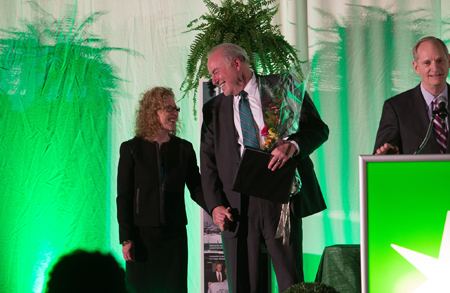 CSU President Ronald M. Berkman announced the gift at the University's fourth annual Radiance: CSU Realizing the Promise benefit for student scholarships, held Friday, May 9, 2014, in the CSU Student Center. President Berkman also announced that the Student Center Ballroom has been renamed The Glasscock Family Foundation Ballroom, in recognition of the family's generosity.
The Glasscocks, who reside in Indianapolis, attended the event with members of their family.
 "We are most grateful for this generous gift from Larry, Lee and their family during CSU's 50th anniversary year," President Berkman said. "Lee and Larry credit CSU for making a positive impact on their lives, both personally and professionally, and are proud and engaged alumni."
Lee Glasscock has been an active community volunteer. She graduated from CSU in 1991 with a bachelor's degree in psychology.
Larry Glasscock has enjoyed a successful career of 40-plus years in the banking and health insurance industries, retiring as CEO of Wellpoint Inc. in 2007. He graduated from CSU in 1970 with a bachelor's degree in business.
Larry Glasscock served as a member of the CSU Foundation Board of Directors and as president of the CSU Alumni Association Board of Directors. In 1987, he was named a member of the President's Club, the highest recognition level among CSU donors. In 1992, he received the CSU Distinguished Alumni Award and the CSU College of Business Distinguished Alumni Award. He was inducted into the CSU College of Business Hall of Fame in 2010. Two years later, CSU awarded him an honorary doctor of business administration degree.