GENERAL USAGE
Cleveland State University has an official seal that is to be used university-wide as a visual representation of CSU. The seal should be featured prominently on all University materials.
Guidelines for usage of the official seal are as follows:
The seal can be used in either 'University' or 'Fresh' Green, black, or white.
There are positive and reversed versions of the seal. The positive image suits most needs, while white or other light colored seals on dark backgrounds should use the reversed.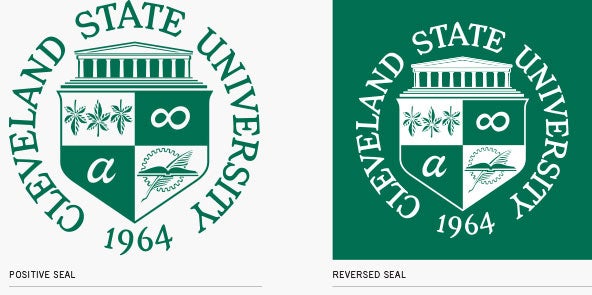 HISTORY
Created in 1997, the seal features four symbols: buckeye leaves representing Ohio; the Greek letter alpha and the infinity symbol, which represent the foundation of knowledge and unlimited potential; and a quill pen, open book, and gear, which represent CSU's three original colleges (Business, Arts & Sciences, and Engineering). The seal's nine pillars stand for the nine members of board of trustees, and includes CSU's founding year.