TRADE GOTHIC 
Cleveland State University's typeface is Trade Gothic. It is to be used as the primary typeface on any and all University collateral, both internal and external. Trade Gothic comes in several different weights (see below); all weights within each font's family are acceptable to use.
Board-approved sub-brands within Cleveland State University may have additional typefaces that are unique to their division, college, organization, etc. Please contact University Marketing for font usage in exceptional cases. 
GARAMOND
Garamond is a tertiary typeface for CSU, and is used on more formal pieces, such as certificates or formal invitations. Garamond comes in several different weights (see right); all weights within each font's family are acceptable to use.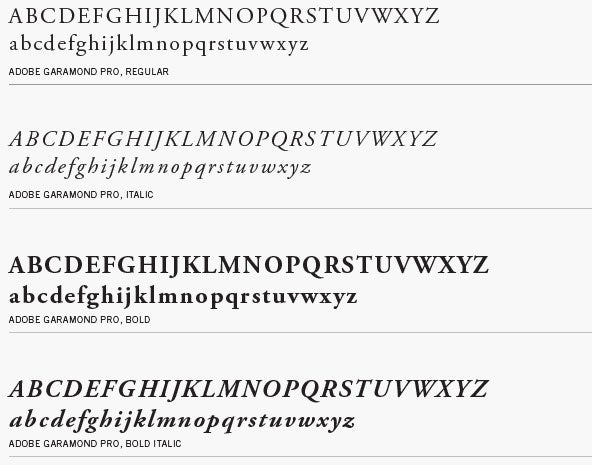 WEB FONTS
To ensure the correct display of a font across multiple web browsers and computer systems, web fonts are used. Web fonts are most likely to be on the majority of computer systems. While some fonts are usable for print design, they do not necessarily have a web-safe version or license available for purchase. Therefore, a similar web font is substituted.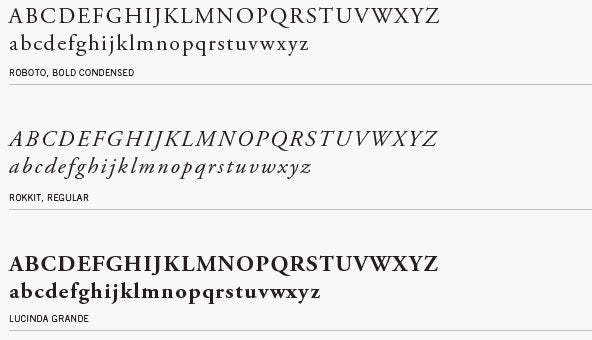 CSUOHIO.EDU Cleveland State University's official website (csuohio.edu) uses brand-approved web fonts. Main headlines are in Roboto Bold Condensed; section headlines are in Rokkitt Regular; and body copy is in Lucinda Grande. The CSU web fonts are to be used on the web only. Cleveland State University possess licensure for these fonts to be used on the csuohio.edu server.
CONTENT MANAGEMENT SYSTEM Any page on the csuohio.edu server that is migrated over to the Content Management System (CMS) will automatically follow these styles. 
---
LICENSING + PURCHASE 
Fonts are software. Like any other software program, a license needs to be purchased for each computer on which it will be used. It is illegal to share fonts with computers without proper licensing. Individual or multiple user licenses can be purchased for any font. To purchase typefaces, visit fonts.com or contact University Marketing.