Financial aid is money that is provided to help bridge the gap between your own resources and the amount of money needed to pay the cost of attending college. Approximately 75 percent of Cleveland State's students receive some form of financial assistance. The University participates in, or administers, all of the major federal and state grant and loan programs. In addition, Cleveland State provides University grants and scholarships.
To find out more about applying for financial aid, types of aid, understanding your award letter, scholarships and more refer to the appropriate resource links on the right hand side of this page. Still have questions? Contact Campus 411 at 216.687.5411, visit the campus 411 office in the Main Classroom (MC) Building or click here to get answers from a student services representative.
The first step in the financial aid process is completing the Free Application for Federal Student Aid (FAFSA). You must file a FAFSA every year in order to receive your financial aid.
When you apply for financial aid, you are applying for gift aid (scholarships and grants) and self-help programs (Federal Work-Study and loans).
The financial aid award letter explains the types of financial aid and amount of assistance you are expected to receive at Cleveland State for a particular academic year.
You should plan ahead and be prepared to take the necessary steps needed to meet the requirements in order to keep your financial aid.
Scholarships do not have to be repaid and are based on many factors, including academic merit and/or financial need.
Cleveland State's Student Employment Program is administered by the Financial Aid Office. The program is designed to assist matriculating students in financing their education, developing essential job skills and enhancing their University experience.
Additional resources are available to assist you in financing a college education.
Learn how much it will cost to attend Cleveland State.
Need Help?
If you're on campus, stop by the Campus411 office, located in Main Classroom, Room 116. Campus411 is our one-stop service center, where specialists are available to assist you with your financial aid questions.
Phone: 216.687.5411
Toll-Free: 888.CSU.OHIO
Fax: 216.687.9247
E-mail: campus411@csuohio.edu
Mailing Address:
Financial Aid Office
Cleveland State University
2121 Euclid Avenue, KB 1300
Cleveland, Ohio 44115-2214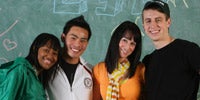 All Student Loan Borrowers for Fall Semester 2010: