Spring 2024 - canceled due to low number of applications
March 8-16, 2024 travel component
Application and $250 deposit due Nov 27
$3,999 program fee

Description
Viva Valencia serves as an experiential requirement for international business majors and minors in the BBA program in the Monte Ahuja College of Business. Additionally, it may serve as an elective for other BBA majors and MBA students who have added on a specialization to their studies. This international study tour provides students with the opportunity to learn about developing economies and business environments, specifically in Valencia, Spain. Student will travel to business centers and visit companies in Valencia and the region over Spring Break from March 8-16, 2024. 
Academics
This study tour provides students the opportunity to learn culture and business practices and to visit companies in many sectors of the business community in Valencia, Spain.  It is intended to broaden a student's awareness of the international business climate.  It will provide an understanding of the economic, political, and cultural aspects of doing business there. This seminar is a field-based course that enables students to study various aspects of conducting business in Spain and to develop an integrated business strategy for one of the companies visited. 
Participants with scheduled classes on Fridays in Spring 2024 must request permission to miss class on Friday March 8, 2024 or accept any consquences for missing class that day due to the international group flight's departure. 
Once accepted on the program, all participants will be required to enroll in a 3-credit (or 4-credit) course (with instructor permission). Undergraduates enroll in INB 491; graduate students enroll in MKT 696. This is an ALT scheduled course.  The course includes the international travel component and company tours over spring break 2024 as well as four mandatory class meetings throughout the Spring 2024 semester on Friday evenings from 6:00 - 8:00 pm. Attendance is mandatory for all class sessions.
January 26
February 9
February 23
March 1
Upon return, students will be required to submit a comprehensive written report, which is due on or before May 3, 2024. Please contact the faculty director/ professor of record for the course syllabus.


Tentative Itinerary in Valencia (subject to change) 
Friday, March 8 – Departure from Cleveland
Saturday, March 9 - Arrival in Valencia; airport transfer, met by bilingual guide and chartered coach. Welcome dinner and orientation 
Sunday, March 10  - Cultural visits: Moorish caves and mountain springs in Bocairent
Monday, March 11 - Introduction to Spanish markets with focus on Valencia region
Tuesday, March 12  - Business visits
Wednesday, March 13 - Business visit
Thursday, March 14- Business visit 
Friday, March 15 - Business visit , farewell dinner

Saturday, March 16 - airport transfer for flights home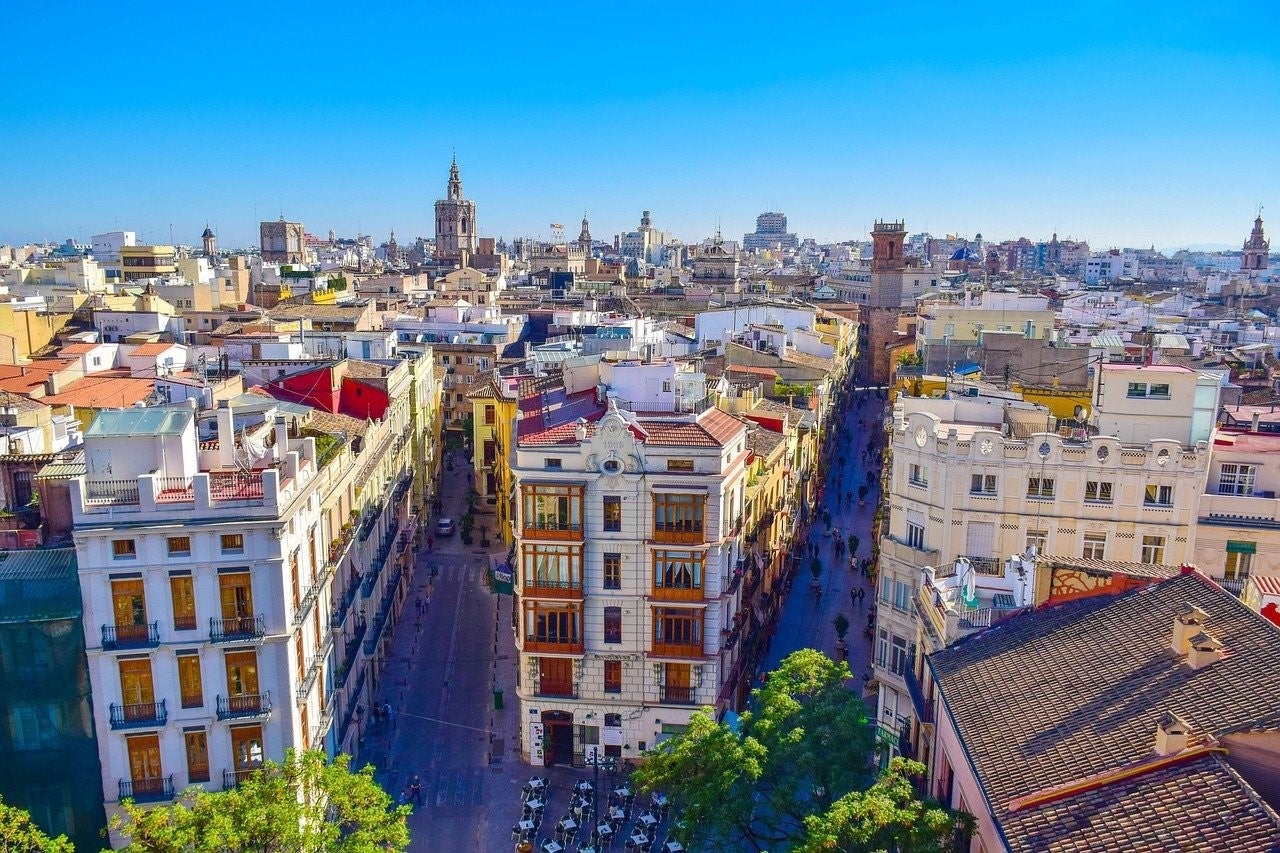 Eligibility
Applicants must meet the following criteria: 
be in good student standing*
relevant experience or coursework
completed at least one semester at CSU 
conversation with the faculty director about the rigors and expectations of the program (can be completed after submitting an application)
*Good student standing means
- cumulative GPA above a 2.0 (or 3.0 for graduate-level applicants)
- CampusNet account with no holds
- no outstanding or egregious sanctions resulting from adjudication of an infraction(s) against the CSU Student Code of Conduct
Please note: Spanish language proficiency is not required 
A minimum of 12 participants is required for this program; it will be capped at 16. 

Note on acceptance and withdrawals: 
Once accepted as a participant on a CSU faculty-led study abroad program, a student becomes financially and academically responsible to the group.  The remaining program fee (minus the $250 application deposit) is assessed to each participant's CSU student account via CampusNet.  There are no voluntary withdrawals as each student is needed to make up the group and cover the program expenses.

Once admitted on a faculty-led program, there will no refund of any of any kind for a withdrawal.  Expenses begin being paid out on behalf of the group as soon as a program is considered a "go" and the application decisions are announced.  If an applicant is unsure about making a financial and/or academic commitment to a faculty-led program, doubts should be cleared up prior to applying. 

Costs and Program Fee
The estimated program fee is $3,999. This includes:
Roundtrip airfare 
7 night accommodation in double rooms with daily breakfasts; two group dinners
Visits and entrance fees on program excursions/tours 
Airport transfers and ground transportation by chartered coach
Professional bilingual guide 
Basic health and accident insurance with international coverage
The cost does not include CSU tuition for the required 3-credit course, $400-$500 for daily lunches and dinners while in Spain, shopping, and personal expenses not included in the program fee. Additionally, students are personally responsible for passport fees, any visa fees and supplemental health insurance with international coverage. To view the current tuition rates, please visit the Bursar's Office.  The tuition for the required 3 credit course may fall into the tuition band for Spring 2024.

The University tuition refund schedule does not apply to the study abroad program fee.
Financial Aid and Scholarships
Students may use Spring financial aid to pay for the program fee, after the initial $250 program deposit is made.  With the addition of these expenses to your spring semester fees, you may be eligible for additional financial aid. Please contact All-in-One with any financial aid questions. 
The Ohio International Consortium offers an OIC short-term study abroad program scholarship for undergraduate, Ohio residents with at least a 2.5 GPA. The deadline is Jan 5.
The Darwin and Myra Smith Family Gift Fund may also award scholarship money for this spring break program. The deadline is Nov 30.
Billing 
The $3,999 program fee is broken down into 2 payments:
$250 payment due with application (see application for instructions on how to make this payment) via ShopNet 
$3749 added to student's CSU CampusNet account upon acceptance
The remainder of the program fee will be added to students' CampusNet accounts and is due at the start of Spring.  Joining the budget payment plan for the spring semester is also an option. If payment or payment arrangements are not made before the start of the spring semester,  the student will removed from the program but will still be responsible for the entire program fee. See note on withdrawals and cancellations.


Health, Safety, and Insurance 
For the health and safety of our entire CSU community, all travel will comply with CDC guidelines and any in-country and program-specific requirements

CDC International Travel Guidelines 
CDC Profiles for travelers to Spain
US Department of State Travel Advisory for Spain
Spain information (Embassy of USA in Spain)
For general information on pre-planning considerations please visit our health and safety resource page. 
Please explore our resources for insurance. We urge every student to purchase an international accident and sickness insurance or check their current health insurance policy has international coverage.  Cancel for Any Reason (CFR) insurance is also something to consider acquiring. 


Passports and Visas
All participants will be required to carry a valid passport with an expiration date at least 6 months beyond the end of the program. Presently, U.S. passport processing times are running 2-3 months for standard processing or 5-7 weeks with expedited processing (extra $60). It is the applicant's responsibility to verify their passport validity and/or apply for one in time to purchase airline tickets for travel in March 2024. Please contact the CISP for assistance. 
If you are not a United States citizen (even if you are a Permanent Resident), you may need a visa to enter Spain. Visit the Spanish Consulate of Chicago's website (consulate with jurisdiction over Ohio)  to find out if you need a short term tourist visa; this may require an in-person interview. If you have any questions regarding visas, please contact the CISP. At the time of this writing, U.S. citizens do not need a visa to enter Spain for this 7- day program.
Application and Deposit 
Please contact the faculty director if you have not already spoken with her about the program.  
Apply now (canceled due to low number of applications)
The online application form and a deposit payment of $250 (applied towards the program fee) are due by November 27. Application deposit payments will be returned only if student is not admitted or the program is canceled due to low enrollment. Otherwise, application deposits are non-refundable.  Be sure to check eligibility requirements and the note on withdrawals and as well as ensure you have adequate funding BEFORE submitting an application,  
Contacts
Donna Davisson
Associate Lecturer, Marketing
Interim Director of Business Interdisciplinary Programs and Partnerships
Monte Ahuja College of Business
d.davisson@csuohio.edu
216-687-9288
BU 449

Julie Good (schedule an appointment)
Manager of International Programs
Center for International Services and Programs (CISP)
j.a.good88@csuohio.edu
216-687-3910
BH 412