Spring 2020 course
January 1- 12, 2020 Travel component
Applications are now closed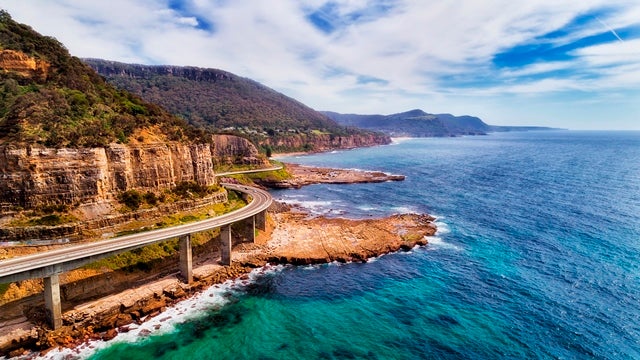 Program Description
This study tour provides students the opportunity to learn culture and business practices and to visit companies in many sectors of the business community in Australia. It is intended to broaden a student's awareness of the international business climate.
 
Academic Program
This course with a travel component will provide an understanding of the economic, political, and cultural aspects of doing business in Australia. During the study tour, students will attend presentations from global corporations. This seminar is a field-based course that enables students to study various aspects of conducting business in Australia and to develop an integrated business strategy for one of the companies visited.  Participants are required to enroll in a 3 credit Company Tour of Australia course. Undergraduates enroll in INB 491; graduate students enroll in MKT 696. This is an ALT scheduled course.  The course includes the international component with company tours in January, as well as four mandatory class meetings throughout the Fall semester held on Fridays 
September 13

October 25

November 15

December 6
Upon return, students will be required to submit a comprehensive written report, which is due on or before February 1, 2020. See the professor for syllabus.
 
Tentative Schedule (Subject to Change)
September 20, October 25, November 15 and December 6, 2019 – Four pre-departure class sessions. (Attendance is required for all four dates.)
January 1, 2020 – Departure from Cleveland
January 3, 2020 – Arrival in Australia, Welcome to Australia Orientation Program, walking tour of Sydney, Welcome Dinner
January 4, 2020 – Walking tour of Opera House, Botanical Gardens, Mrs. Macquire's Chair and Manly Beach, Free afternoon and evening
January 5, 2020 – Blue Mountains & Sydney Zoo full day tour including lunch, guide, and hikes, free evening
January 6, 2020 – Morning Lecture at local university for Cross Cultural Management, free time for lunch, afternoon corporate visit to SBS television station for Cross Cultural Management, free evening
January 7, 2020 – Morning corporate visit to American Chamber of Commerce, free time for lunch, Afternoon corporate visit to TNA Australia Manufacturing, free evening
January 8, 2020 – Port Stephens full day trip, including dolphin watching cruise, sand-boarding, and beach time, free evening
January 9, 2020 – Morning International sporting event – Cricket game Australia vs TBC, free time for lunch, free evening
January 10, 2020 – Morning visit to Custom House, Hyde Park Barracks, The Mint, free afternoon, Farewell Group Dinner
January 11, 2020 – Free Day
January 12, 2020 – Depart Sydney accommodation for travel back to Cleveland
Housing and Meals
All students will be housed in quad-residence hall (4 people per room) in Sydney.  A continental breakfast will be provided every morning and is included in the cost of the program. The cost of lunch and dinner every day (excluding the Welcome and Farewell group dinners) will be the responsibility of the student.
Minimum undergraduate cumulative GPA of 2.0; minimum graduate cumulative GPA of 3.0. Priority will be given to International Business majors and Monte Ahuja College of Business students. At the time of application, the applicant must have completed at least two semesters at CSU if a first year student and at least one semester if a transfer or graduate student. The applicant must not have any CSU financial holds and no unresolved infractions against the CSU Student Code of Conduct which would prevent successful participation on the international course. Applications will be reviewed in order of submission.
The estimated program fee is $3,599. This includes:
Roundtrip airfare

10-night accommodation in Sydney with included breakfast daily

Welcome and Farewell Group Dinners

Visits and entrance fees on program excursions/tours
The cost does not include CSU tuition for the required 3-credit course, $500-$650 for meals, shopping, and sightseeing not included in the program fee. Additionally, students are personally responsible for passport fees, any visa fees and health insurance with international coverage. To view the current tuition rates, please visit the Office of Treasury Services. The program fee may change due to increases in airfare and/or the exchange rate. The tuition for the required course may fall in the tuition band for Spring 2020.
 
The $3,599 program fee is broken down into 2 payments:
$ 250

payment due with application (see application for instructions on how to make this payment).

The remainder of the program fee will be due August 25.

If payment is not made by that date or if the student has not made arrangements to pay with Financial Aid, then the student will be removed from the program but may still be responsible for the entire program fee.
You make the second payment for the program fee on your CSU student account just like you would for tuition, electronically through Campusnet or by cash/check through the Cashier's desk in Main Classroom MC 115 or by mail.
Note on acceptance and withdrawals:
Once accepted as a participant on a CSU faculty-led study abroad program, a student becomes financially and academically responsible to the group.  The remaining program fee (minus the application deposit) is assessed to each participant's CSU student account, accessible through CampusNet.  There are no voluntary withdrawals as each student is needed to make up the group and cover the program expenses.
 
Once admitted on a faculty-led program, there will no refund of any of any kind for a withdrawal.  Expenses begin being paid out on behalf of the group as soon as a program is considered a "go" and the application decisions are announced.  If an applicant is unsure about making a financial and/or academic commitment to a faculty-led program, doubts should be cleared up prior to submitting an application.
If you have any questions about using financial aid toward the study abroad cost, please contact the Center for International Services and Programs or a financial aid Specialist in All-in-One Enrollment Services/Campus 411 located in MC 115.
The Center for International Services and Programs offers a scholarship to qualifying students on faculty-led programs. Eligible students can apply for the CISP Education Abroad Scholarship due Oct 1 for Spring semester.
 
Visit Australia's Embassy website here to find out if you need a short term tourist visa to enter Australia.  If you have any questions regarding visas, contact the Center for International Services and Programs.
The CSU in Australia program application and non-refundable $250 deposit are due no later than June 1  to be considered for admission.  The   application must be completed on-line through the link below. Deposits may also be made on-line through the link below and are non-refundable. The deposit counts towards the program fee and is returned only in the event that at student is not accepted or program does not make.  
Pay non-refundable deposit NOW
Donna Davisson, LCB, CGBP
College Lecturer, Department of Marketing
d.davisson@csuohio.edu
216-687-9288
BU 463

Julie Good
Manager, Education Abroad
j.a.good88@csuohio.edu
216-687-3910
BH 412