canceled due to low enrollment
March 6- 15, 2015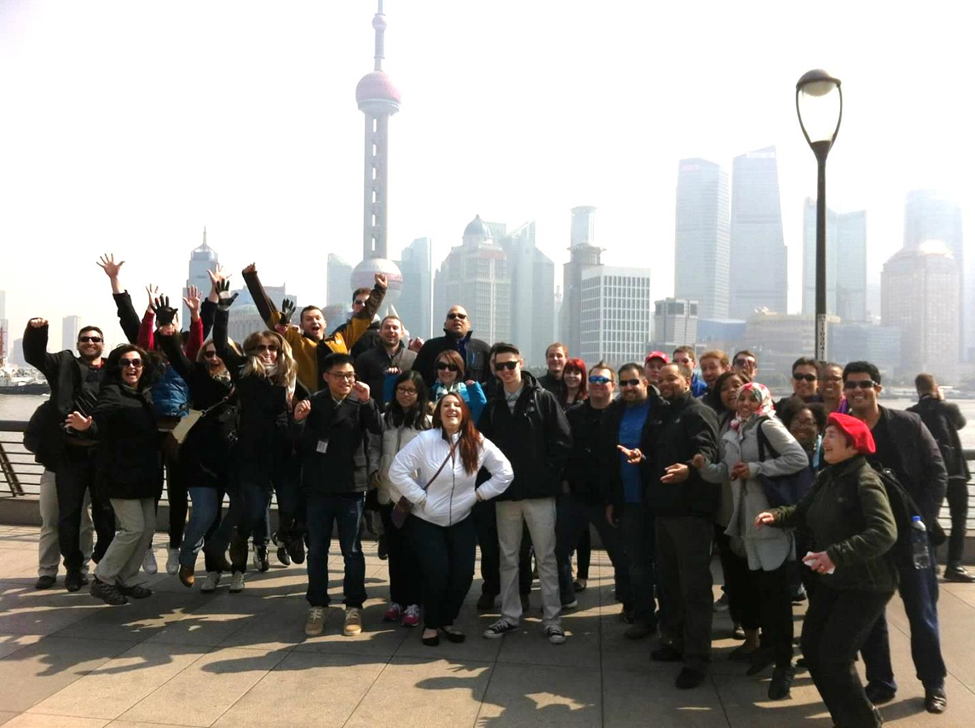 Program Description
This course will enable students to study and compare and contrast various aspects of supply chain management including new energy production, distribution and transportation. In addition, students will receive first-hand experience in the culture, traditions and language of the Asian business climate.
The group will fly into Shanghai and spend five nights there. Two nights  will be spent in Guangzhou and a weekend in Hong Kong concludes with a flight back to Cleveland on Sunday March 15. Company visits will include Parker Hannifin, Nissan, and Audi. Also scheduled are visits to two deep sea ports including Hong Kong which has the largest container port in the world.
 
Academic Program
All participants will enroll in a required three credit course. The course requires pre-departure as well as post-travel work. Students must participate in mandatory class sessions at 4:00 pm on Fridays January 16th and 30th, as well as Fridays on February 6th, 20th, and 27th.
 
Eligibility
This course is open to Business students with preference given to OSM majors and minors. A maximum number of 25 students will be accepted.  All applicants must have a current and valid passport ( valid until at least September 2015). Successsful applicants will also have an undergraduate cumulative GPA of 2.0 +; graduate cumulative GPA of 3.0+. Students must have completed at least two semesters at CSU if a first year student or one semester if a transfer or graduate student to be eligible for study abroad approval. Students must also have no holds or outstanding sanctions against them in violation of the Student Code of Conduct. All applications must be approved by the Program Director, Dr. Tukel and the Center for Interational Services and Programs (CISP). This course is closed to students enrolled in the following specialized programs AMBA, GAMBA, EMBA, and MAMBA.
Cost
The estimated program fee is $3,290* (assuming 25 participants) and includes:
airfare
double-occupancy accommodation in 3-star hotels
most meals
in-country travel
visa fee
The program fee does not include the spring 2015 tuition for the required 3-credit course : OSM 438/538, INB 491, OSM 625, or OSM 698. To view the current tuition rates, please visit the webite of the
Office of Treasury Services. 
*The cost may be increased due to increases in airfare, exchange rate, or number of enrolled participants.
Students should budget an additional $200 for personal expenses and souvenirs. Access to a credit card for emergency purposes is also recommended.
Students are also responsible for passport fees*, health insurance with international coverage, and souvenir purchases.
Billing
The $3,290* estimated program fee is broken down into 3 payments:
$250 application deposit due with application form on or before Nov. 7 (if admitted, this deposit becomes non-refundable) Payment is made directly into the program account at the Cashier's Office, MC 115.
$1,500 due on November 21 (if admitted, fee will be charged to each individual's CampusNet account, payable accordingly)
remaining $1,540 due on January 16 (same as above)
You make payments for the remaining program fee balance just like you would for tuition, electronically through Campusnet or by cash/check through the Cashier's desk in Main Classroom or by mail.

If your program fees are not paid by the due dates indicated above, you may be removed from the program but maintain the outstanding balance.
Financial Aid
Students may use spring financial aid to pay for program fees and tuition (except for the $250 application deposit which cannot be deferred). Spring financial aid awards may be increased due to the increased cost for the semester. Students can explore this and other options and seek advice on applying for private loans through FASTCHOICE by meeting with a Campus 411/ All-in-One Enrollment Services representative in MC 116.
If you have any questions about using financial aid toward the study abroad cost, please contact the CISP who will need to see a print out of your spring 2015 financial aid award indicating enough money to cover all spring tuition plus the program fee for China.
Scholarships
Scholarships are available to students on this program. Eligible students can apply for the
CISP Study Abroad Scholarship
This scholarship is awarded from the Center for International Services and Programs. Click on the link to access the eligibility requirements and application forms and deadlines.
Additionally, there is also a departmental scholarship for undergraduates in the amount of $350 available to 4-5 students. To apply for this OSM scholarship please complete the scholarship form and the supporting documentation by November 7 and submit it to Dr. Tukel.
OSM Study Abroad Undergraduate Scholarship-1.pdf
Do I need a visa?
Yes, you will likely need a visa (permission to enter) for China depending on your citizenship. The visa fee is included in the program fee; and you will receive instructions from the CISP after you are accepted into the program about the steps necessart for the CISP to apply on your behalf.
Application
The program application and deposit slip are due no later than
November 7
to confirm your participation. To make the program deposit of $250, take your payment and your application form to the Cashier's Desk in the First Floor of the Main Classroom. You will receive a receipt that you must turn in with your application. Please attach the receipt to the application form and submit both to the OSM department or to the CISP no later than November 7.
Download the
OSM China '15 Application Form
Contact
Program Director
Dr. Oya Tukel
Monte Ahuja College of Business
BU 539
Phone: 216-687-4740
Education Abroad
Center for International Services and Program
MC 106
Phone: 216-687-3910
* if you do not have a passport yet, you must apply for one immediately or risk not being accepted