FULFILL YOUR GENERAL EDUCATION SOCIAL SCIENCE ALAAME REQUIREMENT IN THAILAND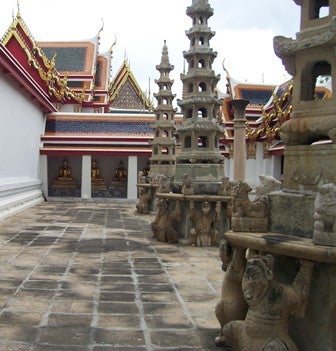 The department of Criminology, Anthropology, and Sociology is pleased to offer for this three week CSU faculty-led study abroad program to Thailand in summer 2018. This builds on the wildly popular course SOC 210 Introductory to Sociology of the Third World. This section of the class, which is now called Developing Societies in a Changing World, will offer a unique schedule with three weeks of in class teaching on CSU's main campus (summer session II) followed by three weeks of experiential learning in the beautiful country of Thailand. If a upperclassman who has already taken SOC 210 wishes to joing this program they will be required to enroll in SOC 496 Independent Study.
This course will trace forty years of development in Thailand with a focus on four key sectors that make up contemporary Thai society: manufacturing,  retail, fishing/agriculture and tourism.  Program participants will visit the urban center of Bangkok as well as the more rural and traditional areas along the Eastern seaboard. Cultural excursions and exchanges are planned at a local museums, markets, Thai universities, Buddhist temples and sunny beaches.
Eligibility
This program is open to undergraduate students who are in good social, academic and financial standing at CSU. Post-bacs and non-CSU students are welcome to apply but must fulfill all of the program requirements. Please contact the Center for International Services and Programs (aka The CSU International Center) for details or visit our web page dedicated to participants from outside of CSU.
Application review will begin after the deadline has passed. A minumum of 15 students are needed for this program and an maximum of 20 will be accepted.   As part of the application process, students need to be in possession of a valid passport or be in the process of applying for their passport. Contact the CISP if you'd like help in applying for a passport.
Program applications will be reviewed in the order in which they are received. An application is not considered complete until the non-refundable $250 program deposit is made.  Students will enroll in the summer 2018 course after they have been accepted on the program (mid-Spring semester).

Tentative Itinerary - to be confirmed
July 2- July 20 CSU's main campus for class
July 22 Depart from Cleveland Hopkins International Airport as group for Bangkok
July 23- July 28 Bangkok
July 28- July 31 Bang Saen in Chonburi province with a visit to Pattaya Beach
August 1- 3 Rayong Province
Aug 3- 6 Koh Chang Island, Trat Province with a visit to Namtok Philo National Park in Jantaburi Province
August 6-9 Bangkok
August 9 Depart from Bangkok as a group to return to Cleveland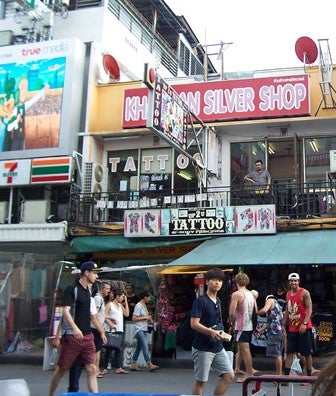 Program Fee
The estimated program fee is $4,650 * includes:
•Round-trip airfare
•Double-occupancy accommodation
•Breakfast, lunch, and dinner in Thailand
•In-Country transportation
•Entrance fees and site-seeing
Program fee does not include the cost of tuition for 3 credits.
*The program fee may change due to increases in airfare and/or the exchange rate. Students should budget an additional $200-250 for meals during transit to/from Thailand, bottled water and juice, personal expenses and souvenir shopping.  Students are also personally responsible for passport fees, obtaining health insurance with international coverage, and obtaining a medical clearance to travel exam (available at the CSU Health and Wellness Center 216-687-3649) in IM 205.


Financial Aid
Students may apply for summer financial aid to help pay for the remaining program fee and in-country expenses after their initial $250 program fee deposit is paid. This summer, federal Pell Grants have been reinstituted for those who qualify.

Any questions about using financial aid toward study abroad, should be addressed to the Center for International Services and Programs or a financial aid Specialist in All-in-One Enrollment Services/Campus 411 located in MC 116.


Scholarships
The Center for International Services and Programs offers a scholarship to qualifying students on faculty-led programs. Eligible students can apply for the CISP Education Abroad Scholarship.  Note: the scholarship deadline for a Summer semester class is March 15.

Billing and Payments
The $4,650 estimated program fee is broken down in the following manner:
$250 payment due with application (see application for instructions below on how to make this payment).
$2,200 of the remaining program fee will be due on April 27, 2018+
$2,200 the remaining program fee will be due on May 18, 2018*
3-credits of tuition (and associated fees) due at Summer 2017 tuition payment deadline
+Students may present a copy of their summer financial aid award information to the CSU International Center to forgo the first payment deadline.
*If program fees are not paid in full by May 18, 2018 students may be removed from the program but still maintain full responsibility for the entire program fee.
N.B. Students must bring at least $200-$250 with them to Thailand to cover expenses not included in program fee.
Students may enroll in a budget
payment plan (BPP
)
for summer 2018 through their CampusNet account for their expenses. Enrollment in the BPP before the payment due signifies a student's commitment to paying for the program fee in a timely manner.   Please contact the Office of Treasury Services if you have questions at
allin1@csuohio.edu
or 216.687.5411.
Once accepted on the program, the remaining program fee will be added to the student's individual CSU account in CampusNet. Payments should be made against each student's unique CSU ID and in their own CSU account just like payments are made for other CSU expenses.
Passports/ Visas
Everyone will need a valid passport that does not expire before March 2019 in order to travel abroad on this program. If you need help in applying for a passport, please contact the Center for Internatonal Services and Programs. Additionally, entrance visas may be required for Thailand depending on your nationality. Please contact the CSU International Center if you have questions.
Apply
The CSU in Thailand program application and non-refundable $250 deposit are due no later than February 23 to be considered for acceptance. The application must be completed on-line through the link below. $250 non-refundable deposits may also be made on-line through the link below; note: deposits are non-refundable. The deposit counts towards the program fee and is only refunded in the event that a student is not accepted or the program is canceled due to lack of applications.  This refund is only available in the form of a credit to the applicant's CSU financial account.  Decisions and notifications will be made after the application deadline.
Pay non-refundable $250 deposit NOW 
Please contact the Center for International Services and Programs if you need the account code to make the deposit payment in person at the Cashier's Office (MC 115).

Note on acceptance and withdrawals
Once emailed as an accepted participant on a CSU faculty-led study abroad program, a student becomes financially and academically responsible to the group and the University.  The remaining program fee (minus the application deposit) is assessed to each participant's CSU student account, accessible through CampusNet and becomes irreversible.  There are no voluntary withdrawals, as each student is needed to make up a group and cover the program expenses. 
Once admitted on a faculty-led program, there will no refund of any of any kind for a withdrawal.  Expenses begin being paid out on behalf of the group as soon as a program is considered a "go" and the application decisions are announced.  If an applicant is unsure about making a financial and/or academic commitment to a faculty-led program, doubts should be cleared up prior to submitting an application.
Contacts
Dr. Dawn Aliberti
Department of Criminology, Anthropology and Sociology
(RT 1730) Co-leader
d.aliberti@csuohio.edu
216-687-4517
Dr. Michael Skladany
Department of Criminology, Anthropology and Sociology
(RT 1726) Co-leader
m.a.skladany@csuohio.edu
216-687-4573
General questions about financial aid, passports, billing, registration, etc. should be sent to Julie Good, Manager of Education Abroad at the Center for International Services and Programs (MC 412). For further research into Thailand please visit the website of the Bureau of Consular Affairs of the US State Department which provides an excellent overview of Thailand for travelers.