APPLICATION DEADLINE EXTENDED TO APRIL 4th
August 13- 22, 2014
Company study tour of korea
Take part in a once in a lifetime trip to South Korea! For more than fifty years, South Korea's history has been intertwined with the United States, creating cultural, political, and business ties unique to our two countries. Beyond those ties, however, South Korea has preserved a rich heritage, which students on this tour will experience firsthand. Students will visit internationally renowned companies such as Samsung Electronics,  SK Telecom, Hyundai, and Posco Steel. Students will take tours of the dynamic and modern capital city, Seoul to examine the past, present,and future. They will also visit Temple Stay and examine the relationship between N. Korea and S. Korea.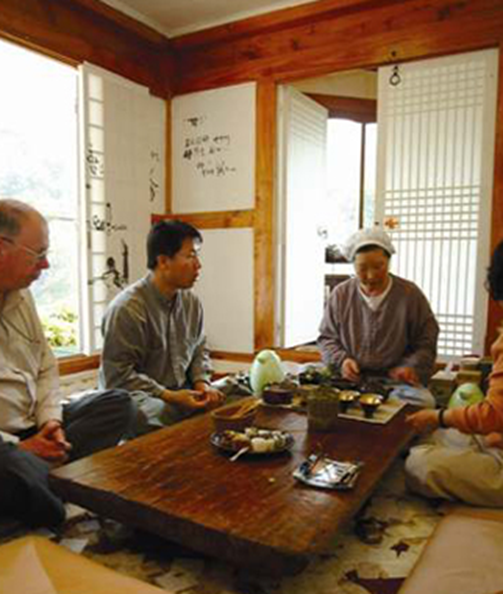 This study tour provides students the opportunity to learn Korean culture and business practices while visiting companies in many sectors of the Korean business community. It is intended to broaden a student's awareness of the international business climate. This course relies on experiential learning, as well as pre-departure course work. Learning pre-departure class sessions at 6:00- 9:00 pm on Friday,  June 27, Friday,  July 25 and Friday, August 8.
Undergraduates register for INB 491: Field Experience Abroad
Graduate students enroll in MKT 696: Field Experience Abroad
Both are 3-credit hour, Fall 2014 term courses; however, the trip to Korea occurs during the summer break.
Minimum undergraduate cumulative GPA of 2.0; minimum graduate cumulative GPA of 3.0. At the time of application, the applicant must have completed at least two semesters at CSU if a first year student, and at least one semester if a transfer or graduate student. The applicant must also have no financial holds on their Treasury Services account and have no current or previous infractions of the Student Code of Conduct which would prevent successful participation on the study tour.
The program cost is $2400. The cost includes:
Roundtrip Airfare
Lodging
Excursions and Company Visits
In-Country Transportation
An International Student Identity Card
The cost does not include tuition for the required course. To view the current tuition rates, go to the Office of Treasury Services. The cost may change due to increases in airfare and/or the exchange rate. Students should budget an additional $500 for meals not included in the program cost. Students are also responsible for passport or visa fees, health insurance, and personal souvenir purchases and sightseeing.
The $2400 cost is broken down into 3 payments:
$200 payment is due April 4, 2014 or at the time of application.
$1,500 is due April 30, 2014.
The remainder of the cost is due a month later on May 21st.
You make payments toward these charges just like you would for tuition, electronically through Campusnet or by cash/check through the Cashier's desk in Main Classroom or by mail. The remaining program fee (-$200) will be on your CSU financial account once accepted on the program. If your program fees are not paid by payment deadlines, you may be removed from the program.
Students may use fall 2014 financial aid to pay for the program fee.

In order to apply fall financial aid toward these fees, the student must provide the Education Abroad office with a copy of their financial aid award letter reflecting that the student has enough fall aid to cover both their tuition costs of all courses taken in the fall term and the program fee. The student must also provide the Education Abroad staff at CISP with their fall course schedule. All of these documents must be submitted to the Education Abroad section of the Center for International Services and Programs by the payment deadline.
A scholarship is available to students on short term programs. Eligible students can apply for the CISP Education Abroad Scholarship  (click on the link to go to the eligibility requirements for the scholarship as well as to downloan the application forms).
If you are not a United States citizen (even if you are a Permanent Resident), you may need a visa to enter South Korea. Go to the South Korean Consulate website to find out if you need a short term tourist visa to enter South Korea. If you have any questions regarding visas, contact the Education Abroad section of the Center for International Services and Programs.
The program application and deposit receipt are  due no later than Friday, April 4, 2014 to confirm your participation. To make the program deposit of $200, take the application formand your payment to the Cashier's Desk (MC 115). You will receive a receipt that you must turn in with your application.
Click on the link to download the application form
KOR 14 Application.pdf.
Dr. Ji Eun Park
Professor of the Department of Marketing
j.park16@csuohio.edu
216-687-4787 or 4771
BU 448

Julie Good
Manager of Education Abroad
j.a.good88@csuohio.edu
216-687-3910
Main Classroom Suite 106