This short-term faculty-led study abroad program offered by Maxine Levin Goodman College of Urban Affairs provides students with the opportunity to benefit from a curriculum focused on economic development in the automation and innovation sectors, sustainable agriculture, social justice, governmental regulatory issues, and urban development/international real estate markets. Students will travel to key business centers and universities of Israel, meet with academic and company leaders and visit cultural centers representing the rich and complex history and development of Israel. Cultural excursions are planned to Jerusalem, the castle and market of Akko, the world-class Roman archeological site of Cesearea, the beaches of Haifa, historic Masada, the Dead Sea and to take a look at Bedouin nomad lifestyle in the Negev desert.  VIDEO: INTRODUCTION TO THE PROGRAM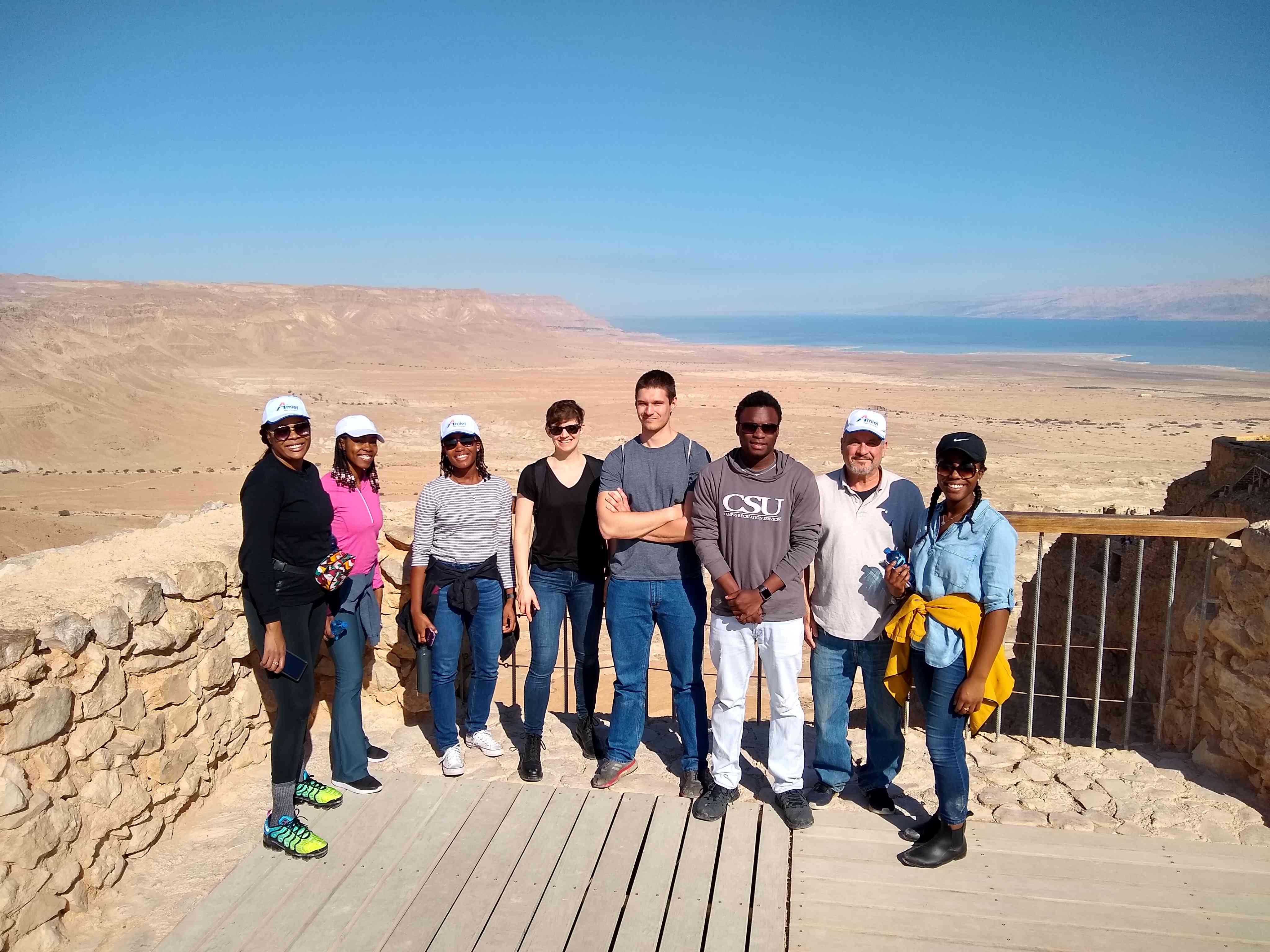 Academic Program
This Spring 2022 course with a travel component from May 15- 25, 2022 provides students with the opportunity to learn about Middle Eastern cultures, global industries and business practices. There are planned visits to companies in several global sectors operating within the Israeli business community, focusing on  agricultural and hi-tech fields, including the technology underlying driverless cars. This course is intended to broaden a student's awareness of a nation's role in promoting international economic development, real estate markets and regulatory climates.
Participants are required to enroll in the 3 credit Field Studies course. Undergraduates will enroll in UST 493; graduate students will enroll in UST 593. This course serves as an elective course for Bachelors of Urban Studies and Masters of Urban Studies, Planning and Development, or Public Administration degree seeking students. The course is also open to all majors. Alumnae auditors are also acceptable, space permitting.

The course includes the international travel as well as mandatory class meetings throughout the Spring 2022 semester:
 
Thursday, Jan 27 4:00 -7:00 pm
Sunday, Feb 20 2:30- 6:00 pm
Sunday, March 20 2:30 – 6:00 pm
Sunday, April 24 2:30- 6:00 pm
Sunday, May 8 2:30 – 6:00 pm 

After reading background material, students will participate in an on-line discussion groups each month.  Students will also sit for a monthly in-class/on-line quiz on assigned readings to ensure proper preparation for completion of their assignments.  Students will write short papers and convert those to power point presentations to present to the class.  Students will also be graded on participation (in-class) in general topical discussions, and pre-determined in-country interviews in a university setting. Finally, students are expected to post a daily trip log while in-country, and to prepare a themed power point presentation on their in-country experience. Course syllabus available upon request. Please contact Dr. Simons. 
Tentative Schedule (Subject to Change)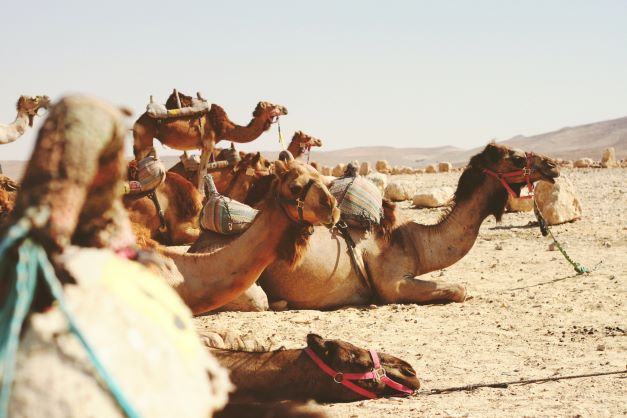 May 15 – Group departure from Cleveland to Tel Aviv
May 16 – Arrival in Tel Aviv, bus charter to Haifa, check in at hotel, afternoon walking tour with Dr. Simons, Ba'hai, drive up Marcaz HaCarmel
May 17 – Morning visit to Akko Crusader Fort, lunch in Akko, visit to the Shuk, afternoon Rosh Ha Nikra tour, evening dinner near hotel
May 18 – Morning visit to Intel Corp, Technion University tours, free time for lunch, free evening
May 19 – Checkout of Haifa hotel, bus transportation to Tel Aviv, morning visit to Caeserea Martina, lunch at Café Nitza, real estate tour with Mark Verstandig, afternoon tour of Tel Aviv University, evening check-in to Jerusalem hotel, evening walk to the western wall
May 20 – morning visit to Yad Vashem, free time for lunch, afternoon whiskey distillery tour, free time for dinner, evening walk to shuk Mahane Yehuda
May 21 – Full day of cultural visits: Church of Holy Sepulcher, Mt. Olives, City of David, free time for lunch and dinner
May 22– morning visit to Hebrew University, lunch in HU cafeteria, Real Estate walking tour with Danny Felsenstein, free evening
May 23– very early morning check-out of hotel and departure, morning visit to Masada National Park, afternoon for lunch and visit/swim in the Dead Sea, evening check-in to hotel, dinner included at hotel
May 24 –  visit to Ben Gurion University, explore the Kibbutz, visit to Ramat Agricultural Station, lunch with Bedouins, afternoon Tel Beer Sheva archeological tour, free evening
May 25  – early check out of hotel, travel to airport for departure back to Cleveland
 
Eligibility
Minimum undergraduate cumulative GPA of 2.0; minimum graduate cumulative GPA of 3.0. At the time of application, the applicant must have completed at least two semesters at CSU if a first-year student or at least one semester if a transfer or graduate student. The applicant must not have any CSU financial holds and no unresolved infractions against the CSU Student Code of Conduct which would prevent successful participation. Applications will be reviewed in order of submission. Application review begins after the deadline has passed. Open to any major.
Program Fee
The estimated program fee is $4,980*.  This includes:
Roundtrip airfare from Cleveland to Tel Aviv
Hotel accommodation with daily breakfast
In-country transportation
Excursions, company visits, and entrance fees 
Local guide and translator
One COVID-19 test for return flight to Cleveland
The cost does not include Spring semester tuition for the required 3-credit course, $350-$450 for meals, shopping, and sightseeing not included in the program fee. Individual spending habits can vary greatly and this is only an estimate of the out-of-pocket expenses that students must plan for. Additionally, students are personally responsible for passport fees, any visa fees, health insurance with international coverage and any additional COVID-19 testing requirements. To view the current tuition rates, please visit the Bursar's Office.
* First 8 eligible applicants will receive a $1,000 scholarship off of the program fee. The program fee may change due to increases in airfare and/or the exchange rate.
The tuition for the required 3-credit course for CSU in Israel may fall in the "tuition band" for Spring 2022.
Billing and Payments
The $4,980 program fee is broken down
$250 payment due with application (see application for instructions below on how to make this payment).
$4, 730 Remaining program fee will be due on January 21 .
3-credits of tuition due at Spring 2022 tuition payment deadline.
If program fees are not paid in full by January 21 students may be removed from the program but still maintain responsibility for the fee.
Alternatively, students may enroll in a
budget payment plan (BPP)
for Spring 2022 through their CampusNet account. Enrollment in the BPP  before the payment due of Jan 21 signifies a student's commitment to paying for the program fee in a timely manner.  Making BBP payments towards the program fee after the Jan 21 payment deadline is completely acceptable. Budget payment plans are set up with 4 pays or 3 pays. At the time of enrollment in a BPP 25% or 33% (first pay) is due. Please contact Bursar's Office if you have questions at
bursar@csuohio.edu
 or 216.687.5411.
Financial Aid
Students may use Spring semester financial aid to pay for the remaining program fee after their initial deposit is paid with the application.

If you have any questions about using financial aid toward the study abroad costs, please contact the Center for International Services and Programs or a financial aid Specialist in All-in-One Enrollment Services/Campus 411 located in BH 116.
Scholarships
The first 8 eligible applicants will receive a $1,000 scholarship off of the program fee.
The Center for International Services and Programs offers a scholarship to qualifying students on faculty-led programs. Eligible students can apply for the CISP Education Abroad Scholarship.  Note: the scholarship deadline  is March 1.
The Ohio International Consortium offers an OIC short-term study abroad program scholarship for undergraduate, Ohio residents with at least a 2.5 GPA. The deadline is Jan 3.
The Darwin and Myra Smith Family Gift Fund may also award scholarship money for this spring break program. 
Pell grant recipients may be eligible for the Benjamin A Gilman International Scholarship. Applications are due on the first Tuesday of March.
Passports/ Visas
If you are not a United States citizen (even if you are a Permanent Resident), you may need a visa to enter Israel. If you have any questions regarding entrance visas, please contact the Center for International Services and Programs. Everyone will need to have a valid passport that does not expire before November 2022 in order to travel abroad on this program. US passport application processing time is currently 4 ½ months. 
Application
The CSU in Israel program application and non-refundable $250 deposit are due no later than November 30th, to be considered for acceptance.  The application must be completed on-line through the link below. $250 non-refundable deposits may also be made on-line through the link below; note: deposits are non-refundable. The deposit counts towards the program fee and is only refunded in the event that a student is not accepted or the program is canceled. A refund is only available in the form of a credit to the applicant's CSU student financial account.
Pay non-refundable $250 deposit NOW      (select radio button: CISP - Faculty-Led Program Abroad Non-refundable Deposit)
Please contact the Center for International Services and Programs if you need the account code to make the deposit payment in-person at the Bursar's Office (BH 116).
 
Note on acceptance and withdrawals
Once emailed as an accepted participant on a CSU faculty-led study abroad program, a student becomes financially and academically responsible to the group and the University.  The remaining program fee (minus the application deposit) is assessed to each participant's CSU student account, accessible through CampusNet and becomes irreversible.  There are no voluntary withdrawals, as each student is needed to make up a group and cover the program expenses. 
Once admitted on a faculty-led program, there will be no refund of any of any kind for a withdrawal.  Expenses begin being paid out on behalf of the group as soon as a program is considered a "go" and the application decisions are announced.  If an applicant is unsure about making a financial and/or academic commitment to a faculty-led program, doubts should be cleared up prior to submitting an application.

COVID-19 Safety 
For the health and safety of our entire CSU community, all travel must comply with CDC guidelines and any in-country and program-specific mitigation strategies that are in place. All faculty-led study abroad programs abide by CSU's COVID-19 policies.
CDC International Travel Guidelines 
CDC Recommended Immunizations and Vaccines for travelers to Israel
CDC profile of Israel 
US Department of State Travel Advisory for Israel 
Israel travel information (Embassy of USA in Israel)
For current Israeli government requirements for all visitors please visit the Israeli government COVID-19 protocols (in English).
Contact
Dr. Robert Simons
UR 223
T: (216) 687-5258
C: (216) 401 1700
r.simons@csuohio.edu
Professor and Chair of Urban Studies 
General questions about scholarships, financial aid, passports, billing, registration, etc. should be sent to Julie Good, Manager of International Programs at the Center for International Services and Programs (BH 412).