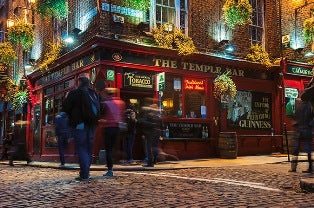 Program Description
The department of English is pleased to offer a short-term, faculty-led study abroad program to Ireland and Northern Ireland over spring break 2018. Course is open to any student who has taken ENG 335/535 Irish Literature.
Academic Program
This two-credit course (ENG 399/599) will function as an online Blackboard class before and after the Spring Break travel component in Ireland and Northern Ireland.  Students will be admitted to the class through application only and must meet the pre-requisite requirements.  Admitted participants will complete six weekly reading assignments, and contribute to an online discussion. Additionally, students will keep a travel journal while in Ireland and Northern Ireland and upon their return, retype their observations, and comment—post trip—on those observations.  Finally, participants will write a research paper from one of the many stories, images, or events that they encounter over their travels in Ireland and Northern Ireland. The final paper will be due by May 4, 2018.
Eligibility
Passport -All applicants must have a valid passport or be in the process of applying for one at the time of application 
Prerequisite or corequisite of ENG 335/535 Northern Irish Literature (Fall 2017) or Irish Literature (Spring 2018) or in previous years
Minimum undergraduate cumulative GPA of 2.0; minimum graduate cumulative GPA of 3.0
At the time of application, the applicant must have completed at least two semesters at CSU if a first year student, and at least one semester if a transfer or graduate student
In good financial standing with the Office of Treasury Services at CSU
No current sanctions against them resulting from a violation of the Student Code of Conduct
All applicants will be reviewed and approved by the professor of record Dr. Jennifer Jeffers, Professor and the Center for International Services and Programs. Students will be selected based on major and GPA; there is a limit of 16 participants and a minimum of 10. Project 60 students are also welcome to apply provided they meet the course prerequisite/corequisite. All admitted students will be required to enroll in ENG 399/ 599 for two credits (spring 2018)- no exceptions.
Financial Obligations and Withdrawals
Once admitted on a faculty-led program, there will be no refund of any kind for a withdrawal.  Expenses begin being paid out on behalf of the participant as soon as a program is considered a "go" and application decisions are announced.  This timeline is the most convenient for students but does mean that there is no withdrawal or "drop" option once committed to a program. If an applicant is unsure about making a financial and/or academic commitment, doubts should be cleared up prior to submitting an application.
Once notified of acceptance, the participant becomes financially and academically responsible to the group and the University.  The remaining program fee (minus the application deposit) will be charged to each participant's CSU student account, accessible through CampusNet and becomes irreversible.  Payments must be completed before departure. N.B.There are no voluntary withdrawals, as each student is needed to make up a group and cover the program expenses.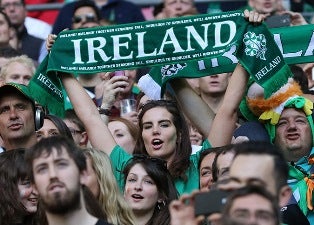 Daily Itinerary- Spring Break 2018
Friday evening, March 9, 2018 group flight from Cleveland to Dublin, Ireland
March 10- 12, 2018 Achill Island, Ireland
Spend the weekend in County Mayo on Achill Island located on the wild Atlantic coast: tentative activities include lecture on emigration, guided tour of the Deserted Village at Slievemore and dinner accompanied with traditional Irish music
March 12-14, 2018 Belfast, Northern Ireland
Criss-cross the island in a private coach on your way to Belfast, Northern Ireland: activities include visit to the Giant's Causeway, private guided mural tour and lecture on The Troubles, visit to Linen Hall Library and Ulster Museum
March 14-17, 2018  Dublin, Ireland
Dublin, Ireland : activities include Dublin Literary Tour, a show at the Abbey Theatre, a visit to the Book of Kells at Trinity College Dublin, viewing of St. Patty's Day Parade 2018 in Dublin and much more
Sunday, March 18 group flight home from Dublin
 
Program Fee
The estimated program fee is $3,995* and includes
round trip airfare
double- occupancy hotel room for 8 nights
full Irish breakfasts daily
local coach transportation
airport transfers
lectures and guided tours 
most entrance fees and tickets
The cost does not include CSU tuition for the required 3-credit course, $600-$650 for lunches and dinners, shopping, and sightseeing not included in the program fee. Additionally, students are personally responsible for passport fees, any visa fees and health insurance with international coverage. To view the current tuition rates, please visit the Office of Treasury Services. *The program fee may change due to increases in airline taxes and/or the exchange rate.
The tuition for the two-credit required course may fall in the "tuition band" for Spring 2018.

Billing
The $3,995  program fee is broken down into 2 payments:
$250 payment due with application (see application for instructions on how to make this payment).
$3,745 will be due on January 10. If payment is not made by that date or if the student has not made arrangements to pay with Financial Aid or through the BBP plan, the student will be removed from the program but may still be responsible for the entire program fee.
You make the second payment for the program fee on your CSU student account just like you would any CSU charge, electronically through Campusnet or by cash/check through the Cashier's desk in Main Classroom MC 115 or by mail. Students may roll the program fee into the Spring budget payment plan (BBP) but please notify the Center for International Services and Programs.
Application- deadline Friday Nov. 3rd
Decisions and notifications will be made after the application deadline.

Deposit

PAY $250 PROGRAM DEPOSIT AT THE TIME OF APPLICATION (click here)
 
Financial Aid
Students may use Spring semester financial aid to pay for the remaining program fee after their initial deposit is paid with the application.

If you have any questions about using financial aid toward the study abroad cost, please contact the Center for International Services and Programs or a financial aid Specialist in All-in-One Enrollment Services/Campus 411 located in MC 115.
Scholarships
The Center for International Services and Programs offers a scholarship to qualifying students on faculty-led programs. Eligible students can apply for the CISP Education Abroad Scholarship (click on link) or the Leadership Scholarship for study abroad by downloading the applications from from the study abroad scholarship webpage. Note the deadline for Spring semester scholarships is November 30.
Contacts
Dr. Jennifer Jeffers
Professor of English
J.M.JEFFERS53@csuohio.edu
216-687-3975
RT 1838

Julie Good
Manager of Education Abroad
Center for International Services and Programs
j.a.good88@csuohio.edu
216-687-3910
MC 412